I went home to my parents house recently and picked up a couple of my old Tintin books to poke through them. After getting a lot more experience in comic panelling and drawing, composition etc, the old Herge stuff really blows my mind with how efficient and lovely it is. It really is a masterwork in comic creation, especially with how simple the linework is but that really suggests complexity, especially in a lot of the landscapes. He's also so good with posing characters in really expressive and clean ways, even without shading most of the time!

Red Rackam's Treasure (1943)
.
Gorgeous!
That said, damn, it is so blatantly racist lol, but its really interesting seeing the exact forms the racism takes? Like when you start around
Tintin in the Congo
which is so racist it has a full on disclaimer at the beginning, then progressing to
Tintin in America
with the native americans treated more sympathetically but still being gullible and naive, then by
Tintin and the Blue Lotus
Herge has basically settled into I guess more like benign positive racism for the Chinese and still outright racism against the Japanese (admittedly the villains of the piece, but every single Japanese person has the buck teeth and squinty eyes thing going on)? Certainly as time goes by there's more and more interest in other cultures in their complexity, sympathetic storylines and characters and so on, but I was reading
Tintin and the
P
risoners of the Sun
and even though it's got major south american characters on every side of the good-and-bad narrative it's still firmly in the 'gullible if noble natives' camp.
Tintin in the Congo, 1946 version, written 1931. It's never as bad as this again, but yikes

Tintin and the Prisoners of the Sun, written 1946-48. You can already sense a difference in attitude just between these two panels, though it's still ultimately a kind of paternalistic colonialist attitude of sorts.
Worth noting it usually only applies to non-European cultures too and seems to get worse the blacker you are, probably best exemplified by
The Red Sea Sharks
(1958) which visits Middle-Eastern, European and African cultures throughout and its only the African slaves who get treated with the 'we really have to take these children in hand and do whats best for them' brush while everybody else is largely afforded more independent actions.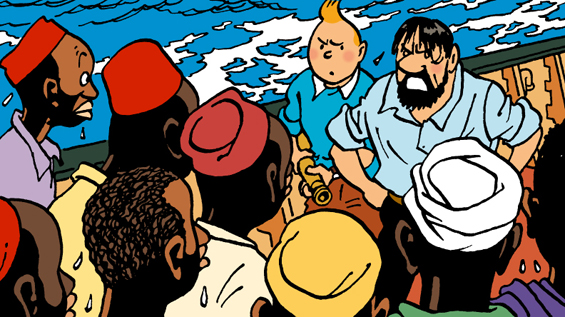 Tintin and the Red Sea Sharks (1958). Herge and his team never do get past the lips thing for depictions of black people, I think.
That said, the amount of research and complexity of detail for the art and costuming and so on especially is super impressive, especially considering how difficult the research would have been in that timeframe. I mean, Herge didn't have wikipedia or google image search but all that stuff is still so evocative. It is kinda mindblowing how old Tintin is though - the first book,
Tintin in the Land of the Soviets
is 1929-30 and even the most recent one I've been reading,
Prisoners of the Sun
, is still from bloody 1949. In that context the view of other cultures is so much more understandable and indeed progressive for its timeframe. Can't wait to reread
Destination Moon
and the
Castiafore Affair
and the more modern stuff as well which are across the 60s-80s. I think
Tintin in Tibet
was also really great, from memory. Props to the translators as well, of course, without whom I'd never have come across these classics.
Anyway this isn't really to relitigate how racist or not racist the books are, just to kind of meditate on the point that you can enjoy problematic things as long as you keep stuff in perspective and are aware of sometimes how benignly fucked things can be. They're still great stories! With caveats.
Last edited: