Community Resettler
Avenger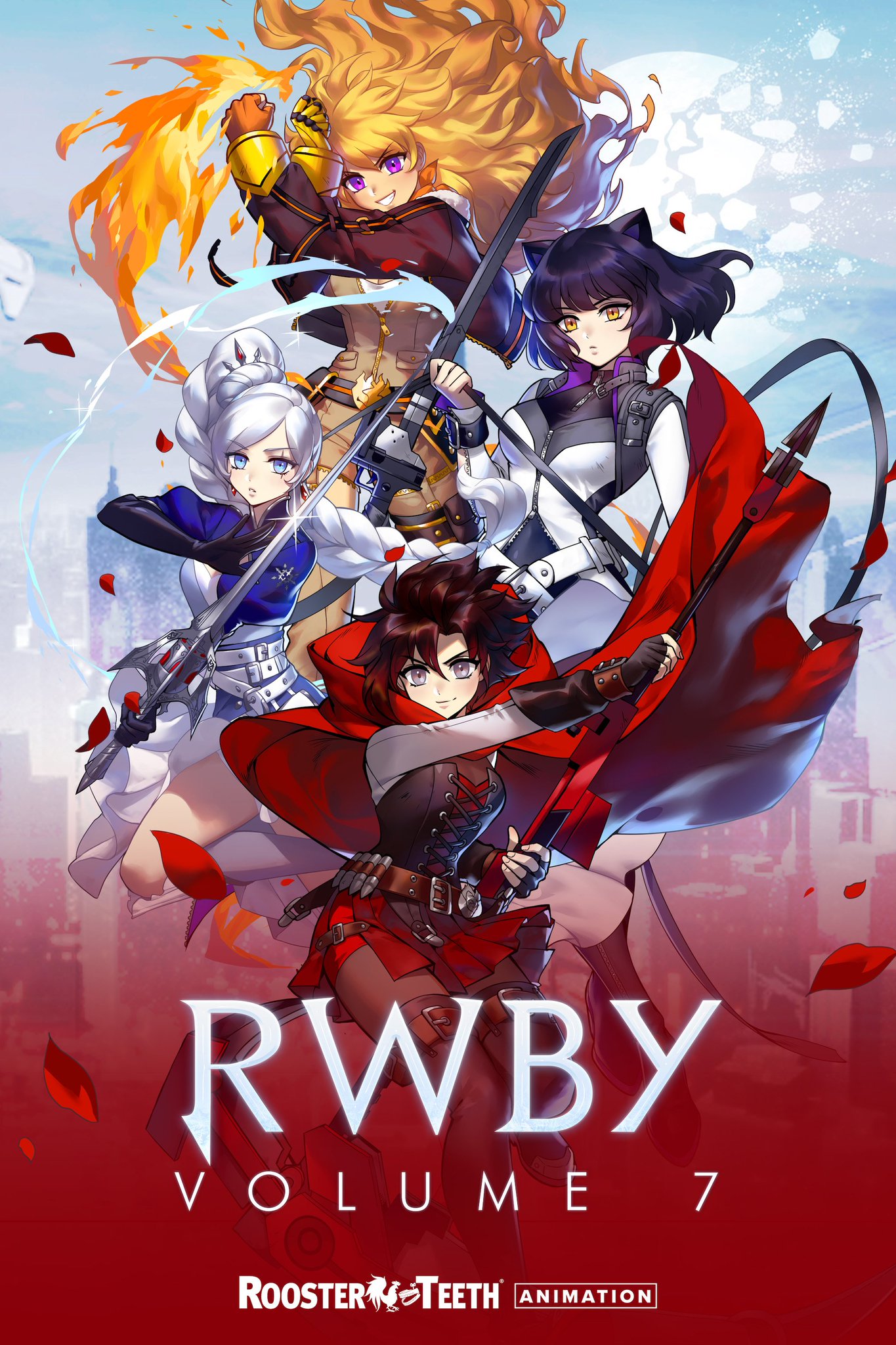 Animation:
Monty Oum and Rooster Teeth Productions
Genres:
Action, comedy, fantasy
Broadcasts:
Saturdays at 11am EST (for FIRST Subscribers); Tuesday for registered RT users
Composers:
Jeff Williams, Steve Goldshein, Alex Abraham
Trailers:
Red Trailer
,
White Trailer
,
Black Trailer
,
Yellow Trailer
Opening:
Volume 1 - This Will Be the Day
,
Volume 2 - Time to Say Goodbye
,
Volume 3 - When it Falls
,
Volume 4 - Let's Just Live
,
Volume 5 - Triumph
,
Volume 6 - Rising
(Composer - Jeff Williams, Vocals - Casey Lee Williams)
Website:
Rooster Teeth
RWBY
(Red/White/Black/Yellow/pronounced "Ruby") is an animated web series produced by
Monty Oum
and
Rooster Teeth Productions
.
Long before the beginning of the series, the world of Remnant used to be covered in darkness. Mankind was born into a hostile world dominated by monsters called the "Grimm". Humanity's future was at first bleak, but due to the discovery of "Dust" they were able to drive back the Grimm and create an expanding civilization. At the time of the series' start, the world is in a state of peace. In order to safeguard against the Grimm should they one day return, various academies were created to train combat specialists called Huntresses/Huntsman.
The main characters attend one of these academies called Beacon, situated in the Kingdom of Vale.
Main Characters:
Ruby Rose
- Ruby is one of the four main protagonists of the show and is introduced in the first episode. She wields a High-Calibur Sniper-Scythe (HCSS) called Crescent Rose. She leaves Signal Academy to attend Beacon with her older sister Yang after being extended an invitation.
Weiss Schnee
- Weiss is the second character introduced and wields the Multi-Action Dust Rapier (MADR) called Myrtenaster. She attends Beacon at the same time as Ruby and is also the heiress to the Schnee Dust Company.
Blake Belladona
- Blake is the third protagonist introduced and wields the Variant Ballistic Chain Scythe (VBCS) Gambol Shroud. Blake attends Beacon, however most of her past is unknown and she keeps her distance from others.
Yang Xiao Long
- Yang is the last of the main protagonists to be introduced and makes use of the Ranged Shot Gauntlets, Ember Celica. She is depended upon by her younger sister Ruby and pushes her to be more outgoing at Beacon.
Where can I watch it:
RWBY
is free to watch and can be viewed at the following websites (latest episode on Crunchyroll requires a Premium subscription).
Additional Media:
RWBY Chibi
- Join the cast of RWBY in a new series of cute, comedy shorts with infinite possibilities! It's playing tag! It's baking cookies! It's posing as police officers! It's... really quite absurd. It's RWBY CHIBI!
RWBY Rewind
- Love RWBY? So do we! Join us live as we dork out on the latest RWBY episode, interview the cast and crew who make it happen, and end with the very first sneak peek of the next week's RWBY episode!
CRWBY: Behind the Episode
- Have you ever wondered how RWBY is made? Each week, CRWBY: Behind the Episode will give you a peek at the magic, highlight the animation process, and introduce you to the animators, engineers, producers, and artists who work tirelessly to bring the World of Remnant to life.
Discord
Hidden content
You need to reply to this thread in order to see this content.
Thanks to the
RWBY Wiki
for additional information.
This OT is made possible thanks to
VanillaCakeIsBurning
and viewers like you.
Last edited: