welcome to the fourth (even tough it says OT5) Sony First Party Thread.
Here's to another 400 pages of discussion about the release date of The Last of Us, Death Stranding and Ghost of Tsushima.
Credits to
ThisThingIsUseful
for the OT Name
Sony Interactive Entertainment America
​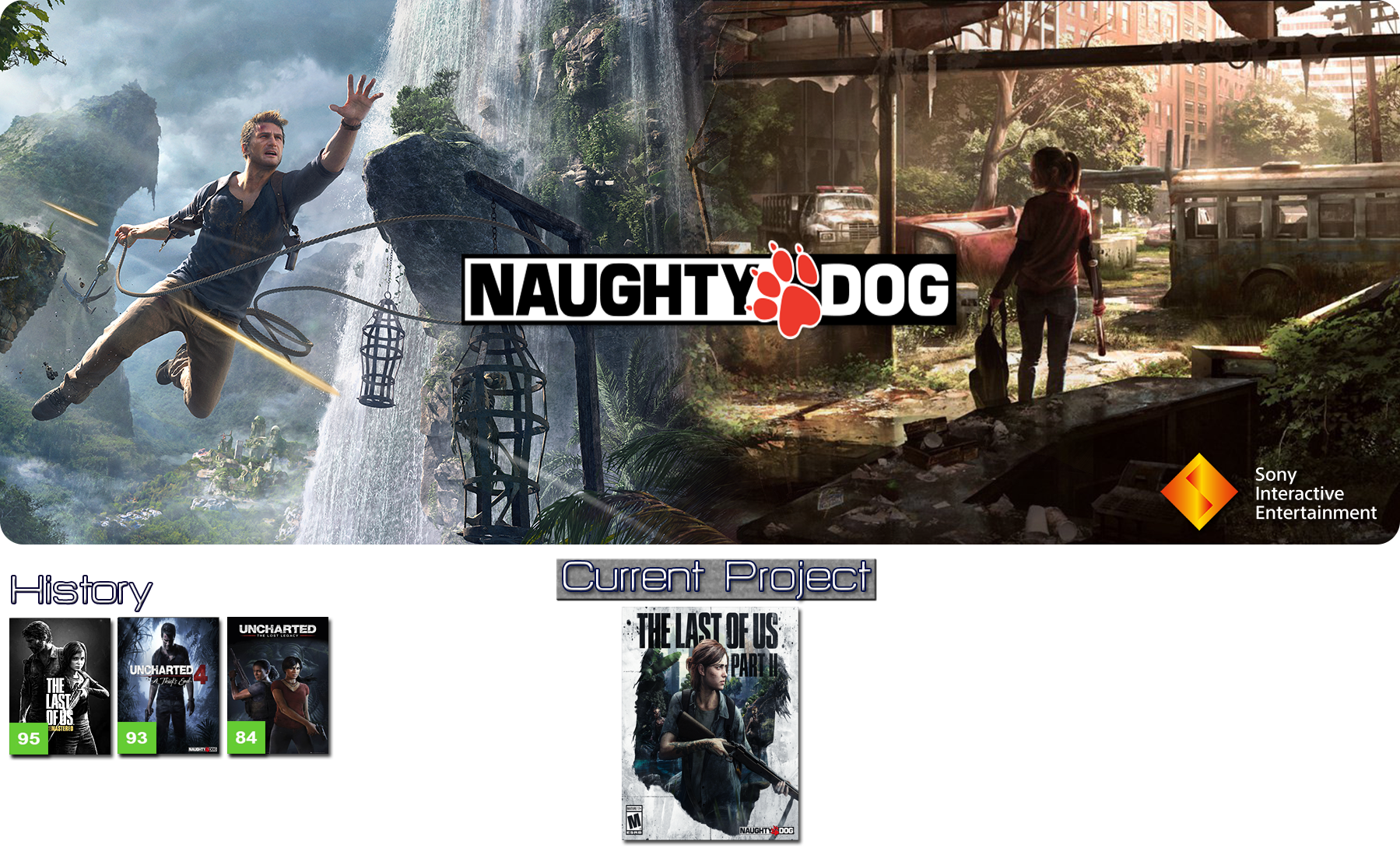 Probably the most famous Studio among SIE, known for constanly delivering high quality blockbuster titles, such as Uncharted or The Last of Us.

The Studio was founded 1984 by Andy Gavin and Jason Rubin as an independent developer, starting their PlayStation Partnership with the iconic Crash Bandicoot title in 1996.

In 2001 they were acquired by Sony Computer Entertainment and in the coming years and generations Naughty Dog became one of the most respected and highly rated Studios in the Gaming Industry.

Naughty Dog is home to the

ICE Team

, one of Sony's World Wide Studios central technology groups.

The ICE Team focuses on creating core graphics technologies for Sony's worldwide first party published titles, including low level game engine components, graphics processing pipelines, supporting tools, and graphics profiling and debugging tools.

Studio Size:

200~350 (incl. ICE Team)

Location:

California

Key People:

Evan Wells (President) - Neil Druckman (Vice President)

Director(s):

Anthony Newman - Kurt Margeneau - Neil Druckmann

Writer(s):

Josh Sherr - Haley Gross

Lead Designer(s):

Emilia Schatz - Richard Cambier

Upcoming Project: The Last Of Us Part 2 [2019/20]




PlayStation History:

Crash Bandicoot (1996)
Crash Bandicoot 2 (1997)
Crash Bandicoot 3 (1998)
Crash Team Racing (1999)
Jak and Daxter (2001)
Jak II (2003)
Jak 3 (2004)
Jak X (2005)
Uncharted (2007)
Uncharted 2 (2009)
Uncharted 3 (2011)
The Last of Us (2013)
The Last of Us Remastered (2014)
Uncharted 4 (2016)
Uncharted Lost Legacy (2017)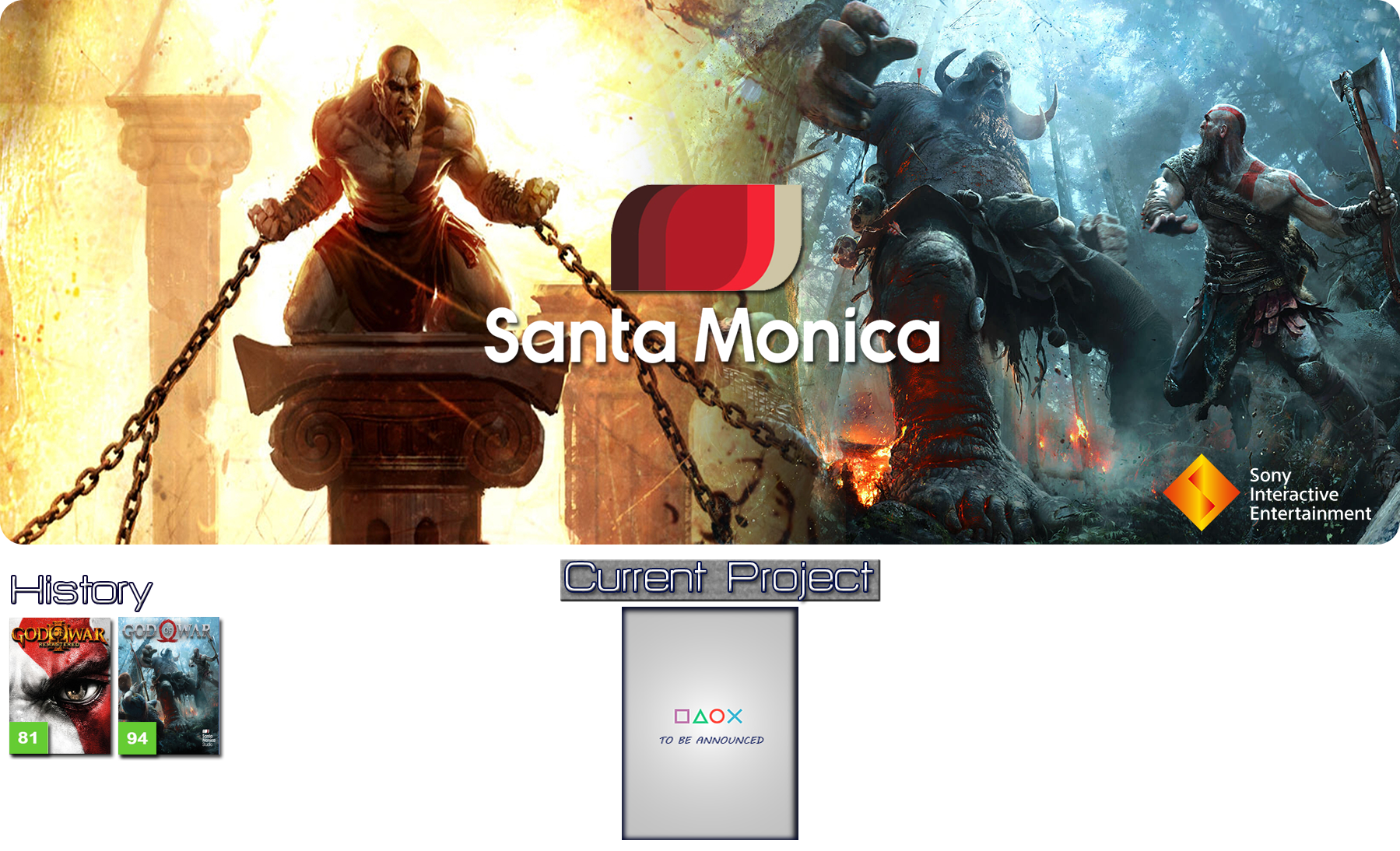 Sony Santa Monica, also known as the God of War Studio, was established in 1999.

While developing the highly acclaimed God of War Games, they were also serving as a support studio for external developers working on First Party Games.

In 2014 the Studio moved from Santa Monica to a new facility in Playa Vista, Los Angeles

Studio Size:

200~300

Location:

California

Key People:

Shannon Studstill (Head of the Studio) Cory Barlog (Director)

Upcoming Project: PlayStation History:

Kinetica (2001)
God of War (2005)
God of War II (2007)
God of War III (2010)
God of War Ascension (2013)
God of War (2018)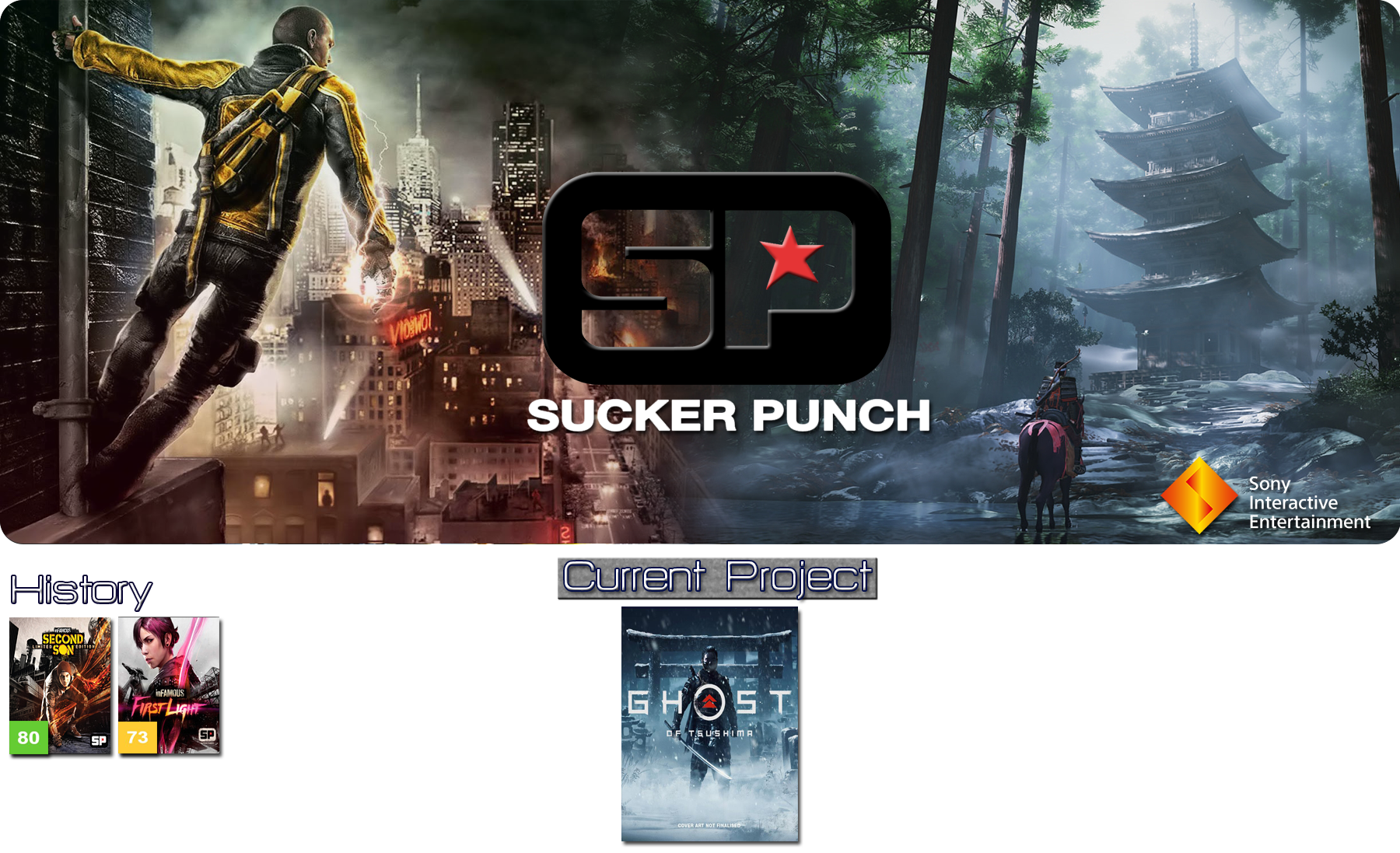 founded in 1997 Sucker Punch was an independent development studio who has worked solely with Sony Interactive Entertainment since 2000. In 2011 they were acquired by Sony Computer Entertainment.

Sucker Punch is best known for the Sly Cooper and inFAMOUS series. In 2018 the Studio moved to a new facility, most likely due their team expansion.

Studio Size:

150+

Location:

Washington

Key People:

Nate Fox (Creative Director)

Upcoming Project: Ghost of Tsushima

[2019/2020]

PlayStation History:

Sly Racoon (2002)
Sly 2: Band of Thieves (2004)
Sly 3: Honor Among Thieves (2005)
Infamous (2009)
The Sly Collection (2010)
Infamous 2 (2011)
Infamous: Festival of Blood (2011)
Infamous: Second Son (2014)
Infamous: First Ligh (2014)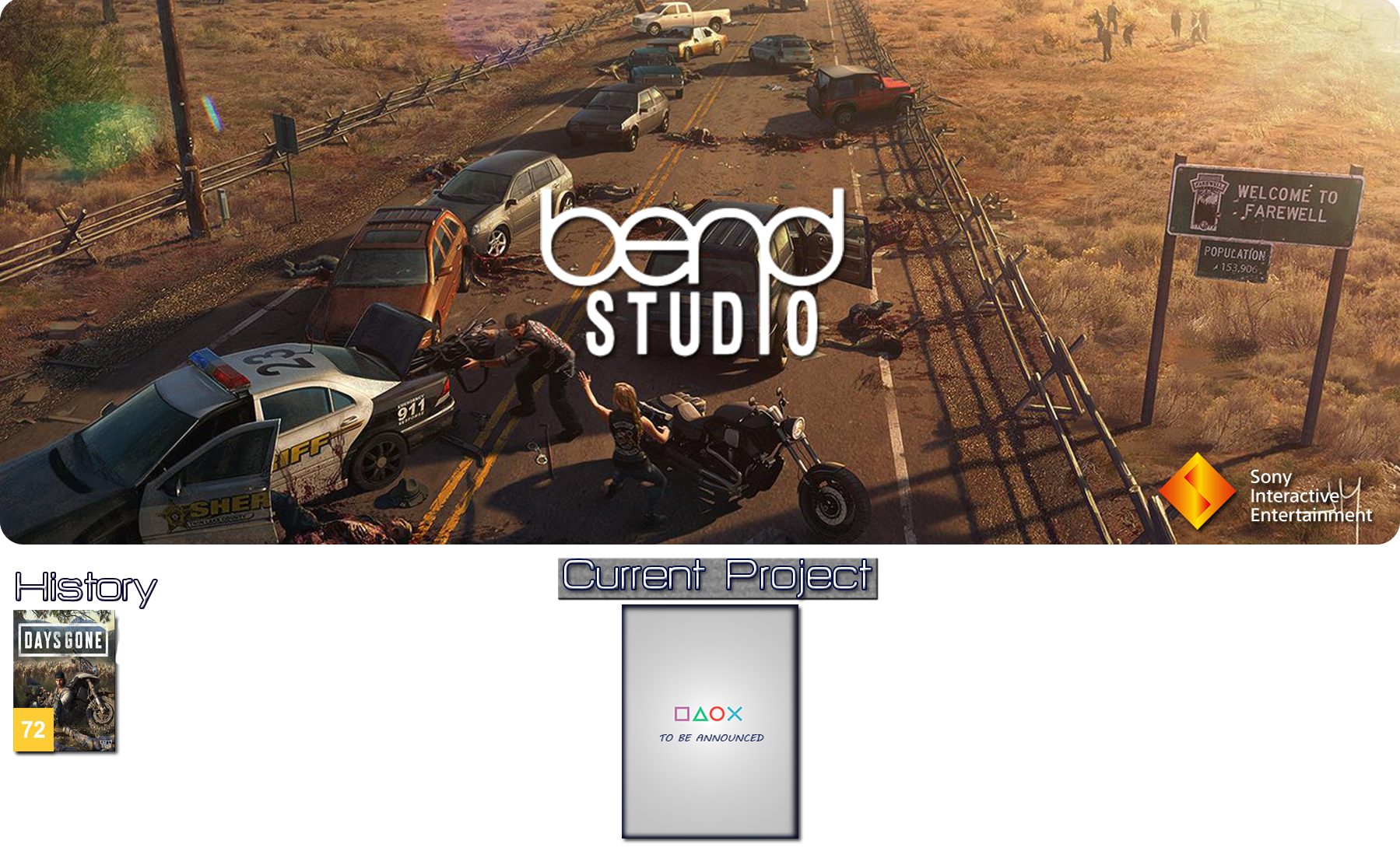 Formely known as Blank, Berlyn and Co. and Eidetic, which was founded in 1993, they were aqcuired by SIE in 2000 and renamed into

Bend Studio became known as the Team behind the Syphon Filter Franchise. During the PlayStation 3 Generation they were mainly working on handheld games for the PSP and PSVITA. With their new IP Days Gone, they are finally making their big comeback into the Home Console business

Studio Size:

130+

Location:

Oregon

Key People:

John Garvin (Director) Jeff Ross (Director)

Upcoming Project:



PlayStation History:

Bubsy 3D (1996)
Syphon Filter (1999)
Syphon Filter 2 (2000)
Syphon Filter 3 (2001)
Syphon Filter: The Omega Strain (2004)
Syphon Filter: Dark Mirror (2006)
Syphon Filter: Logan's Shadow (2007)
Resistance: Retribution (2009)
Uncharted: Golden Abyss (2011)
Uncharted: Fight for Fortune (2012)
Days Gone (2019)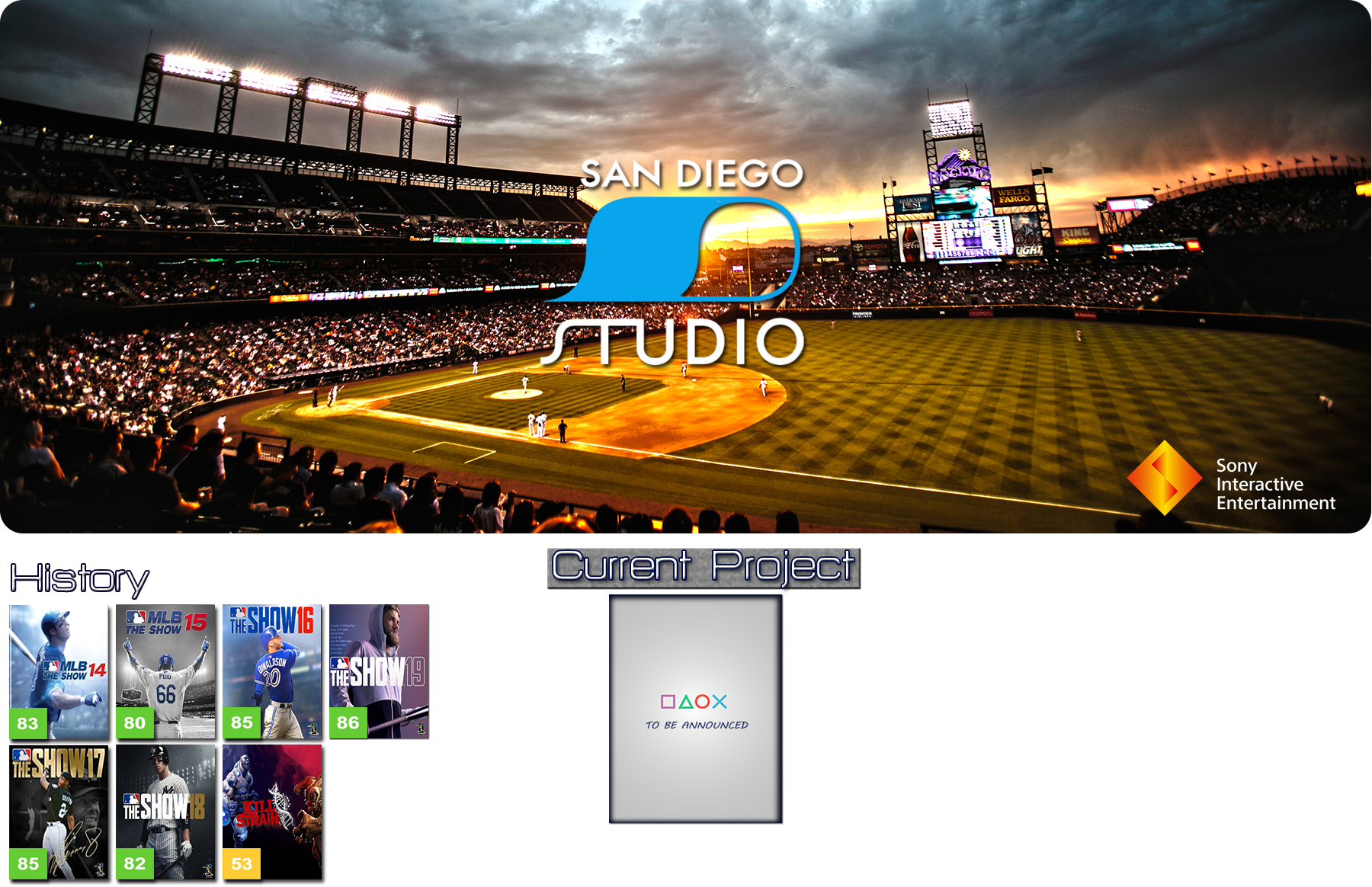 SIE San Diego was established in 2001. The Studio has a long history with sportsgames from NBA to Karting titles. Currently they are delivering the yearly MLB Games.

Studio Size:
Location:

San Diego, California

Key People:



Upcoming Project:



PlayStation History:

The Mark of Kri
NBA 2005
NBA '06: featuring the Life Vol. 1
MLB 06: The Show
NBA '07: featuring the Life Vol. 2
MLB 07: The Show
NBA '08: Games of the Week
Pain
High Velocity Bowling
MLB 08: The Show
NBA 09: The Inside
MLB 09: The Show
NBA 10: The Inside
Pinball Heroes
MLB 10: The Show
ModNation Racers
Sports Champions
MLB 11: The Show
ModNation Racers: Road Trip
MLB 12: The Show
MLB 13: The Show
MLB 14: The Show
MLB 15: The Show
MLB The Show 16
Kill Strain
MLB The Show 17
MLB The Show 18
MLB The Show 19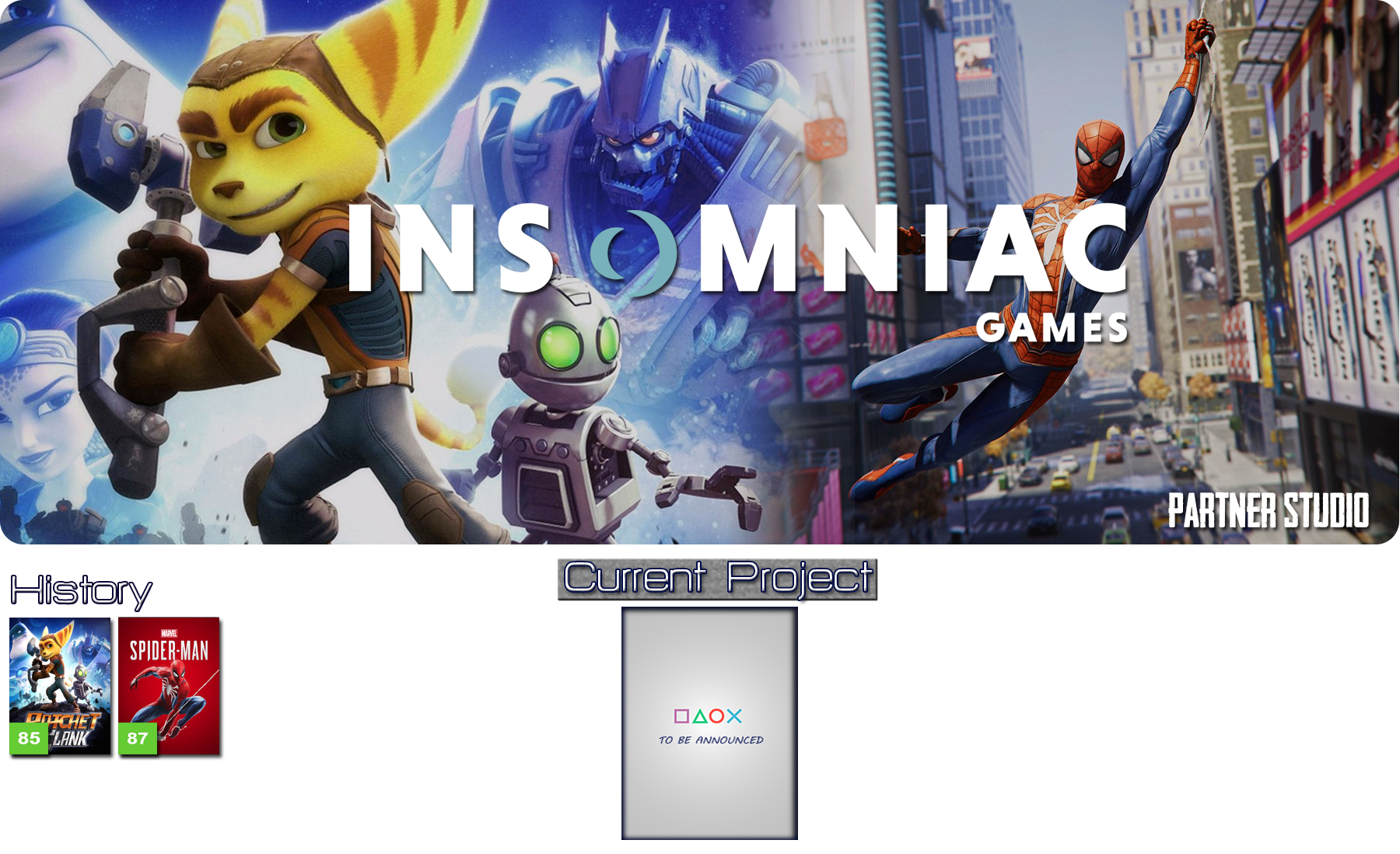 Studio Size:

260+

Location:

Burbank, California (First Studio) North Carolina (Second Studio) [NA]

Key People:

Ted Price (President) Bryan Intihar (Director) Brian Allgeier (Director)

Upcoming Project:

PlayStation History:

Spyro the Dragon (1998)
Spyro 2: Ripto's Rage! (1999)
Spyro: Year of the Dragon (2000)
Ratchet & Clank (2002)
Ratchet & Clank: Going Commando (2003)
Ratchet & Clank: Up Your Arsenal (2004)
Ratchet: Deadlocked (2005)
Resistance: Fall of Man (2006)
Ratchet & Clank Future: Tools of Destruction (2007)
Ratchet & Clank Future: Quest for Booty (2009)
Resistance 2 (2009)
Ratchet & Clank Future: A Crack in Time (2009)
Resistance 3 (2011)
Ratchet & Clank: All 4 One (2011)
Ratchet & Clank: Full Frontal Assault (2012)
Ratchet & Clank: Into the Nexus (2013)
Ratchet & Clank (2016)
Marvel's Spider-Man (2018)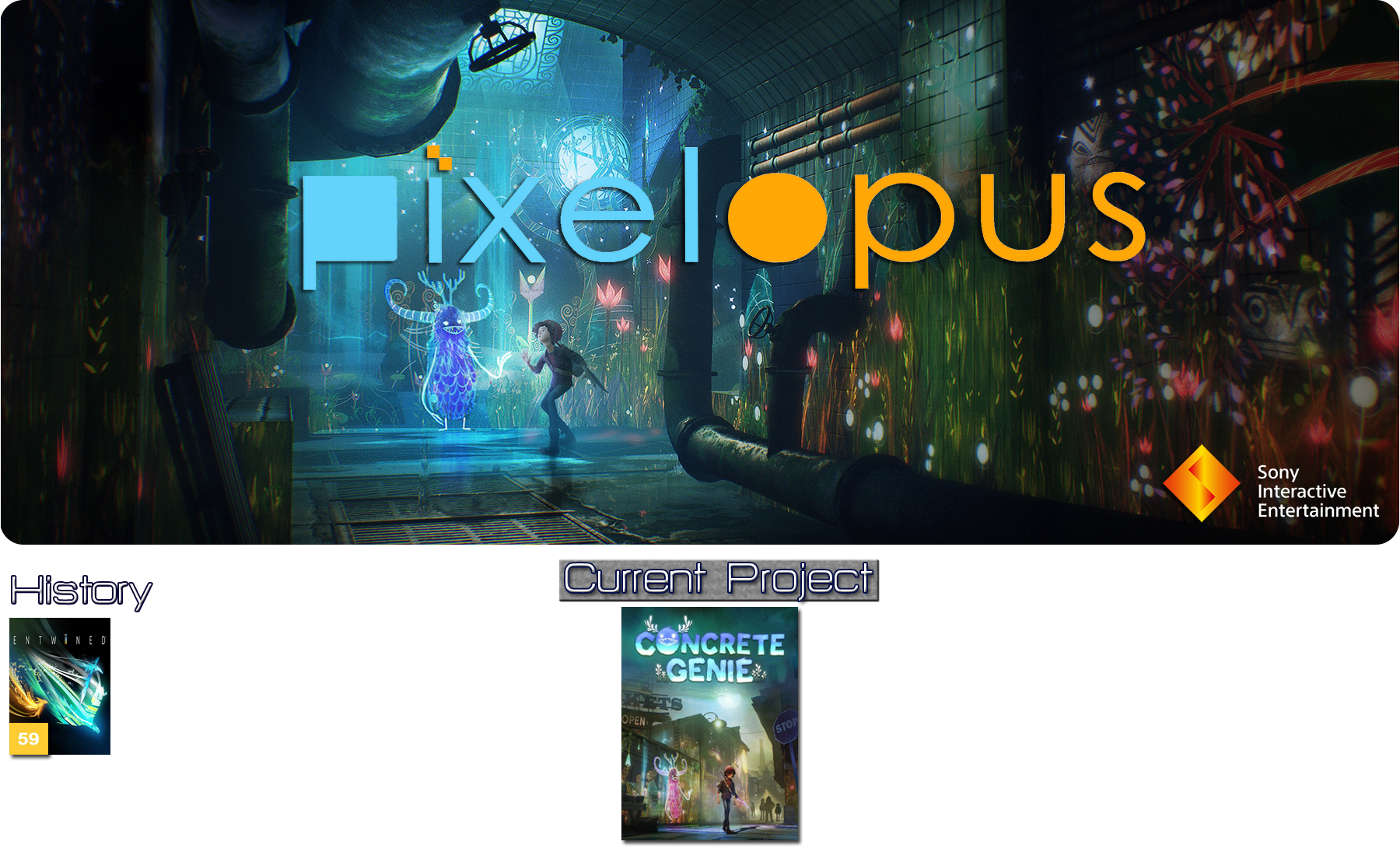 Established in 2014, Pixelopus is one of the new SIE Studios of this generation. With Entwined they relesead their first game in the same year

------------------------------

Studio Size:
Location:

San Mateo, California

Key People:



Upcoming Project: Concrete Genie [2019]



Playstation History:
Sony Interactive Entertainment Europe
​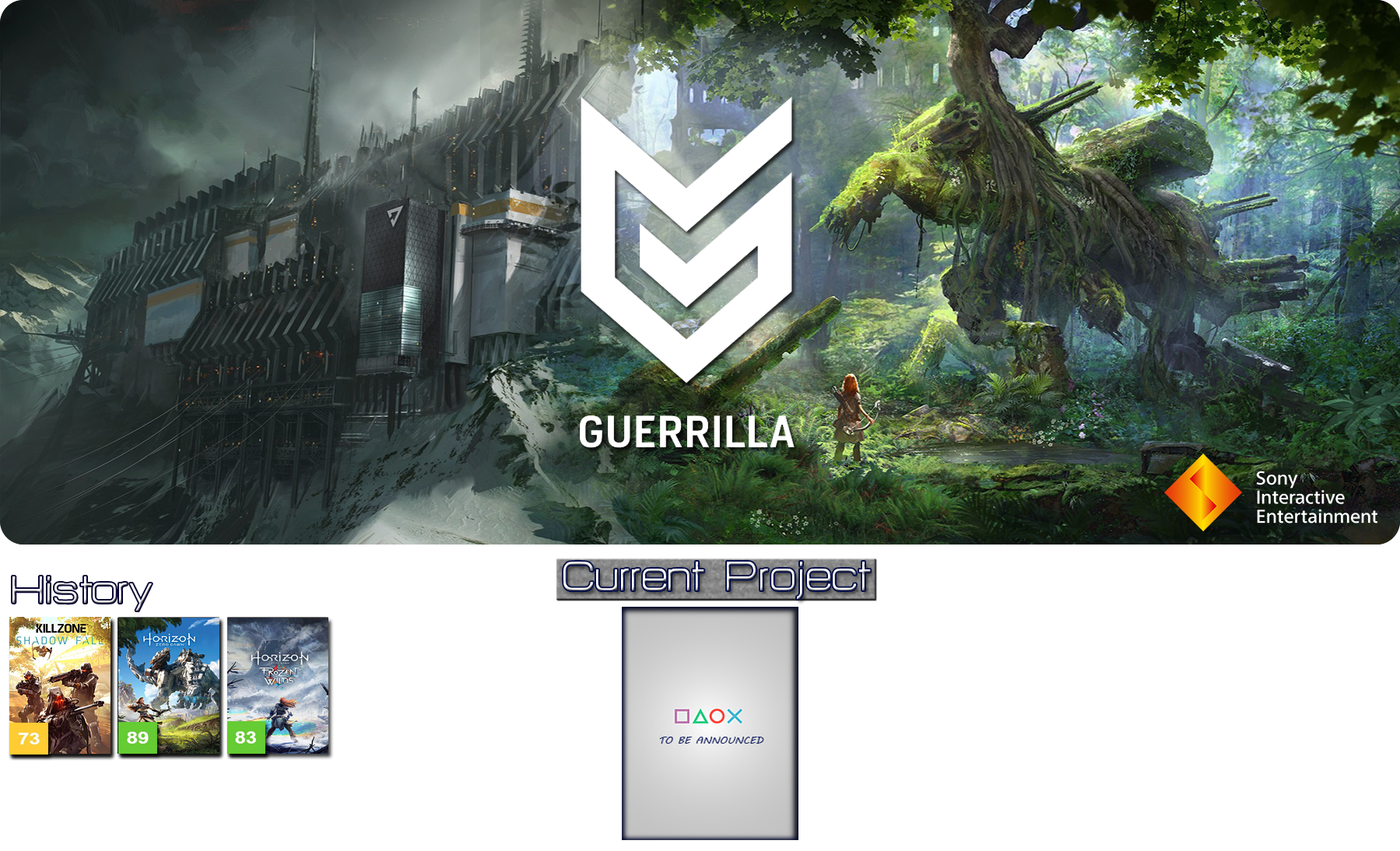 Guerrilla Games is a Dutch first party developer founded in 2000 as Lost Boys Games. The European Powerhouse Studio and creator of the Killzone Franchise was acquired by SCE in 2005 following the release of Shellshock: 'Nam 67.

In the current Generation they released their ambitious new RPG Title Horizon Zero Dawn & also created their new Decima Engine, which they share with Kojima Productions.

The Team will move to a new five floor office in 2019, planning to expand their team up to 400 People

------------------------------
Studio Size:

300-400

Location:

Amsterdam

Key People:

Herman Hulst (Director), John Gonzales (Narrative Director), Mathis de Jonge (Director), Jan-Bart van Beek (Lead Artist)

Upcoming Project:



PlayStation History:

Shellshock: Nam '67 (2004)
Killzone (2004)
Killzone Liberation (2006)
Killzone 2 (2009)
Killzone 3 (2011)
Killzone Mercenary (2013)
Killzone Shadow Fall (2013)
Horizon Zero Dawn (2017)
Horizon Frozen Wilds (2017)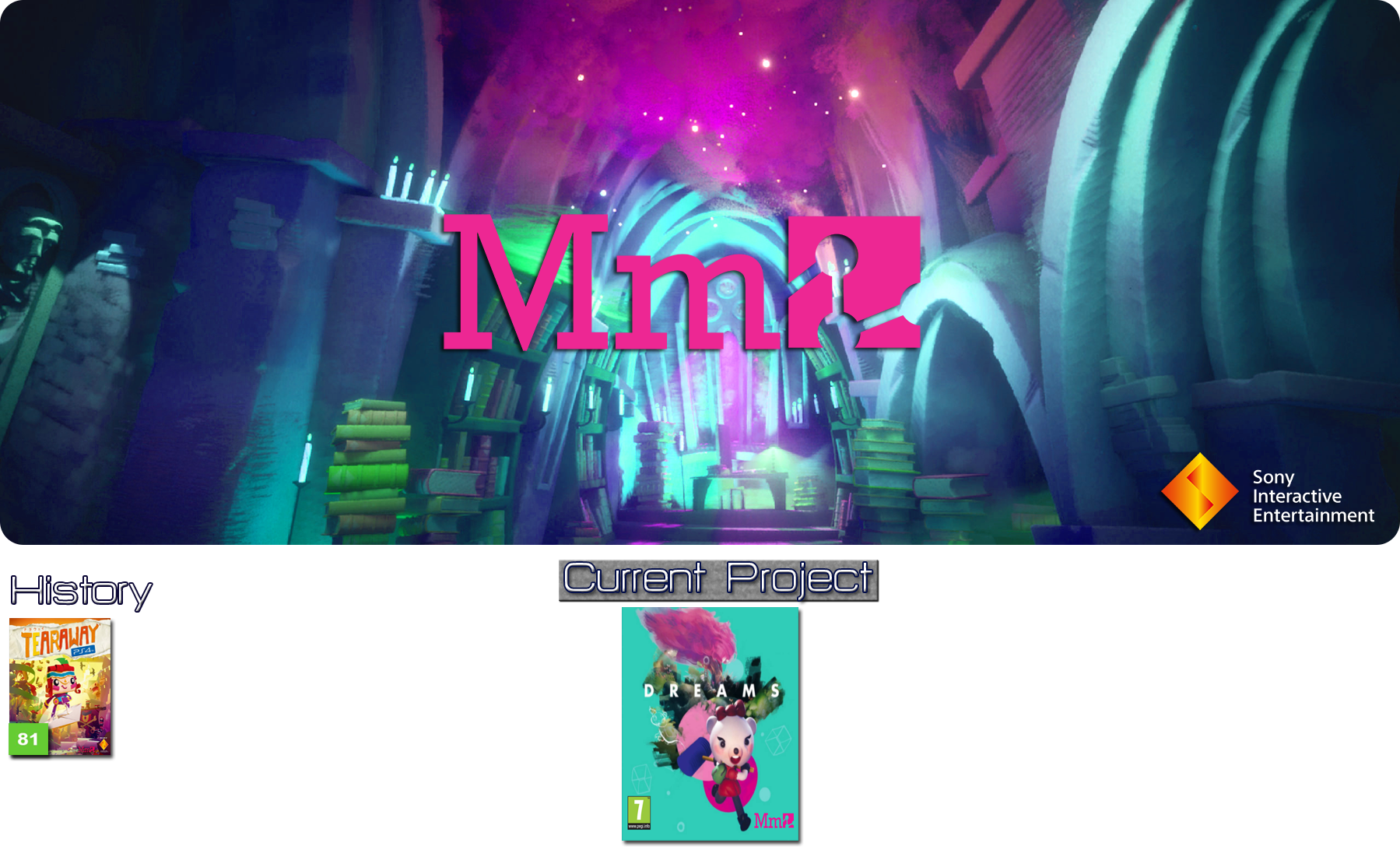 Media Molecule, The Flagschip Studio of creativity and originality among SIE is a british Studio formed in 2006

by former Lionhead employees. After their big success with Little Big Planet on the PS3, they became part of the Sony Family in 2010.

------------------------------

Studio Size:

50+

Location:

Guildford, Surrey

Key People:

Siobhan Reddy (studio director), Alex Evans (technical director), Mark Healey (creative director)

Upcoming Project: Dreams [2020] (Early Access 2019)




PlayStation History:

Little Big Planet (2008)
Little Big Planet PSP (2009)
Little Big Planet 2 (2011)
Tearaway (2013)
Tearaway Unfolded (2015)
Dreams Early Access (2019)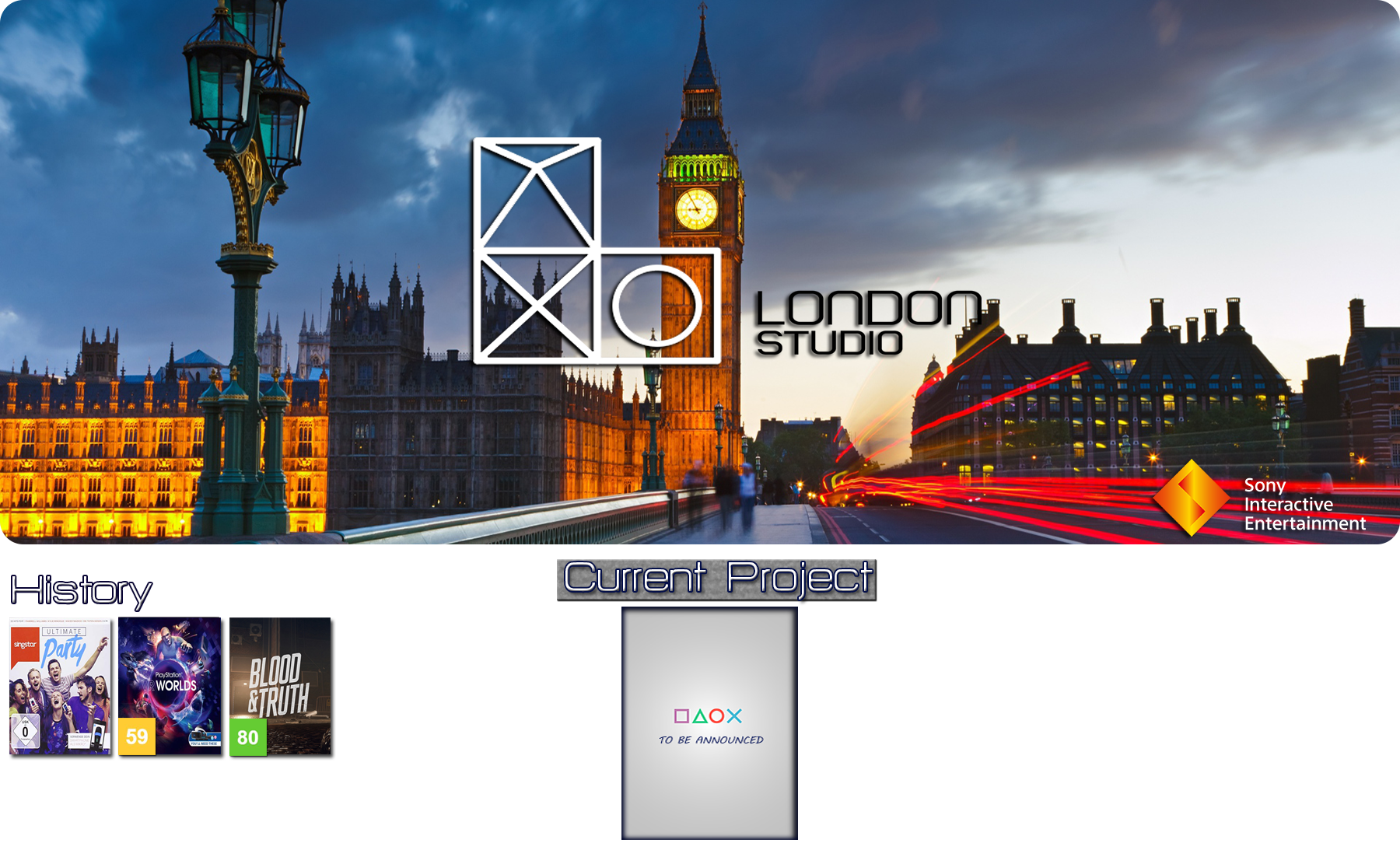 SIE London Studio is one of the oldest First Party Studios, established in 1993.

The Studio was formed in 2002 by the merger of Studio Camden and Team Soho.

They are currently responsible for VR Games

SIE London Studio developed a virtual reality (VR) rendering technology, called the LSSDK engine, which supports PlayStation 4 and PC

------------------------------

Studio Size: 92
Location:

London

Key People:



Upcoming Project: Blood and Truth (VR) [May 2019]



PlayStation History:

NBA ShootOut
NBA ShootOut '97
Porsche Challenge
Rapid Racer
Spice World
This Is Football 2000
Team Buddies
This Is Football 2001
This Is Football 2002
This Is Football 2003
Dropship: United Peace Force
Hardware: Online Arena
The Getaway
This Is Football 2004
EyeToy: Play
This Is Football 2005
EyeToy: Groove
SingStar
The Getaway: Black Monday
SingStar Party
EyeToy: Chat
World Tour Soccer: Challenge Edition
Fired Up
SingStar Pop
EyeToy: Play 2
EyeToy: Play 3
SingStar '80s
EyeToy: Kinetic
EyeToy: Operation Spy
EyeToy: Kinetic Combat
EyeToy: Play Sports
SingStar Rocks!
SingStar Anthems
Gangs of London
SingStar Legends
World Tour Soccer 2
SingStar Pop Hits
SingStar 90s
SingStar Amped
SingStar Rock Ballads
Aqua Vita
SingStar R&B
Beats
SingStar
SingStar Summer Party
SingStar Vol. 2
SingStar ABBA
SingStar Vol. 3
PlayStation Home
SingStar Queen
SingStar Pop Edition
SingStar Motown
EyePet
SingStar Take That
SingStar Guitar
SingStar Dance
DanceStar Party
EyePet & Friends
DanceStar Party Hits
Wonderbook
SingStar: Ultimate Party
PlayStation VR Worlds
SingStar Celebration
Blood & Truth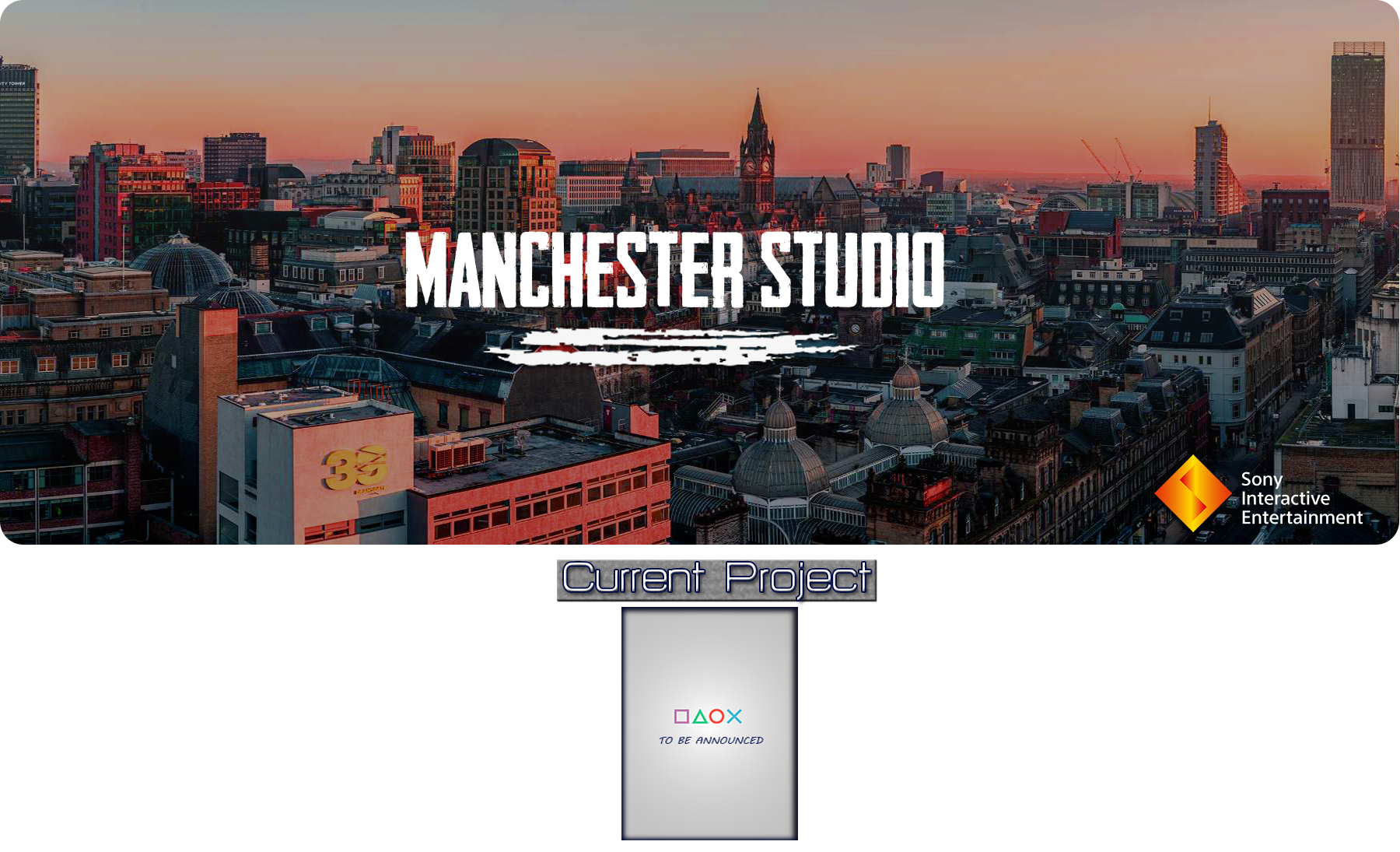 Not officially revealed yet, Manchester Studio, formerly known as North West Studio, is one of Sony's newest developers.

Based on the job descriptions regarding the Studio, they are working on a high profile VR Game.

------------------------------

Studio Size:
Location:

Manchester

Key People:



Upcoming Project:
Sony Interactive Entertainment Japan Asia
​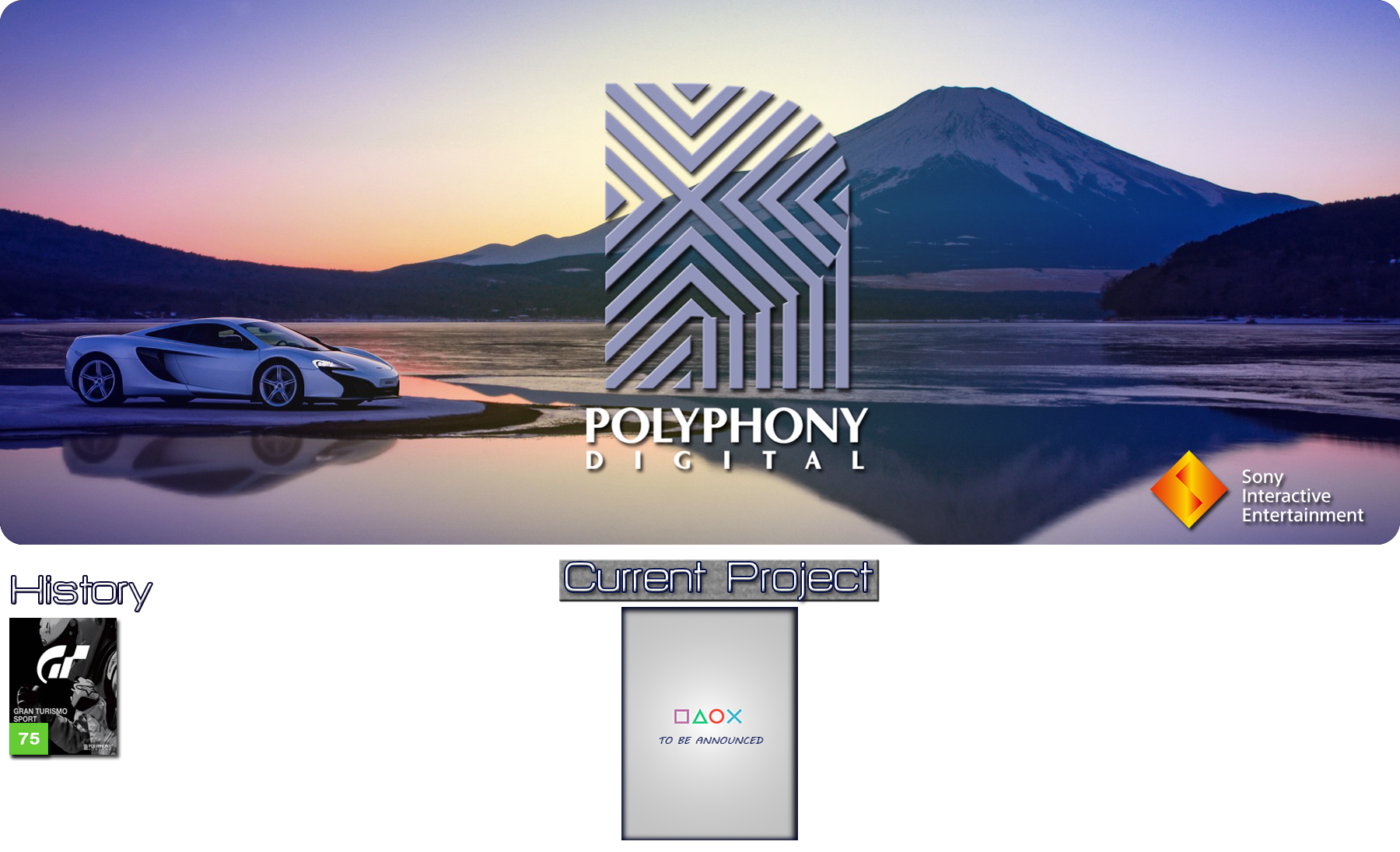 Founded in 1998 Polyphony Digital is the First Party Studio behind the Gran Turismo Games, the most successful PlayStation Franchise.

Originally a development group within Sony Computer Entertainment known as Polys Entertainment, after the success of Gran Turismo in Japan, they were granted greater autonomy and their name changed to Polyphony Digital.

------------------------------

Studio Size: ~
Location:

Tokyo [Japan]

Key People:

Kazunori Yamauchi (President)

Upcoming Project:



PlayStation History:

Motor Toon GP (1994)
Motor Toon GP 2 (1996)
Gran Turismo (1997)
Gran Turismo 2 (1999)
Omega Boost (1999)
Gran Turismo 3 A-spec (2001)
Gran Turismo 4 Prologue (2004)
Gran Turismo 4 (2004)
Tourist Trophy (2006)
Gran Turismo 5 Prologue (2007/8)
Gran Turismo PSP (2009)
Gran Turismo 5 (2010)
Gran Turismo 6 (2013)
Gran Turismo Sport (2017)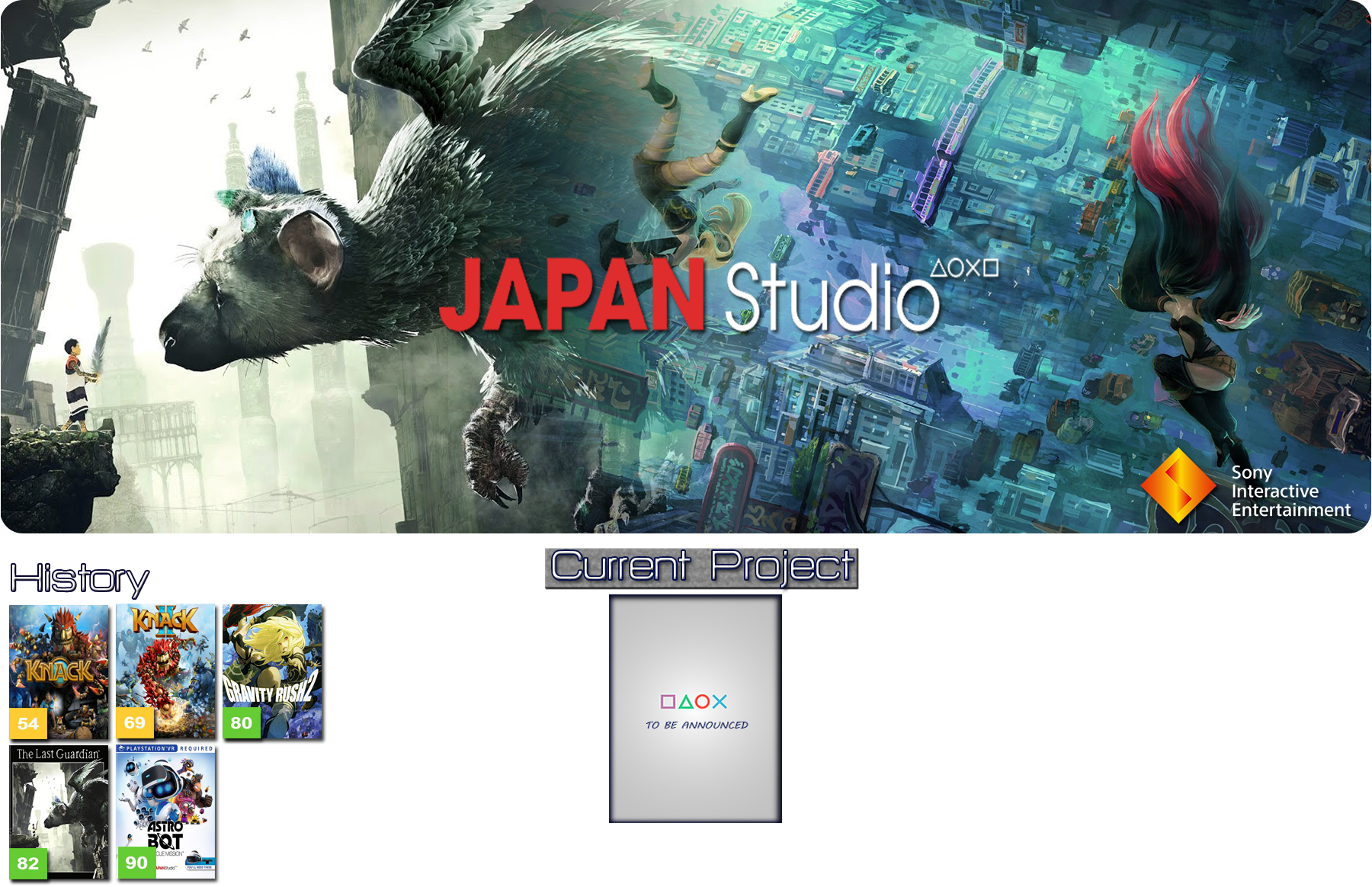 SIE Japan Studio was founded in 1993 in Tokyo and is one of the biggest First Party Studios of Sony Interactive Entertainment.

Most well known for a wide variety of Genres & Games like ApeEscape, Loco Roco, Shadow of the Collosus or Astro Bot, they are also functioning as a Publisher and support Studio to external Teams, leading to Projects like Bloodborne, Demon Souls or White Knight Chronicles.

------------------------------

Studio Size:

~

Location:

Tokyo [Japan]

Key People:

Allan Becker (President)

Director's: Keiichiro Toyama

(Director = Gravity Rush, Siren, Silent Hill ) -

Tsutomu Kouno

(Director = Loco Roco) -

Takamitsu Ijima

(Director = Knack, Knack 2) -

Nicolas Doucet

(Director = Astro Bot/Team Asobi)

Upcoming Project:



PlayStation History:

Ape Escape (1999)
Legend of Dragoon (1999)
Pipo Saru (2001)
Ape Escape 2 (2001)
ICO (2001)
Genshi no Kotoba (2001)
Siren (2003)
Ape Escape: Pumped & Primed (2004)
Ape Escape Academy (2004)
Ape Escape: On The Loose (2005)
Ape Escape 3 (2005)
Shadow of the Colossus (2005)
Siren 2 (2006)
LocoRoco (2006)
Piyotama (2007)
LocoRoco Cocoreccho! (2007)
The Eye of Judgment (2007)
Siren: Blood Curse (2008)
Echochrome (2008)
The Last Guy (2008)
LocoRoco 2 (2008)
LocoRoco Midnight Carnival (2009)
Trash Panic (2009)
Numblast (2009)
The Eye of Judgment: Legends (2010)
Kung Fu Rider (2010)
Ape Escape Fury! Fury! (2010)
Echochrome II (2010)
Gravity Rush (2012)
Puppeteer (2013)
The Playroom (2013)
Knack (2014)
Gravity Rush Remastered (2015)
The Last Guardian (2016)
The Playroom VR (2016)
Gravity Rush 2 (2017)
Knack II (2017)
Astro Bot (2018)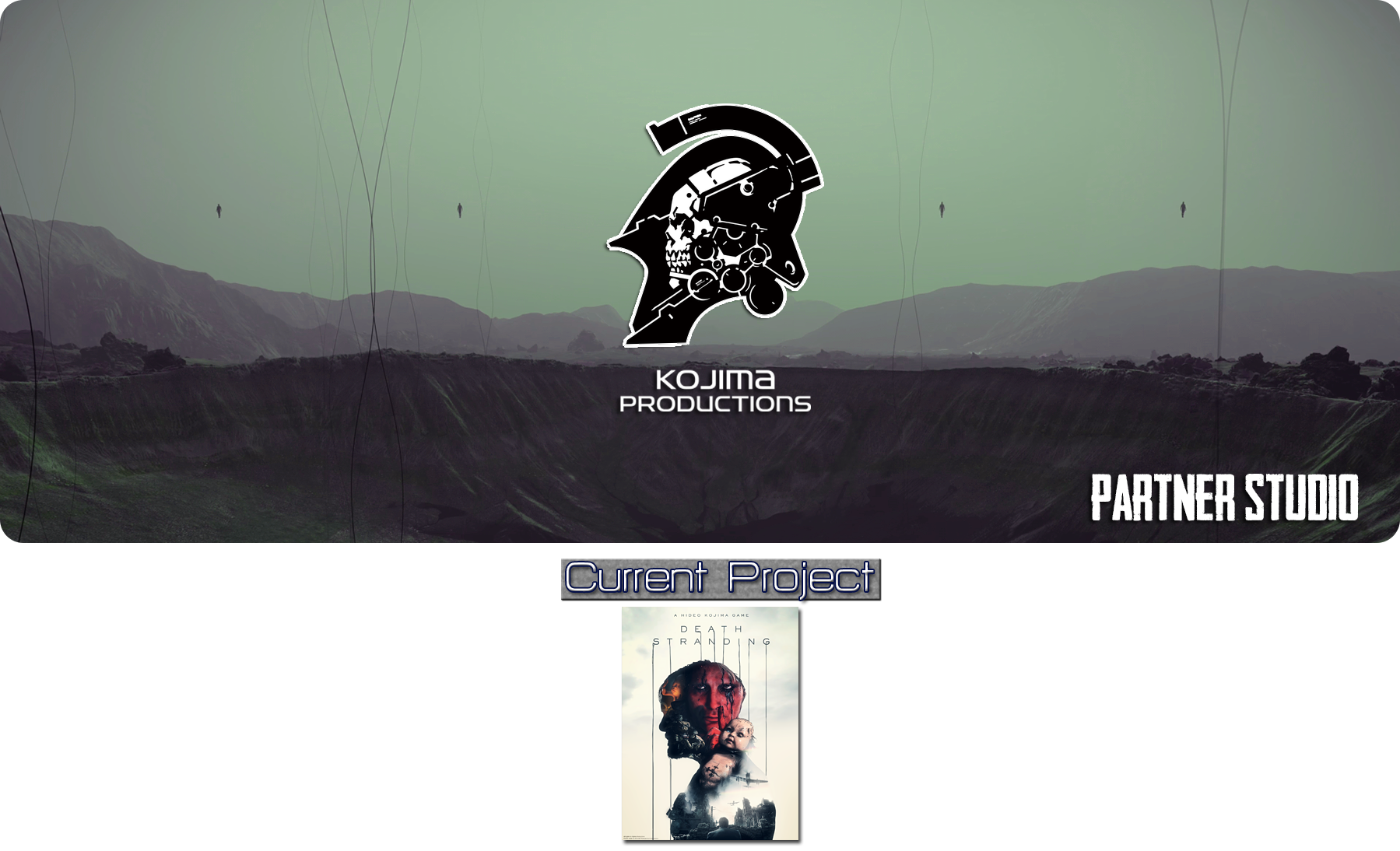 Studio Size:

~ 100

Location:

Tokyo [JP]

Key People:

Hideo Kojima (Founder/Director), Yoji Shinkawa (Art Director), Shinji Hirano (President), Kenichiro Imaizumi (Producer)

Upcoming Project: Death Stranding [8th November 2019]


Former Partners & Possible Collaborations
​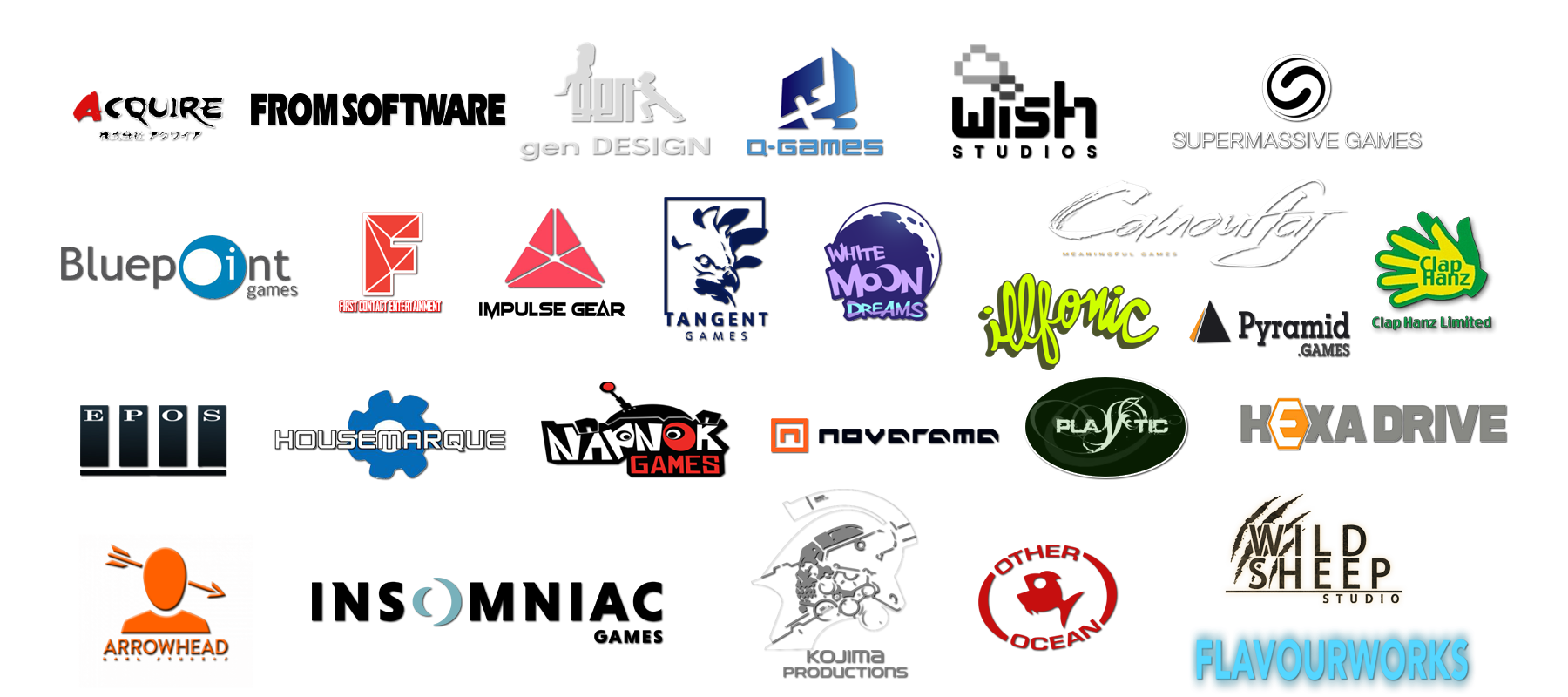 Support Teams




​
Sony XDev:

XDev Studio Limited collaborates with independent development studios across Europe and other PAL territories to publish content to PlayStation platforms all over the world. XDev has helped to create and publish, titles such as the LittleBigPlanet, Buzz!, MotorStorm and Invizimals series, Super Stardust HD, Heavenly Sword, Heavy Rain, Beyond: Two Souls, Tearaway and Resogun

In addition to funding projects, XDev offer full production, project management and game design support. Titles are also supported with community management, online production and dedicated outsourcing management facilities. XDev work directly with Marketing and PR teams in all Sony territories to promote and publish games worldwide.
Visual Arts Services Group:

The Visual Arts Services Group is a division of SCEA's Product Development Services Group. VASG is a full-production studio located in San Diego that specializes in Animation, Motion Capture, Cinematics, Art and Scanning.
Visual Arts Services Group, a multi-award winning team responsible for the cinematic performances in premier Sony PlayStation franchises like Uncharted, The Last of Us, Killzone, and other iconic series
Sony San Mateo:
is a video game developer part of SIE Worldwide Studios which is owned by Sony Interactive Entertainment and established in 1998. As implied by its name, it is now based in San Mateo, California but it was relocated from Foster City, California. It is mostly responsible for overseeing the development of first party games by external developers. It co-developed the SOCOM US Navy SEALS series with Zipper Interactive, and the Sly Cooper series with Sucker Punch Productions.
Last edited: