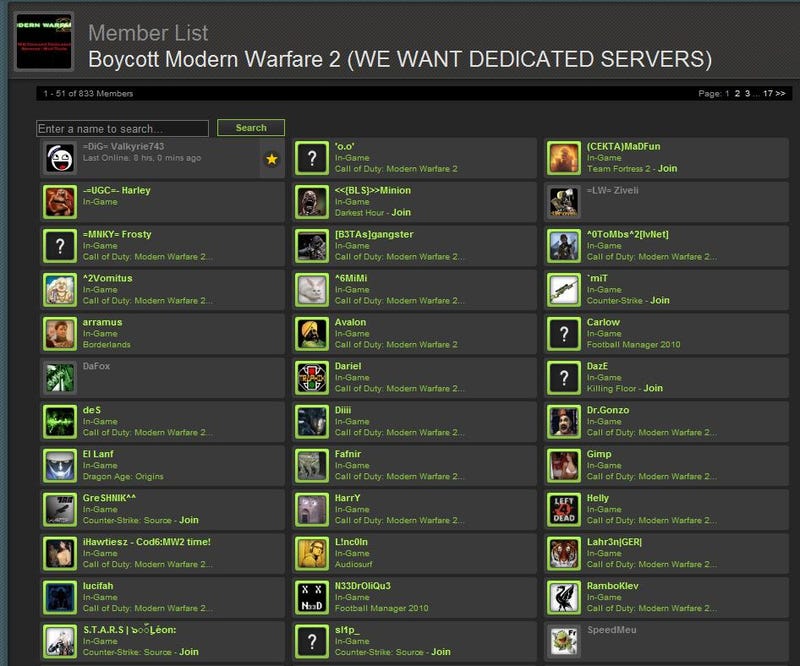 This is a picture that you probably saw at least once whenever there was discussion about boycotting some game for whatever reason. And the reason for that is probably pretty obvious if you take a look at the picture and read several words on it. For easier understanding I highlighted the parts that makes this particular image an evergreen:
As you can see the title of this Steam group contains "boycott Modern Warfare 2". However, from 36 accounts there are a total of 19 people playing Modern Warfare 2 eventhough they are in a group that calls to boycotting said game. So this is more than 50% of the people breaking that boycott. Oh snap! Playing hot new game > principles, q.e.d! Gotcha!
But wait. What if we take a closer look at the picture? Might there be more to this picture than the obvious?
Let's take a look at this part of the picture:
As you can see, the entire group is bigger than the 36 people shown in the picture. We might not even see the full first site of group members. And there are 16 more pages to go through. And what you might need to know that when checking Steam groups the people in-game are prioritized so the people not playing any game or are offline are on other pages (though you can see on this picture that it doesn't always work properly)
Does that mean that only these 19 people of 833 were playing Call of Duty Modern Warfare 2 at the time? Probably not. There are defnitly more people that played it despite being in the group. It could very well be possible that people in the group not in this picture all played Modern Warfare 2 at the time. However, this picture doesn't show it.
The reason I made this thread is because I saw this picture posted on Twitter and in a thread here to prove a point that boycotts proclaimed by people in gaming communities are null and void when in fact this picture proves nothing. It shows a tiny part of a bigger picture and only the part it wants you to see. And it is still kind of baffling to me that people fall for this almost 10 years later.
So please, don't use this picture anymore to prove anything regarding boycotts in the gaming industry.
P.S.: Doing this thread got me interested in the state of Call of Duty, arguably one of gaming's biggest franchises, on PC. If you check the 100 most played games on Steam and do a "CTRL+F" for "Call of Duty" you find no game of the franchise in the list:
https://store.steampowered.com/stats/
I then went to Steam Charts to check all the entries for the whole franchise:
https://steamcharts.com/search/?q=call+of+duty
At the time of this writing the complete franchise has 11.512 players on Steam. That is less than indie games like Rimworld, Factorio or Stardew Valley.
Of course that number doesn't include numbers of the versions of CoD 1-4 not on Steam. It also doesn't include the numbers of BlOps IIII which is Battle.net exclusive and had the
biggest launch of the franchise on PC
. That can probably be credited to it having a Battle Royal mode which is still a craze I guess. Though we don't know if they could keep all the players.
It can however be said that the franchise isn't as big on PC as it is on consoles. And I can'T say if it has something to do with Modern Warfare 2 ditching dedicated servers or not.