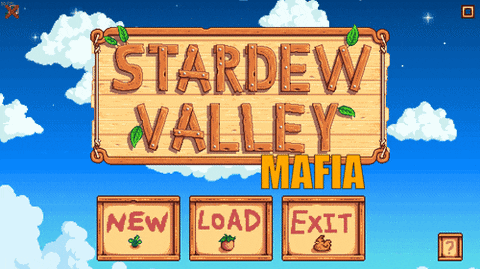 Thanks to Mazre for the thread title

You're moving to the Valley...

You've inherited your grandfather's old farm plot in

Stardew Valley

.

Armed with hand-me-down arguments and a few biases, you set out to begin your new Mafia game!

Features

Create the vote of your dreams

:

Turn your overgrown thoughts into a lively and accurate vote!

Learn to live off the land:

Raise arguments, go role fishing, tend to your teammates, craft lies, or do it all! The choice is yours...

Become a part of the local community:

Pelican Town is home to 20 residents you can befriend!

Meet someone special:

With many townsfolk to date, you may even find someone to have a lunch with!

Explore vast, mysterious tunnels

:

Encounter danger & heat as you keep following them!​
Gamerunners:
Dr. Monkey & Pedro
Game Watchers:
CaptainNuevo
,
Sorian
&
RetroMG
Complexity:
Normal
Day/Night phase length:
48h/24h (note this may be adjusted for the upcoming holidays)

!player_list
[He/Him] Vincent Alexander - UTC-6
[He/Him] Verelios - UTC-5
[They/Them] Aeleus - UTC+0
[He/Him] Stantastic|Stan - UTC+13
[He/Him] Natiko - UTC-5
[He/Him] TearablePuns - UTC-5
[He/Him] malus - UTC+1
[He/Him] Maolfunction|Mao - UTC-8
[He/Him] Stuart444|Stu - UTC+0
[She/Her] empressdonna|Donna - UTC+0
[They/She] weemadarthur|wee - UTC-4
[He/Him] Kalor - UTC+0
[He/Him] flatearthpandas - UTC+9
[He/Him] Z-Beat - UTC-8
[He/Him] Razmos - UTC-0
[He/Him] Fireblend|Fire - UTC-6
[He/Him] NeonBorealis|Neon - UTC-6
[He/Him] Lone_Prodigy|LP - UTC-5
[He/Him] Blargonaut - UTC+8
[He/Him] Ynnek7 - UTC-5
!player_list

Replacement list:
1. NEW [He/Him] SuperRiccardo - UTC+2
2. [They/Them] Reki - UTC-3
Replaced empressdonna
3. [He/Him] TheChuggernaut - UTC-6
Replaced Stuart444
4. [He/Him] Nin - UTC+1
Replaced Aeleus
5. [He/Him] EzekelRAGE - UTC-6
Replaced Razmos
6. [She/Her] lokiduck|loki - UTC-8
Replaced Stantastic


Sample role PM:
Hello, and welcome to Pelican Town!

You are

Sebastian, the Vanilla Townie

. Your only power is to vote (and to die in this sample PM, I guess).

You are aligned with Town and win when all threats against Town have been eliminated

.

The game thread is here.

If you have any questions, please send a PM to Dr. Monkey or Pedro.

After reading this message, please reply to it to confirm you received it.

Good luck!
Mentorship program:
For new and returning players who would like some assistance, we offer a mentorship program where a volunteer veteran player can assist you. If you are interested in having a mentor for this game, please contact your gamerunner. For more info, please check the main
MafiERA OT
.
Last edited: