Welcome to the Steven Universe Future Thread!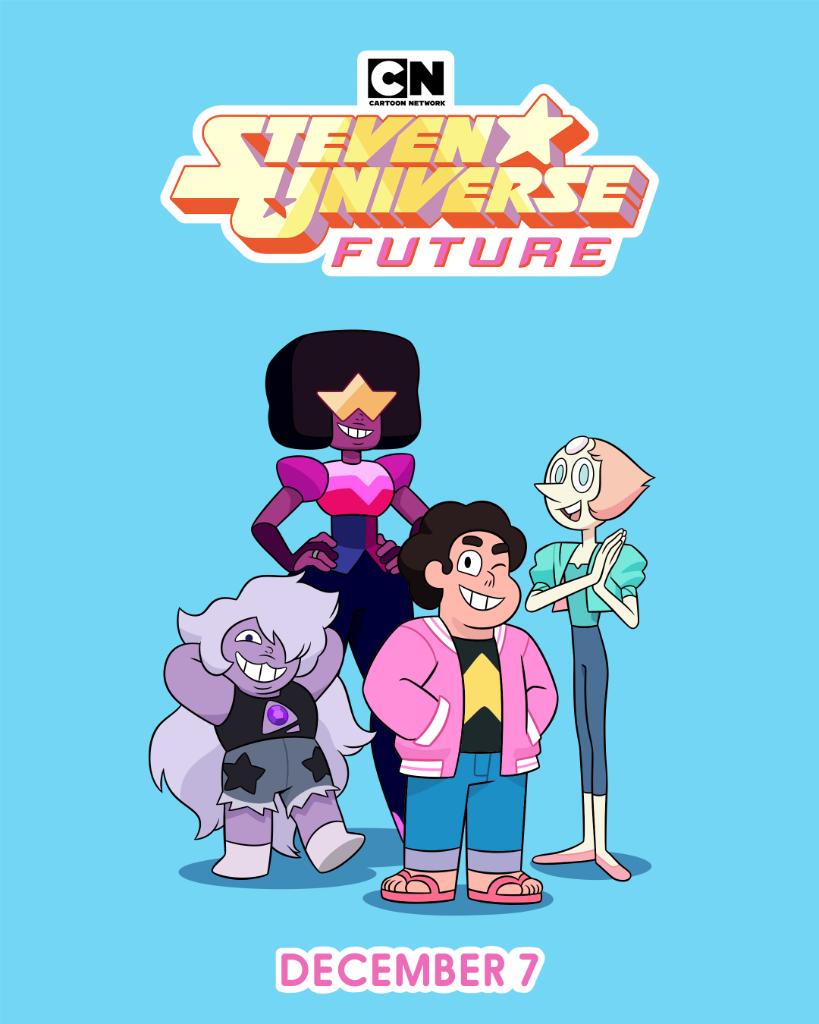 Warning: this thread contains open spoilers for all of Steven Universe as well as the Steven Universe Movie
​
What Is it?
Steven Universe Future
is the sequel series to the critically acclaimed Cartoon Network series
Steven Universe,
which was announced at a Steven Universe panel at New York Comic Con on Friday, October 9, 2019
.
Set two years after the end of
Steven Universe, Steven Universe Future
again follows the adventures of Steven and the Crystal Gems, only this time with a lot more gems along for the ride. Steven and friends will help other gems adjust to their new lives on Earth, and deal with the fallout of Steven's reform of the Gem Empire. Of course with a legacy as messy as the one left behind by his mother Steven will also have to deal with his own problems.
How Long will It Be?
As of this writing we do not know how long Steven Universe Future is, the only indication we have is that it is being presented as a limited series epilogue to the original
Steven Universe
. We do know of at least ten episodes airing every Saturday in December 2019 though.
https://comicbook.com/tv-shows/2019/11/26/steven-universe-future-episode-titles-dates-descriptions/
Where Can I Watch it?
You will be able to watch it on Cartoon Network's cable channel of course, as well as any streaming service that provides Cartoon Network as an option. Cartoon Network will also upload new episodes on their app and website likely after their cable air date, though you may need your cable subscription user information to view it through these. Steven Universe Future is slated to premiere on Saturday December, 7 2019 at 8:00 p.m. eastern time, and most likely will be up on the CN app and website soon after.

Link to Cartoon Network's website: https://www.cartoonnetwork.com/
Characters
Steven Quartz Universe
​
The titular main character of Steven Universe and Steven Universe Future, Steven Quartz Universe is the half-human, half-gem son of Greg Universe and Rose Quartz, aka Pink Diamond. Steven spent much of the story in Steven Universe trying to live up to the legacy of his mother Rose Quartz. However the many things his mother did to hurt others placed a heavy burden on Steven and he has spent much of his time trying to rectify his mother's past actions. At the end of Steven Universe Steven managed to convince his Mother's fellow diamonds to stop their rampant colonization and destruction of other worlds as well as heal all of the corrupted gems on Earth. Now two years later Steven is doing his best to both help the uncorrupted gems settle into their new lives on earth and continue dealing with the complicated legacy his mother left behind for him.
Garnet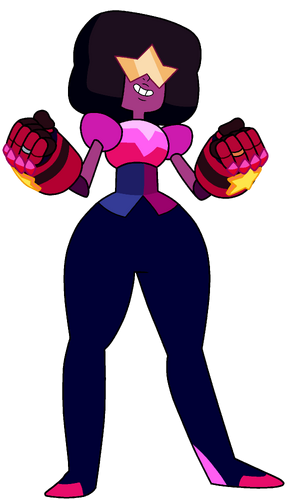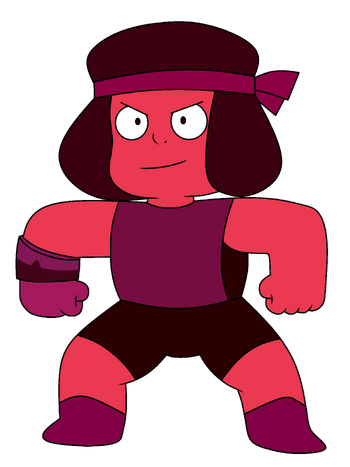 Garnet is the current leader of the Crystal Gems, and a fusion gem consisting of Ruby and Sapphire. Garnet was first formed during the gem rebellion when a Ruby guard defied expectations and jumped in to save her Sapphire from Rose Quartz and Pearl. Due to Gem Homeworld's views against gems of different types fusing together Ruby and Sapphire were forced to flee to the surface of the earth where they spent time trying to figure out their feelings for one another. After they formed Garnet again she was found by Rose Quartz who quickly took a shine to her and soon after she joined Rose's rebellion. In the present after Rose gave up her physical form to birth Steven Garnet took over as the defacto leader of the Crystal Gems and did her best to guide Steven and the other gems in Rose's absence. After it was revealed that Rose was Pink Diamond Garnet, Ruby, and Sapphire had a crisis over the impact that Rose's words had had on them for so long and split up for a short time. After reconciling Ruby and Sapphire decided to get married and were soon after wed by Steven.
Amethyst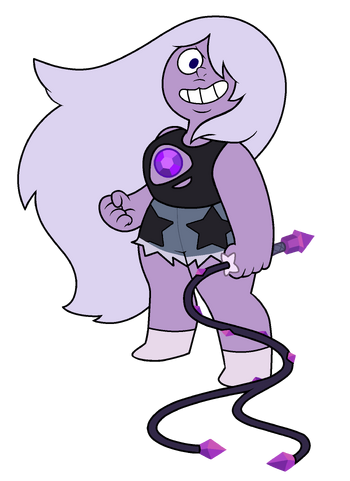 Amethyst is the youngest of the four Crystal gems that were left after the Gem Rebellion. She was an Amethyst soldier created in the prime kindergarten on Earth, but she incubated for longer than her fellow Amethysts and ended up emerging after the rebellion was over. She ended up alone for a time before Rose, Pearl, and Garnet found her alone later. Amethyst as the youngest and having only known the Earth for her entire life is the most comfortable interacting with and being friends with humans among the crystal gems. Though Amethyst started out as the most immature and wild of the gems she has quickly become mature and independent thanks to the other gems and Steven helping her with her abandonment and self loathing issues. After the Diamonds help cure the corrupted gems Amethyst tries to help Jasper with her issues as well though it seemingly doesn't work out.
Pearl
​
Pearl is the longest lasting member of the Crystal Gems and Rose Quartz's original confidant. She was originally the Pearl assigned to Pink Diamond, and when Pink Diamond wanted to see her colony up close despite the other Diamond's insistence that Pink stay on the moon base above the other gems and the life on the planet Pearl was the one who inspired a way for Pink to see the planet without fear of being worshiped or caught, birthing the form of Rose Quartz. Seeing her planet and the other gems made Pink Diamond realize the gravity of what Gem colonization does to a planet and she decided that she wanted to stop the colonization of Earth, but the other Diamonds wouldn't listen to her. Thus Pink Diamond decided to rebel as Rose Quartz and drive the Gem Homeworld off of the Earth. Though Pearl respected and followed Pink before she didn't fall in love with her until Pink Diamond took up the mantle of the rebel Rose Quartz. In order to scare the Diamonds off of Earth Pink Diamond and Pearl hatched a plan to fake the shattering of Pink Diamond by Rose Quartz, though this would end up with the other three Diamonds attempting to destroy every gem on the Earth only to corrupt them all except for Rose, Garnet, and Pearl. After Rose decided to give up her physical form to bring Steven into the world Pearl struggled greatly with the loss of her love of thousands of years. Pearl has been able to become her own independent Gem with the help of Garnet, Amethyst, and Steven though, never losing her love for Rose, but also able to go on and be happy with her family, as a Pearl with no owner.
Connie Maheswaran


​
Connie Maheswaran is Steven's best friend and love interest. Connie's family used to move around a lot so she was never able to make many friends thanks to that and her bookish nature. After they moved to a place near Beach City Connie met with Steven one day and they had an adventure where they were trapped in Steven's bubble. Afterwards Connie and Steven would often hang out and Connie would express how she was very interested in having magical adventures like Steven and the Gems. After a time Connie and Steven approached Pearl to teach Connie swordsmanship to which Pearl happily agreed. Connie has time and again proven herself as both a great friend and ally to the Crystal Gems and is always there when Steven needs her, even going so far as to travel with Steven to the Gem Homeworld and help him try to convince the Diamonds to stop their tyrannical ways.
Greg Universe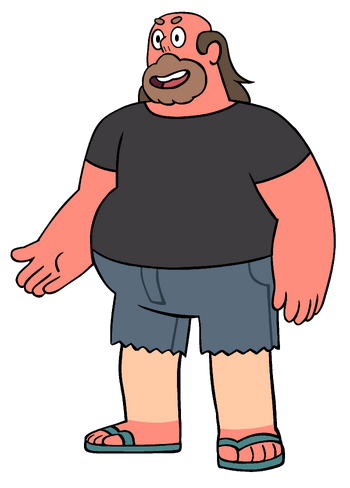 ​
Greg Universe is the father of Steven Universe and lover of the now deceased Rose Quartz. Greg is a former travelling rock star who left community college at a young age, and had his name legally changed from Greg DeMayo. Greg eventually wound up in Beach City where he first met Rose Quartz as the only person watching his concert. Greg ended up staying in Beach City after kicking his manager Marty out of his van, and despite Rose's initial objections eventually became Rose's lover. Though Greg was happy with his relationship with Rose he did have to convince her to talk to each other like equals, and seemingly turned what was for her a fling with an interesting human into a true loving relationship between them. After Rose gave up her physical form to bring Steven into the world Greg raised him with the occasional help from the gems until Steven was ready to move in with the gems to learn more about his gem side. Greg struggled with not living with his son anymore at first, but he was able to adapt and his relationship with Garnet, Amethyst, and Pearl improved greatly thanks to Steven. At one point Greg's old manager Marty showed up having been forced by the courts to bring Greg money he was owed for a song that Marty used in a successful national ad campaign making Greg a millionaire, though he currently still lives in his van and operates his car wash.
Peridot


​
Peridot is a former Kidergartener of the Gem Homeworld and current Crystal Gem. After coming to Earth to inspect and repair the Galaxy Warp Peridot retreated back to Homeworld after discovering one of Steven's Crying Breakfast friend stickers. After a time Peridot returned with Jasper and Lapis Lazuli ending up with them all being stranded on Earth after the gems defeated them. After a period of cat and mouse chasing with the gems Peridot was finally captured and bubbled away, though Steven released her to ask her about the 'cluster' she had mentioned. After this Peridot collaborated with the gems and Steven to help stop the cluster before it formed and destroyed the earth. Peridot was initially distrustful and even spiteful towards Steven and the gems, but Steven's friendship eventually got her to open up to them and even insult Yellow Diamond to her face. After Lapis returned she and Peridot started living together though their relationship was shaky at the start. Peridot and Lapis became basically a backup squad to the crystal gems and eventually Peridot even reformed with stars on her outfit after Yellow Diamond poofed her. Peridot is currently helping build up the gem community on Earth along with Bismuth and Lapis.
Lapis Lazuli
​
Lapis Lazuli is a former resident of Gem Homeworld who was caught up in the gem rebellion and poofed by Bismuth. Afterwards she was mistaken for a crystal gem by homeworld and her gem was inserted into a mirror where she was trapped for thousands of years. After Pearl tried to show Steven gem culture through the mirror Lapis figured out how to communicated to Steven that she wanted to be released. The gems fearing that Lapis might be a homeworld loyalist attempted to stop Steven from freeing her, but he removed her gem from the mirror before they could stop him. Lapis stole the earth's ocean in an attempt to reach homeworld, but with her cracked gem she was unable to fly like she usually would. Steven healed her and Lapis proceeded to fly back to homeworld. Lapis eventually returned after being coerced by homeworld to tell them about what happened on Earth, and she ended up forcing herself and Japser to the bottom of the ocean as Malachite after tricking Jasper by agreeing to fuse with her. The Crystal Gems eventually defeated Malachite and Lapis was rescued and returned with Steven to the barn where she eventually agreed to live with Peridot reluctantly. Lapis continued to struggle with feelings of self loathing and fears of being trapped and fear of gem homeworld, after her experiences with the mirror and then Malachite. When Lapis learned that gem homeworld was apparently going to return she fled to the moon where she stayed for a while before she returned to help the gems fend of Yellow and Blue Diamond. Lapis is currently living on Earth where she helps Peridot and Bismuth build up the gem community.
Bismuth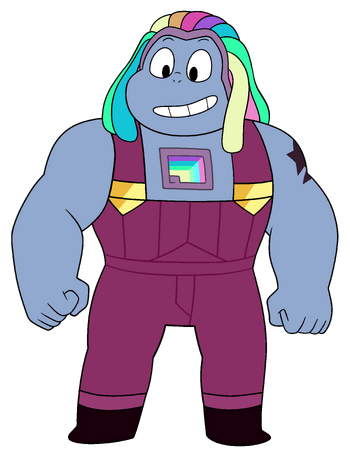 ​
Bismuth is an original member of the Crystal Gems, and acted as a weapon smith in addition to being a warrior during the gem rebellion. Bismuth harbored a particularly strong hatred for the Diamonds and Gem Homeworld which led her to create a weapon called the 'Breaking Point' which could shatter any gem it was used on, even a diamond. Bismuth didn't know her leader Rose Quartz was secretly Pink Diamond however, and Rose ended up poofing her and bubbling her away in Lion's mane until she was accidentally released by Steven thousands of years later. After she was released Bismuth reconnected with Garnet and Pearl, but ended up attacking Steven believing him to be Rose in disguise, and forcing Steven to poof her. After Steven learned the truth about Rose being Pink Diamond and needing some help with Garnet's wedding Steven released Bismuth from her bubble and told her the truth about his mother. Bismuth stayed behind on earth to watch over Lapis and Peridot while Steven and the others went to homeworld to try to convince White Diamond to help them heal the corrupted gems. After the Watermelon Steven came to ask for help Bismuth along with Peridot and Lapis came to homeworld to aid them against White Diamond. Currently Bismuth is helping build residence for the newly uncorrupted gems on Earth alongside the other crystal gems.
Trailer
Discussion Guidelines
​
Discussion of new episodes will be open as soon as the episode is either released on the app or has finished its east coast airing. Officially posted previews or trailers may also be discussed without tags. Anything that is leaked via unofficial channels should be posted behind spoiler tags with a brief title of what you are spoiling as well. I ask that you please be courteous of others when discussing upcoming content.
Thanks for coming and discussing a show about crying and singing, and crying while singing with us, we hope you have a good time here!
​