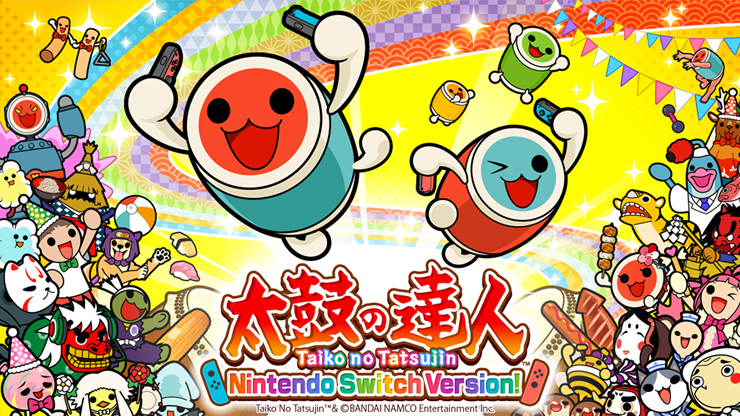 Genre: Rhythm
Release Dates:
JP: 19/07/18
ROW: Soon? (https://gematsu.com/2018/07/bandai-namco-trademarks-drum-master-drum-session-and-drum-n-fun-in-europe)
Price: 6,100 yen
[Note to importers: English language support is available in the JP version as part of the Day 1 patch]


One feature of Taiko Drum Master: Nintendo Switch Version! is the "Furifuri Performance" control method, where you swing the Joy-Cons like drumsticks to enjoy a Taiko Drum Master experience just like you were at the arcade. The "Don" note is hit with a straight downward swing of the Joy-Cons, while the "Kat" note is hit with a diagonal downward swing. HD Rumble is also supported, allowing you to feel each strike of the drums.
(Button and Touch control schemes are also available)
Taiko Drum Master: Nintendo Switch Version! also supports TV mode, table mode, and handheld mode, allow you to perform whenever and wherever. Additionally, up to four Switch units can connect and play performances together in local multiplayer.
Tracklist (I've bolded notable additions and tracks perhaps relevant to posters' interests):
Pop"Takane no Haneko-san" by Back Number
Pop"Tomo ni" by Wanima
Pop"TT -Japanese Ver.-"
Pop"Zenzenzense" from Your Name.
Pop"R.Y.U.S.E.I."Pop"RPG"
Pop"Natsu Matsuri"
Anime"Dokomademo ~How Far I'll Go~" from Moana
Anime"Howling" from The Seven Deadly Sins: Revival of The Commandments
Anime"Be The One" from Kamen Rider Build
Anime"Itsumo Nando Demo" from Spirited Away
Anime"Aloha!!" from Pokemon Sun & Moon
Anime"Cha-La Head-Cha-La" from Dragon Ball Z
Anime"Zankoku na Tenshi no Thesis" from Neon Genesis Evangelion
Anime"Odore Dore Dora Doraemon Ondo"
Vocaloid"Haikei Doppelganger" by Kemu
Variety"YouTube Theme Song" by Hikakin & Seikin
Variety"Grip & Breakdown!! Tatsujin Edit." by Touhou Project Arrange Sound Holic feat. Nana Takahashi
Classic"Tengoku to Jigoku Jokyoku" by Offenbach
Game Music"Jump Up, Super Star! Short Version" from Super Mario Odyssey
Game Music"Splatoon 2 Medley"
Pop"Mita koto mo nai Keshiki" by Au Santarou Soccer Ouen CM Song
Pop"Sugar Song to Bitter Step"
Pop"Memeshikute" by Golden Bomber
Pop"Train-Train"Pop"One Night Carnival"
Pop"Silent Jealousy"Anime"Lupinranger vs. Patranger"Anime"
Pop Team Epic" from the opening theme of the TV anime Pop Theme Epic
Anime"Yo-Kai Taisou Dai'ichi" from Yo-kai Watch
Anime"We Are" from One Piece
Anime"Odoru Ponpokorin" from Chibi Maruko-chan
Anime"Sanpo" from My Neighbor Totoro
Anime"Kimi ni 100 Percent" from Crayon Shin-chan
Anime"Anpanman no March"
Vocaloid"Juumensou Colorful Ver." by YM
Vocaloid"Onigiri ha Doko Kashira" by Yomii
Variety"Jounetsu Tairiku"
Variety"Bad Apple!! feat. Nomico" by Touhou Project Arrange Alstroemeria Records
Variety"Iro ha Nio he Dochiri Nuru wo" by Touhou Project Arrange Ryuuhei Satellite
Variety"ABC no Uta"Variety"Omae Butamen" by Oyatsu Company & The Puh
Classic"Kumabachi no Hikou" by Rimsky-Korsakov
Classic"Toruko Koushinkyoku" by Beethoven
Game Music"Kirby Medley" from Kirby's Return to Dream Land
Game Music"Pac Toy-Box" from Pac-Man Championship Edition 2
Game Music"Anzu no Uta" from The Idolmaster: Cinderella Girls
Performance Characters:

Performance characters are one of the new elements in Taiko Drum Master: Nintendo Switch Version! Before starting a performance, you can select a performance character. Each characters possesses various performance skills, so be sure to challenge songs that you have never played before.
Guest Characters:

Squid from
Splatoon 2

Since Squid's skill lets you clear performances more easily, it enables even beginners to take on the challenge of a difficult song.
Kirby
Kirby's performance skill is recommended for people who might say, "I want to beat the drums with better timing to the rhythm," or, "I want to barrage hit the balloon notes more successfully." Also, the "Kirby Medley" from Kirby's Return to Dream Land will appear in the game as a playable song.
Party Games!

Beach Volleyball
Pollination?!
Everyone Bon Odori
Home Run Batter
Trailer:
Hori Drum Peripheral (7528 yen)

All quoted info and screens credit to Gematsu