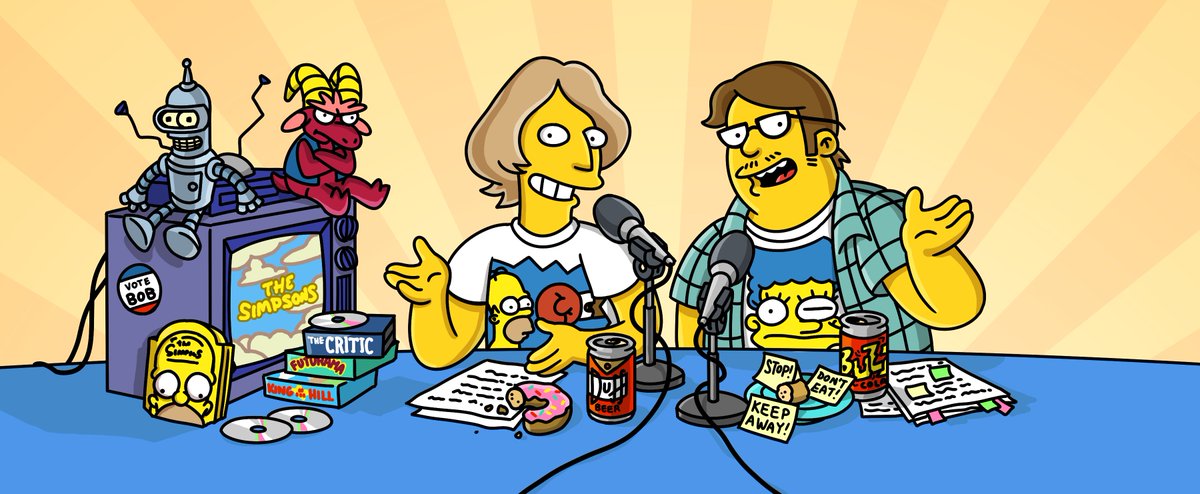 Talking Simpsons is a animation podcast hosted by Bob Mackey and Henry Gilbert. They post multiple episodes a week.
The current podcast line up is:
Mondays: What A Cartoon!
What A Cartoon! reviews single episodes of cartoon TV shows. Shows reviewed so far include episodes from: Batman TAS, Dexter's Labratory, Bobby's World and Kill La Kill as examples.
This podcast is free with $5+ Patrons getting one week advance episodes
Wednesdays: Talking Simpsons

Talking Simpsons is a chronological review of The Simpsons. As of April, 2018, they are 1/2 way through Season 7.
Before you ask, yes they will be reviewing all episodes. Even the "bad ones" post season *insert season you started hating the show here*.
This podcast is free with $5+ Patrons getting one week advance episodes
Fridays: Talking Futurama

This podcast reviews single seasons of cartoon TV series and they are currently reviewing Season 1 of Futurama.
This podcast is exclusive to Patrons at the $5 and above level.
Currently, one season of one cartoon TV series per year will be done. If the Patreon surpasses $11000/month(currently only about $750 to go), 2 seasons will be done per year.
Bonus episodes!

Bonus episodes go live from time to time on off days and they include interviews with people involved in making the cartoons discussed on the podcasts. Past guests include Mimi Pond, Mike Scully, Ian Jones-Quartey, Dan Greaney etc.
Bonus episodes are $5+ Patron exclusive.
There's also a Patreon exclusive "Talk to the Audience" podcast and it's always death. Not Sonic call in show death, but death all the same.
Talking Simpsons Free RSS feed:
http://talkingsimpsons.libsyn.com/
What a Cartoon Free RSS Feed:
http://whatacartoonfeed.libsyn.com/rss
Donate to Talking Simpsons on Patreon:
https://www.patreon.com/talkingsimpsons