Movie Information/Resources
The unknown future rolls toward us.
We face it
23rd October 2019 in the UK, and November 1st in USA.
Produced by: James Cameron, David Ellison
Directed by: Tim Miller (Deadpool, co-founder of Blur Studio)
Story by: James Cameron, Charles Eglee, Josh Friedman, David Goyer
Screenplay by: David Goyer, Justin Rhodes, Billy Ray
Music by: Junkie XL
A direct follow-up to Terminator 1 & 2

Rated R
SPOILER POLICY
:

This thread is spoiler friendly. If you want spoiler-free discussion, try the
review thread
.
First post remains without spoilers for information.
Check out Arnold Schwarzenegger, Linda Hamilton, Mackenzie Davis, Natalia Reyes, Gabriel Luna, & Diego Boneta in this extended look at Terminator: Dark Fate....
www.youtube.com
Over two decades after the events of Terminator 2: Judgment Day, a new killing machine called the Rev-9 (Gabriel Luna) is sent from the future in order to terminate Dani Ramos (Natalia Reyes). An enhanced cyborg human (Mackenzie Davis), Sarah Connor, and another unlikely ally come to her aid in a new fight for the future.
James Cameron returns to the franchise for the first time in 27 years to develop the story for this direct sequel to Terminator 2. Linda Hamilton returns as well to finally reprise Sarah Connor. Arnold is always back.
Linda Hamilton
as Sarah Connor.
Arnold Schwarzenegger
as the T-800 Model 101.
Natalia Reyes
as Dani Ramos.
Mackenzie Davis
as Grace.
Gabriel Luna
as the Rev-9.
Diego Boneta
as Dani's brother Miguel.
Which Terminator movies should I have seen before this one?
What about the other sequels? How do they fit into the timeline? Should I see Terminators 3/4/5/SCC?
​
No. Those are not in this continuity and had no story involvement from Cameron. Jim Cameron calls those sequels a
bad dream
or an alternate timeline, whatever pleases you. They're not relevant.
Dark Fate
is effectively the new Terminator 3. No fate but what Jim and Tim make.​
Why does Arnold's T-800 look aged?
A T-800 infiltrator is a cybernetic organism. Living tissue over a metal endoskeleton. Flesh, skin, hair, blood, grown for the cyborg. Sweat, bad breath, everything.​
It's basically legitimate human meat on top. The skin ages, given time.​
​
What's the deal with this new terminator model?
The Rev-9 (presumably short for Revision 9, and a reference to Revelation 9) is a machine that utilizes both an endoskeleton and liquid metal simultaneously. These components can split into two figures and operate separately. One pure liquid metal (like a T1000), the other a bare endoskeleton.​
But what happened with August 29th 1997? No bombs?
Terminator 2 happened: "She intends to change the future." "The future, always so clear to me, has become like a black highway at night. We were in uncharted territory now... making up history as we went along." "The future is not set. There is no fate but what we make for ourselves." "The unknown future rolls toward us."​
Where is John Connor?
He took off on his bike this morning. There was a guy here looking for him too. Big guy on a bike.​
Was Terminator Genisys a renaissance?
Were anyone's lights trashed? Did anyone go ahdadada
like this
in the background?
Ken Seng is a nice guy, no problemo.​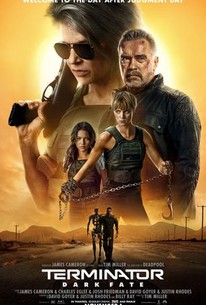 More than two decades have passed since Sarah Connor prevented Judgment Day, changed the future, and re-wrote the fate of the human race. Dani Ramos (Natalia Reyes) is living a simple life in Mexico City with her brother (Diego Boneta) and father when a highly advanced and deadly new Terminator...
www.rottentomatoes.com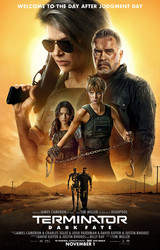 Terminator: Dark Fate movie reviews & Metacritic score: Welcome to the day after Judgment Day. Linda Hamilton (Sarah Connor) and Arnold Schwarzenegger (T-800) return in their iconic roles in Terminator: Dark Fate...
www.metacritic.com
Predicted opening: ~$40m
Search for screenings / showtimes and book tickets for Terminator: Dark Fate. See the release date and trailer. The Official Showtimes Destination brought to you by Paramount Pictures
tickets.terminatormovie.com
Directed by Tim Miller. With Linda Hamilton, Arnold Schwarzenegger, Mackenzie Davis, Natalia Reyes. An augmented human and Sarah Connor must stop an advanced liquid Terminator, from hunting down a young girl, who's fate is critical to the human race.
www.imdb.com
r/TheTerminator: A friendly subreddit for movie fans to discuss any aspect of the Terminator series, including news, rumors, art, nostalgia and …
www.reddit.com
《未來戰士:黑暗命運》(Terminator: Dark Fate) 2019年10月31日 占士金馬倫(James Cameron) X《死侍》導演添米勒 (Tim Miller)
www.youtube.com
The day after Judgment Day is here. Play as Grace and the Rev-9 from Terminator Date Fate before the theatrical release November 1. Terminator Dark Fate and ...
www.youtube.com
https://www.playstation.com/en-us/games/mortal-kombat-11-ps4/ Extinction is inevitable with the arrival of Terminator T-800 to the Mortal Kombat 11 roster. A...
www.youtube.com
Foreign language movie titles:

Exterminator of the Future: Dark Destiny​

Terminator: Shrouded Destiny​

Relentless Exterminator: Dark Destiny​

Terminator: Grim Fate​

Destroyer: Dark Destiny​

Terminator: New Fate​

Terminator: Black Destiny​
​
Last edited: