WHAT IS THIS?
It was suggested by several members in the ongoing thread about the
Catherine: Full Body
scandal (see below) that a "megathread" be created about the man responsible, Katsura Hashino. The purpose of said thread would be to educate Era users about his views, works, and the intersection of the two over his years in the industry. This is that thread.
WHO IS THIS?
Katsura Hashino
is a senior director and producer at famous video games studio Atlus Co., Ltd. (now a subsidiary of SEGA). He joined the company in 1994, and made his directorial debut with the 1999 DreamCast hack-and-slash game,
Maken X
. He went on to become director of P-Studio, the division in charge of the Persona series, and was director/producer on all of the 'modern' entries in the franchise (
Persona 3, 4, 5
), as well as their remakes and spin-offs. In 2017, he became leader of his own new internal division, Studio Zero, whose works include
Catherine: Full Body
and the upcoming Western-fantasy RPG
Project Re: Fantasy.
I was curious how old he was, but outside of his work at Atlus there is pretty much no information about him online.
Katsura Hashino possesses virulently offensive and phobic views on the LGBT community, women, and other groups.
Since becoming a games director, he has celebrated and incorporated these views into his works. The following is intended as an itemized and educational record of precisely how these views have appeared in the last decade of Atlus video games.
2006: PERSONA 3
The first Hashino-directed Persona game,
Shin Megami Tensei: Persona 3
, contains a beach scene where the male party members express their shock and disgust upon learning that a female character they were hitting on is actually transgender (as part of a longer scenario called "Operation Babe Hunt"). An
updated version of the scene
appears in the game's 2009 PSP remake.
It's also worth noting that both the original Persona 3 and the male route of the remake do not allow platonic relationships between members of the opposite sex,
because Hashino "couldn't imagine boys and girls being friends"
.
2008: PERSONA 4
2008's
Shin Megami Tensei: Persona 4
is where Hashino's problematic views first become highly visible. Much of this comes in the person of party member Yosuke Hanamura – although his best pal Teddie, who is also the game's mascot, frequently chimes in as well. Shockingly,
Yosuke was apparently originally intended as a gay romance option
. Instead, in the final game, he is one of the most misogynist, homophobic, toxically hetero-masculine characters in video game history. Yosuke is constantly ogling and objectifying women. Near the beginning of the game, Yosuke interrupts an important conversation about the Midnight Channel (where you are, literally, attempting to identify the next target of a serial murderer) to ask you which of your female friends you find hotter. In a mid-game dungeon, Yosuke does not deny a charge that he is hesitant to save pop idol Rise from
lethal danger
because of the possibility that she will take her clothes off. During the camping trip scenario, Yosuke initiates one of the most frankly disgusting and creepy scenes I have ever witnessed in a game (video above). Of his own accord, he goes out and buys a pair of skimpy women's swimsuits. He then attempts to guilt female party members Chie and Yukiko into putting them on against their will, arguing that they
owe
him an exhibitionist display because he saved them from getting into trouble (which he himself caused). Please keep in mind, that these characters are supposed to be
your best friends
. The game never criticizes these misogynist actions, nor presents them in any sort of negative light; in fact, they are actually
rewarded,
as, in the scene above, Chie and Yukiko eventually do put on the swimsuits (to their incredible discomfort). There is a clear narrative line that this type of behavior is to be condoned, or even celebrated, and that it is archetypal of the "cool, womanizing dude" Yosuke is always striving to be.
Yosuke's homophobia is just as blatant and outrageous. In a different camping scene, Yosuke is violently uncomfortable sharing close quarters with the character Kanji (discussed in further detail below) to an almost-satirical degree. His line of dialogue in this scene involves literally asking an LGBTQ character, "Are we gonna be safe alone with you?". He upsets Kanji so much that he leaves for the night to do something reckless in attempt to 'clear his name' (double yikes). Again, this is played off as a "funny scene" for which Yosuke suffers no consequence or censure.
Then, of course, we come to the character of Kanji. Allow me to explain a key plot aspect of the game (not a spoiler) for those who have not played it. The boss fights and dungeons in Persona 4 often involve party members encountering their "Shadow selves". Essentially, this is their Freudian
id
– a "secret aspect" of their "true self" they keep bottled-up inside, whose suppression causes them pain and emotional turmoil. Kanji's secret is that he is attracted to men. The game proceeds to handle this in as phobic and stereotyped a manner as possible. Kanji's dungeon is a bathhouse that is literally titled in-game as "MEN ONLY!! Kanji Tatsumi IN Rosy Steamy Paradise". In human form, his Shadow self has a permanent erotic grin on his face, reflecting the stereotype of the "perverted deviant homosexual".
In boss form, Shadow Kanji is fully nude and embedded in a bed of roses, literally attacking the player with the double-male symbol (⚣), while flanked by a pair of stereotypical buff, oiled "anikis"
.
It gets worse though. After defeating the boss, rather than going ahead with what may have still been a salvageable, uplifting scene of Kanji and his friends accepting his sexuality, the game immediately backpedals. We are told that Kanji is actually heterosexual (despite the game's previously exaggerative insistence to the contrary), and that he was really just trying to hide his love of "feminine things" like cute dolls and sewing. The game later reinforces this message by showing Kanji expressing feelings for the female character Naoto in a repeated and in-your-face manner, as if to say, "See? He's not one of
them
!" So, in the course of this one character's arc, we progress successively from phobia, to stereotype, to outright denial.
2012: PERSONA 4 GOLDEN

The Vita remake of
Persona 4
contains
a new bodyshaming scene
featuring Hanako, a character who was already treated problematically in the original game. Here again, she is treated as a joke and an object of ridicule, literally breaking Yosuke's new motorcycle just by sitting on it.
2017: PERSONA 5
Persona 5
contains a pair of inexplicably-forced homophobic scenes that appear completely out of the blue. On a street corner in Shinjuku, and again during a beach scene, the party member Ryuji is "harassed" by a pair of gay men who exist solely as yet another "joke" perpetuating the "deviant, dangerous homosexual" stereotype. Many people (myself included) consider this game to be one of the greatest RPGs of all time, making it all the more tragic that it is not spared from Hashino's random phobic taint. Unfortunately, while Hashino is no longer a part of P-Studio, our last example makes it seem unlikely that these scenes will be removed from any future port/remake of the game...
[NOTE: I would post the footage of this scene, but due to in-game recording restrictions the best quality video to be found on YouTube
comes from a shitty channel, with an offensive title
. You may click that link if you wish to see it, but you have been warned.]
The game has also received deserved flak for its contradictory viewpoints on the sexualization of the party member Ann (
who, during the events of the story, is 16 or 17 years old
). To spoil as little as possible, Ann and her friend Shiho are the victim of unwanted sexual advances by the villain
Suguru Kamoshida. Later, in retaliation for Ann refusing his advances, Shiho is implied to have been sexually assaulted by Kamoshida, which drives Shiho to attempt suicide by jumping off the school roof. She spends the rest of the game recovering in hospital, while Ann deals with feelings of violation and guilt; it is an incredibly dark and distressing scenario all around.
Ann spends the rest of the game dealing with the trauma of this experience. However, in the very next plot scenario of the game, Ann is pushed by the party members to gain access to a reclusive artist's home by stripping naked (or at least, "pretending" to agree to it) for a male stranger, despite her clear distress and uncomfortability with the idea. She continues to be sexualized by party members throughout the game,
even being ogled by them in the final cutscene
(not a spoiler). The paradoxical, self-defeating message seems to be that unwanted behavior towards women by the "bad guy" is bad, but when done by the "good guys" it is perfectly kosher and unworthy of any comment or expression of disapproval.
Fortunately, on the Persona front at least, Hashino seems to have signaled that he is no longer involved. After leaving P-Studio to become head of his own division, Studio Zero,
Hashino noted in a PlayStation Blog post that he had 'handed off' the series to successors
. Whether he is indeed gone from the series, or whether his successors are indeed better human beings than he is, remains to be seen; if so, however, then the Persona series could indeed have a brighter and less phobic future.
2019: CATHERINE: FULL BODY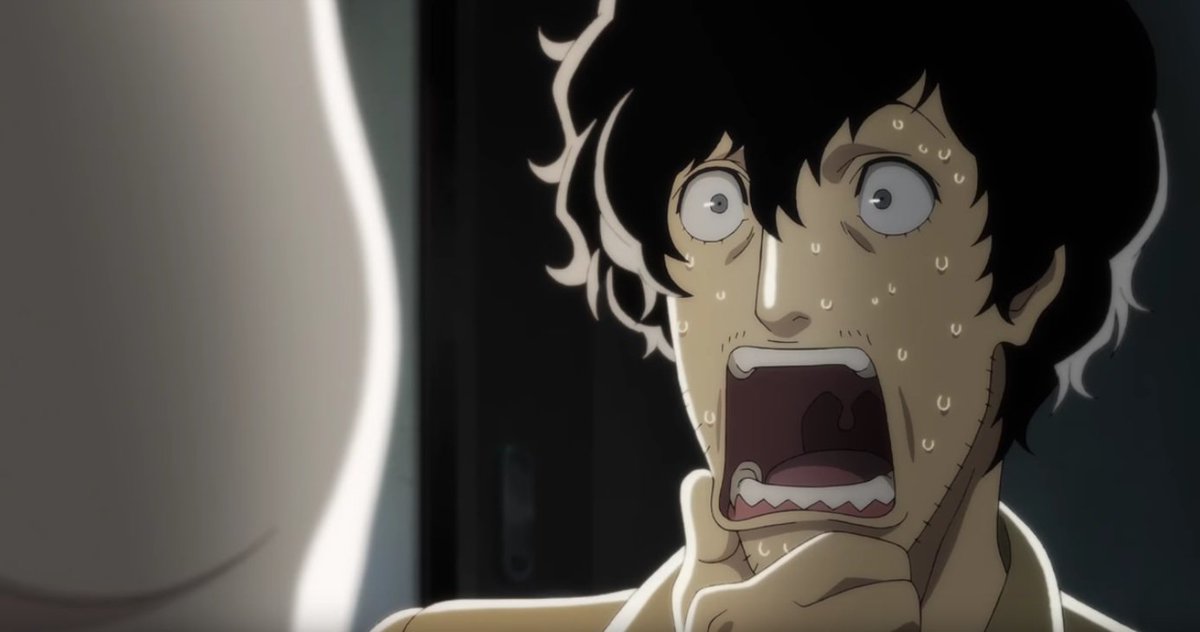 Though the 2011 PS360 title
Catherine
was a P-Studio production, the 2019 enhanced remake for PS4 and Vita was handled by Hashino's new Studio Zero. The original game includes a trans female character, Erica Anderson, whose treatment throughout the game's story is incredibly phobic. The protagonist, Vincent, and his friends act with shock and disgust upon learning that the character Toby is dating Erica. In the Marriage Ending of the game, Toby, upon finally realizing that Erica is trans, tells her he "wants [his virginity] back". The game
deadnames Erica in the credits
(though the PC port by SEGA Europe,
Catherine: Classic
, changes this), and
calls her "male" in the official art book
. She is even shown to
suffer the same "curse" as the male characters of the game
, implying that she is "not a real woman" as far as the plot is concerned.
While the remake may have provided the perfect opportunity to fix these issues,
Catherine: Full Body
instead doubles-down with a more transphobic narrative than ever before. I will spoiler tag the following information for the sake of traditional courtesy, but I would urge anyone who is remotely "interested" in purchasing this release to read it. In a new ending made for the game,
the succubus Catherine travels back in time and creates a new "better life" for all of the game's characters. This "better life" apparently involves Erica never transitioning, and instead living as a man. The narrative implication, of course, is that transitioning is "wrong", and Erica is "better off" this way, despite this clearly being at odds with her express wishes on the issue of gender.
The game also manages to introduce an entirely-original problematic character named Rin, who is a love interest that is eventually revealed to be
Hashino has stated in interviews that
Full Body represents "the completed, original concept" for Catherine, which was not possible eight years ago because "society was in a different place with regard to values"
. There can be no doubt that these grossly phobic portrayals and plotlines are an acknowledged and deliberate thematic inclusion on his part. This is a clear "ramping up" of such narrative injections from him, and it seems as though he now feels "confident" enough in its commercial viability to push his views just as hard or harder in future projects.
WHAT CAN WE DO?
Within hours of the phobic revelations about
Catherine: Full Body
,
a petition to add the game to the official ResetEra banlist
(written by yours truly) was submitted to site admins, amassing almost 50 member signatures and
prompting an official staff response
. While the request to ban discussion of the game outright was rejected, on the grounds that it would "inadvertently serve to sweep the issue under the rug", the game's phobic content was acknowledged and condemned in the strongest terms, and an official notice was added to the top of the game's OT communicating that said content was "so blatantly offensive that defense of them, or any dismissal of relevant criticism, will be met with bans."
While debating the merits of sending a petition, and following the staff response, a common question asked by members was: What can we do? After all, ResetEra was literally founded as a result of disgusting views and actions taken by a powerful individual in the games community, with the intention of creating a space where everyone with a passion for games could feel safe, valued and welcomed. The existence of commercial titles that directly contradict these goals, and actively profit off of the promotion hatred, discrimination and phobia, is repugnant to our very existence as a forum. So, what indeed can we, as consumers, enthusiasts and concerned members of the community do in the face of such a situation?
One suggestion was the creation of a thread to directly "name, shame, and catalog" the offensive behavior of the games creator responsible. I believe this thread accomplishes that objective, and will hopefully bring those outside the know up to speed on this issue – as duckroll's thread brought many of us up to speed on the reality that longtime Dragon Quest composer Koichi Sugiyama is, in fact, a virulent and publicly-outspoken homophobe and war crime denier.
Another suggestion is the boycott of future Studio Zero titles, including
Catherine: Full Body
, and the upcoming
Project Re: Fantasy
. It seems obvious that, for so long as Hashino remains commercially successful and in decent public relations standing, his employment will not be threatened, and he will continue to receive the respect and resources necessary to put out new titles that can serve as outlets for his offensive views. By voting with our wallets and shouting with our social media accounts, we do indeed have the potential to affect real change. This is a course of action that the author of this post will most certainly be taking. Others in the conversation have suggested the boycott be widened to all games by Hashino's employer, Atlus Co., Ltd., entirely.
The purpose of this thread is threefold. The first is to provide all the relevant reading on this subject in a single, convenient place for both current and future reference. The second is an outlet for members to continue their opposition to Katsura Hashino and the inclusion of his phobic views in games; ResetEra is the largest gaming forum in the world, frequented by many important English-speaking members of the games industry, and our words do, indeed, not fall solely on deaf ears. The final purpose is for members to continue to provide suggestions to the ongoing and important question – What can we do? Will you be joining the boycott of Hashino's products? Will you raise the case of this latest offensive work to video game journalists and content outlets? What do you think should be done to most effectively work, however we can, for the removal of these phobic views from our games? I am eager to listen to your suggestions on this.
Much thanks must go out to the makers of the screenshots and videos contained in the post; the ResetEra members who directly or indirectly provided the information in this thread; and everyone who has done work on education and confrontation of this issue.
Last edited: