OP is in need of contributions!​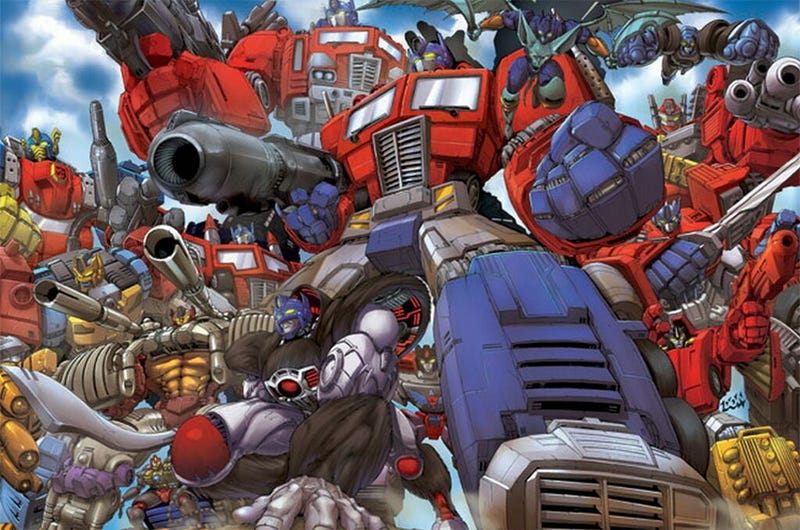 Transformers are not "back," they never left!
TV Shows!
Robots in Disguise (2015): The current show, decidedly geared toward younger viewers. Takes place after the events at the end of Transformers: Prime, but bears little resemblance to its predecessor beyond the temporary absence of Optimus Prime.
Transformers: Rescue Bots: Oh hey, it apparently won an Emmy? I did not know that. A TF show squarely aimed at pre-schoolers that feature Autobots rescuing people. Notably has no Decepticons at all.
Transformers: Prime: A slightly darker take on the mythos, striking a kind of balance between the movie "Bayformer" overdesign and Animated's "Robots don't have noses" design sensibilities.
Transformers: Animated: The most "out there" Transformers series next to the Beast Wars saga, it envisions Optimus Prime as the leader of a bunch of menial labor schlubs playing superhero in a future Detroit. Really weird character designs, but otherwise fantastic.
Transformers: Cybertron: In Japan, this is a completely independent standalone series. In the West, it's a follow-up of Energon. The result is a mess as the translators try and make things fit together. It's the high-point of the Unicron Trilogy, but that's little more than damning with faint praise.
Transformers: Energon: Well, at least they improved the animation over Armada. Energon is still an incomprehensible pile of garbage of a series where they resolved the major conflict halfway through and then did it again because reasons. Cars in space!
Transformers: Armada: Oh man, the anticipation for this thing was killer. It was supposed to herald the age of Takara and Hasbro working together on a unified toyline and series. Then the show aired, and... Wow. You really had to be there, because the backlash was intense and prolonged.
Transformers: Robots in Disguise: A stop-gap series aired in the US while Hasbro worked with Takara to develop Armada. It's a goofy and harmless kid show that was most notable for the return of earth-based vehicle modes after a prolonged absence. Pretty disposable.
Beast Machines: The canonical end of the G1 continuity is that Cybertron turns into a giant turnip. Terrible characterizations of existing characters, terrible plot, terrible just about everything, though the animation quality was a nice upgrade over Beast Wars.
Beast Wars: Hasbro took a lot of gambles with Beast Wars, and they almost all paid off in spades. It easily held the crown as the best Transformers show for years before it was arguably challenged by some of the later shows. The animation hasn't held up too well, and the slapstick was never not cringey, but the characters are still great.
Generation 2: Generation 1 shows reaired with stupid CG "Cybercube" transitions between scenes that would occasionally stretch out the aspect ratio for no reason whatsoever.
Generation 1: The original that started it all. Tons of animation mistakes. Lots of really terrible episodes. It is beloved regardless.
Comics!

Know your stuff about Transformers Comics? Write it up and I'll add it to the OP!​
Current ongoing comics
Previous comics
Toys!
Transformers: The Last Knight (2017 - present): Figures tying into the fifth live-action movie in the series. There's a ton of product out there, to the point it's difficult to keep track of. Lots of redecos of previous toys, lots of toys with incredibly simple transformations focusing on younger audiences. There are some cool-looking figures if you dig deep enough into the lineup.
Robots in Disguise (2015 - present): The unifying gimmick of the line is that you can scan the faction shield of each figure with the accompanying app, and... Idunno. I've never scanned it. Toys are overall geared at younger kids.

Minicon Weaponizers: Minicons that turn into weapons and stuff.
Combiner Force: Introduces a simplified combiner gimmick. There are a couple five-bot combiners, and a bunch of Energon Autobot-esque combinations of two robots where one is the upper body and the other is the lower.
Transformers: Rescue Bots (2011 - present): The spiritual successor to Transformers Go-Bots, this is a line for preschoolers with super-simplistic transformations and cartoonish designs. Also features weirdness like Optimus Prime turning into a T-Rex and Bumblebee turning into a raptor. You see a lot of the core cast just getting different forms repeatedly.
Transformers: Generations (2010 - present): Started as a mix of War for Cyberton figures and modernized G1 figures that supplanted the Classics and Universe series as the secondary line of merchandise to run alongside the current show.

Fall of Cybertron (2012 - 2013): After a short hiatus, the line shifted its focus to the characters from Fall of Cybertron and other Cybertronian characters.
Thrilling 30 (2013 - 2014): For the 30th anniversary, the line shifted once more back to Classics/Universe-style updates of existing classic characters. Introduced the new size classes of Titan and Leader.
Combiner Wars (2014 - 2016): Focused on re-envisionments of the classic combiner super robots and their teams, with a few modifications and updates along the way. Also saw some all-new super robots made of existing characters who were not previously combiners.
Titans Return (2016 - present): Largely the return of Headmaster robots, to varying successes. Once again saw characters who had not previously been part of the original Headmaster lineups getting the Titan treatment.
Power of the Primes: Upcoming line that is kind of a mix of the Power Master and Pretender figures from Generation 1. Will be out soon!
Transformers: Age of Extinction (2014): The first movie toyline to have an outsized focus on simple, child-friendly toys that made up nearly fully half the lineup. Also gave us Bayformer Dinobots, which is pretty... ehhhhh...
Transformers: Prime (2011): The Toyline That Almost Wasn't Then Was. Apparently, at one point, there was serious consideration to only releasing the main characters as part of the Generations line, but that quickly fell by the wayside as they were instead rolled out as First Edition figures, followed by a slightly less complicated mainline.

Beast Hunters (2013): Interestingly enough, there is a wild difference between the Beast Hunters toys and the cartoon. The cartoon mostly centered around the Autobots hunting Predaking, whereas the toyline had the Decepticons infused with animal characteristics, an almost revisitation of Beast Machines' "technorganic" concepts. The follow-up Robots in Disguise series is clearly based on this idea, which makes the two shows wildly dissonant from one another.
Transformers: Dark of the Moon (2011): An interesting mix of named characters from the movie not getting a toy release, human action figures packaged with Transformers, and a "MechTech" gimmick that featured transforming weapons usable in both vehicle and robot mode. A fairly varied mix of product.
Transformers: Revenge of the Fallen (2009 - 2010): Interestingly enough, the Revenge of the Fallen line transitioned the characters who didn't appear in the movie into a un-subtitled "Transformers" line.
Transformers Animated (2008 - 2009): Definitely a black sheep sort of toyline, the figures are fairly faithful representations of the characters on the show. The show was characterized by the most cartoonish designs yet seen for the franchise, resulting in strange proportions and squat vehicle modes from time to time.
Transformers Crossovers (2008): The seemingly inevitable result once you open the floodgates with Star Wars Transformers crossovers, this time it was primarily Marvel superheroes who got in on the action. I don't believe any of these were actually designed by the Transformers team. I guess the Hulk/Tank one is pretty okay.
Transformers (2007): The movie arrived with a marketing blitz that hadn't previously before been seen in the franchise. Different difficulty levels, role-play items, retailer exclusives galore, original characters not featured in the movie, it was everywhere.
Transformers: Titanium (2006 - 2009): Titanium was a line that featured a broad array of Hasbro licensed properties, but Transformers were a significant portion. It featured a combination of die-cast miniatures and deluxe-sized figures that were made of mostly die-cast metal. It did a really excellent job of showing people that figures made mostly of die-cast metal were not a quality toy.
Star Wars Transformers (2006 - 2008): A collection of Star Wars vehicles that transformed into... giant robot versions of their pilots. There weren't a lot of high-quality figures to come out of this line, but there are some that aren't half bad and make for a neat novelty. There were a surprising number of figures; in writing this it turns out that there were a bunch more than I even knew about, and this was back when I was still very much on the pulse of all things TF.
Transformers Classics (2006 - 2007): A very small, stop-gap toyline that was the first efforts we saw to bring back classic G1 figures with modern engineering. Notable for the fact that Megatron was once again a gun, albeit a nerf-looking one. It replaced and was eventually replaced by the TF Universe brand, though the Universe line that came after also carried on with having all-new molds in the mix with the redecos.
Transformers: Cybertron (2005 - 2007): The last of the Unicron Trilogy toylines, and arguably the best of them by a wide margin. The unifying gimmick for this line were Cyber Keys, which were functionally similar to Minicon-activated gimmicks from the Armada series. A wildly diverse lineup, its theme was to show different Transformers from different planets, offering toys with realistic Earth-based modes, futuristic and sci-fi modes, and animal-based modes.
Transformers: Energon (2004 - 2005): The follow up to Armada lacked a unifying gimmick, instead opting for ones more or less exclusive to each faction. Autobots could combine (either with one another or with additional parts of their vehicle mode), Decepticons had "Hyper modes" that revealed extra weapons, and the Omnicons/Terrorcons had accessories that could combine into weapons to be wielded either by themselves or larger figures. Later, the combination gimmick was expanded to include Decepticons too in the form of the first Scramble City-esque combiners that the franchise had seen in years. Pretty solid line overall, definitely a step above Armada and holds its own with Cybertron.
Masterpiece Transformers (2003 - present): Ultra-high-end figures aimed at collectors. Mostly G1 figures (though Beast Wars characters were introduced in 2016), these figures focus on fidelity to the character's depiction in the show and typically feature complex transformations and outstanding articulation. Hasbro's version of the line is a pale shadow of Takara's offerings.
Transformers: Universe (2003 - 2009): Universe started off as a sub-line of redecos and occasional retools of older figures to run alongside the main line. It was also a vehicle for retailer exclusive figures at the time. It was off and on for a period of year--shelved, for instance, to make room for the short-lived Transformers Classics--but came back in full force in 2008 before transitioning into the Generations line.
Transformers; Alternators (2003 - 2006): Initially started off as kind of "Masterpiece-light." Figures were 1:24 renditions of licensed vehicles that transformed into highly-detailed, highly-articulated figures. In Japan, this series was knowns as Binaltech and featured die-cast metal parts that were not found on the US versions. As time went on, the figures got increasingly divorced from the original G1 characters they were supposed to represent, and we wound up with things like Grimlock turning into a Ford Mustang and Ravage turning into a Jaguar XK (OK, that's actually pretty clever).
Transformers Go-Bots (2003 - 2005): Originally called Transformers Big Adventures, this line of pre-school TF figures was rebranded Go-Bots. A pretty weird line, it featured a fairly small number of molds and opted to repaint the cars with slight retoolings like half a dozen times. You also wound up with the same character having two or more completely different forms (i.e. Areobot, who is both a dragstrip racer and a jet).
Transformers: Armada (2002 - 2003): The long-awaited reboot of the franchise was met with some initial setbacks; The figures were largely simplistic, with some incredibly sloppy paint applications on the faction symbols in the US release. The complexity improved toward the end of the line, and it was a sales success, but it's far from the highwater mark in the toys. It introduced Minicons, which are damned cool, however.
Transformers: Robots in Disguise (2001- 2003): Initially the US release of the Japanese Car Robots line, Hasbro significantly augmented the line up with repaints from other lines. The toyline continued well after the show had ended (technically may have run even past Armada ending), continuing to introduce redecos of various toys from other lines of Transformers, the prototype for what would eventually become the Transformers Universe line
1-2-3 Transformers (2001 - 2002): Cross branded with Tonka, these featured Hasbro's first forays into pre-school Transformers toys. A super small line consisting of only 3 molds, two of which were redecoed into other characters with alliterative names like Chopper Charlie and Policeman Pete.
Beast Machines (1999 - 2001): At the dawn of the 21st century, everything was translucent plastic. Beast Machines was, overall, a fairly average toyline. Certainly nowhere near as bad as the accompanying show, and was an important return to vehicular figures in the main line after a prolonged absence. The first line to release the same character at multiple price points, and the first to package some figures in robot mode (so to better fit in the packaging). Has some interesting oddities such as the Deployers (mechanical animals that turned into weapons) and Beast Chargers (weird little He-Man-esque chariot things). "Show accuracy" was, for the most part, not a thing in the first season of the show.

Battle For the Spark: The second season of the show as rebranded as Battle For the Spark, and the accompanying toys had gimmicks that were activated by pressing their spark crystals. Several characters already released got new molds that more closely resembled their show counterparts.
Dinobots: Kind of a weird footnote to Beast Machines, but it also gave us a variety of repainted dinosaur figures from Beast Wars and the Japanese Beast Wars successor shows, including a release of the "dinosaur" combiner (Pterosaurs and plesiosaurs are not dinosaurs, god damn it) Magmatron from BW Neo.



Annimorphs (1999): Based on the hit children's books and I think maybe had a show? Had literally nothing to do with Transformers beyond "it's one thing that turns into something else." Moving on...
Machine Wars (1997): A Kay-Bee Toys exclusive toyline that consisted of only the one wave. We got two jets and two cars that were in style of the "flipchanger" early BW figures. They'd been developed for Generation 2, but never released. Larger toys were very late Generation 1 figures that had only seen a European release and had the gimmicks nerfed to comply with current safety standards. Machine Wars Prime secretly has the best trailer base!
Beast Wars (1996 - 2001): To save the toyline from a second cancellation, Hasbro drastically reworked the whole franchise from the bottom up, jettisoning everything except the core "robots turn into stuff" conceit. New characters, new factions, and everyone turns into animals instead of... well, not-animals. It wasn't met with the biggest fan approval, but the sales were tremendous and it gave us one of the best shows of its era, setting the stage for the eventual return of the more traditional toys.

Transmetals: An inversion of the original Beast Wars concept: Robotic beasts that transformed into vaguely creepy organic robots. Featured a lot of metallic paint prone to flaking, but had some of the best toys in the line.
Fuzors: Maintained the "organic on the outside/robotic on the inside" of the initial lineup, but beast modes consisted of two animals combined into one. It included some really weird combinations, like orca and elephant.
Transmetals 2: Transmetals proved more popular, I guess, so they got another whack at it. This time both robot and beast mode featured a mix of robotic and organic elements, given a sort of transforming cyborg aesthetic to everything.
Mutants: A strange little postscript on the BW era were the Mutants. Originally they were supposed to be Animorphs figures, but were slightly remolded to replace human heads with robot ones. They were animals that turned into other animals, with little hidden robot heads within. They were actually a pretty neat novelty.
Generation 2 (1993 - 1995): Generation 2 is like a weird 90's fever dream. It saw the return of Generation 1 figures with new, retina-searing paint schemes in some instances, or additional gimmicks like Optimus Prime being packaged with a voice box. Towards the end of the line, we got some new figures, some of which were quite excellent like Laser Rod Optimus Prime, and Hasbro's first experimentation with light-piping for eyes, ball-and-socket joints, and flip-changing figures, both of which would go on to significant use in the subsequent Beast Wars line.
Generation 1 (1984 - 1990): Generation 1 started off as Hasbro licensing a whole bunch of unrelated transforming robot toys from various toy companies in Japan and repackaging them with a new fiction. Eventually, these were phased out in favor of original molds sold under the Transformers banner on both sides of the Pacific. The toyline ran long enough to have some truely weird gimmicks and sublines arise.

Headmasters: Now your big Transformer comes with a little pilot buddy who gets lost sometimes and leaves your toy decapitated! Plugging the head in also showed a kind of power-level bar graph on the chest of the robot behind a panel typically.
Targetmasters: Perhaps a bit more thought out than Headmasters, these featured a partner robot that turned into a gun rather than the main robot's head.
Powermasters: Little partner robots that turned into engines or the like that needed to be inserted to transform the robot from vehicle mode. Fortunately, if they were lost, you could just press in on the part they were supposed to be inserted in. Powermaster Prime was a toy for all time, the rest are pretty forgettable.
Pretenders: Being robots in disguise apparently not being enough (though to be fair, they'd long since stopped turning into anything that could be described as a disguise), these came in chunky shells that enclosed a smaller robot that could transform into a vehicle. Autobots were morbidly obese humanoids while the Decepticons were monsters. Eventually, they grew a bit more sophisticated, and we got things like Thunderwing where the shell transformed into a vehicle to combine with the inner robot as well.
Micromasters: Micro Machines came out and were a huge hit. That pretty much covers the genesis of this one.
Action Masters: A bizarre end to the line, Action Masters closed out the G1 product line with a bunch of action figures that didn't transform themselves, but at least had a pack-in sidekick, weapon, or vehicle that had a minimal transformation.
*Sigh* Movies...
Transformers: The Movie (1986): AKA, "the good one." A cynical ploy to introduce a lot of new toys by killing off a huge percentage of the existing cast from the show, the backlash against the death of Optimus Prime was such that he was eventually brought back on the cartoon.
Transformers (2007): The first of the "Bayformers" movie series, and perhaps the least objectionable. Cybertronians arrive on Earth seeking the AllSpark so they can revitalize a ravaged Cybertron.
Transformers: Revenge of the Fallen (2009): An incoherent mess. Apparently, Earth has some sort of sun-eating weapon and one of the first Transformers has been chilling in the solar system looking for it or something? Who can even tell.
Transformers: Dark of the Moon (2011): The Ark is discovered on the dark side of Earth's moon and is the secret objective of the Apollo missions. Inside is Optimus Prime's predecessor, Sentinal Prime, who holds the key to ending the war between Autobots and Decepticons. Also, Prime goes full-on Murder McMurder Face in the end.
Transformers: Age of Extinction (2014): Earth is revealed to have been bombarded by the creators of the Transformers to create... transformium. Ugh. Dinosaurs turned into metal are uncovered, but the Dinobots have absolutely nothing to do with them, they're just randomly hanging around in Lockdown's ship in the third act.
Transformers: The Last Knight (2017): Okay, even by the standards of Bayformers, this is a fucking mess. Continuity has always been a problem in the movies, but this is like watching a movie that came from an alternate timeline that had wildly different series of movies preceding it that had the Autobots winning WW2.
Japanese series stuff

Know your stuff about Japan's Transformers offerings? Write it up and I'll add it to the OP!
​
Last edited: