Even though a respectable percentage of my Plats are considered rare, rewarding or challenging, when I was into serious trophy hunting I lost count of the amount of crap games with cheap Plats I wasted my money on. I'd even double, triple or quadruple dip from different regions. In hindsight it was absurd, but I was addicted.

I knocked all that on the head a couple of years back and now I only Plat the games I actually enjoy....not only just to eek every little bit out of the available gameplay, but also as I like to challenge myself.
At least you realized that and stopped so, props to you!
#92: Spyro the Dragon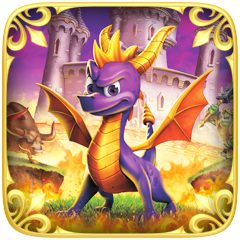 Gnasty's Demise
​
My first time playing a Spyro game from start the finish! The last time I played Spyro was on the demo disc on the original Playstation, so yeah it's been foreeeeever! Wonderful remake, took me about 7h30 to 120% it. Definitely not a difficult game by any mean but I've enjoyed my time with it, looking forward to play the other 2 in the near future. Getting close to plat #100 and I've got a special game for it in mind.