Turbografx-16 / PC-engine |OT| Hold select and run to RESET
Release Dates
Japan- October 30, 1987
US- August 29, 1989
Europe- No official release
The PC-engine? What's that, some kind of micro computer?
The PC-engine was a home console created as a joint collaboration between Hudson Soft and NEC (the king of Japanese PC's at the time). Boasting a 16 bit GPU but only a 8 bit CPU, it fell into an awkward middle between the two generations, a problem exacerbated by it's late release in the west.
Why are you putting a credit card into the system? Is this Pay-to-win?
No! The PC-engine/Turbografx utilized a method of cartridges known as Hucards, which were the shape of a card (but slightly thicker). Interestingly enough, all of the games' data in in the top half of the card!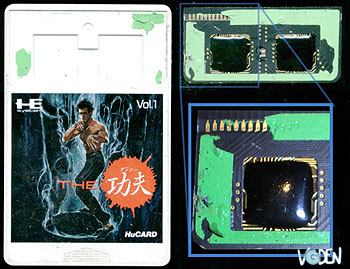 The PC engine also received a CD add-on later on, making it the first home console system ever able to play CD's. It was initially an attachment, but later revisions of the system combined both it and the main unit into one system.
But I thought Sega made the first CD game system?
Let Johnny Turbo set you straight:
Ok, ok, what are some games?
Hucard highlights-
Bomberman '94
Bonk
Blazing Lazers
Military Madness
Devil's Crush
Parasol Stars
CD Highlights-
Castlevania: Rondo of Blood
Ys Book I and II
Gate of Thunder
The Legend of Xanadu
All official system models(there are many):
http://pcenginefx.com/main/nec_compatibility_guide.html
Some Screenshots:



ETC:
The PC-engine software Bible (Every game ever released for the system):
http://www.pcengine.co.uk/
Article on the troubles the TG16 had in the west:
https://www.gamasutra.com/view/feature/225466/stalled_engine_the_turbografx16_.php
The main Retro ERA topic:
RetroEra IOTI 40 years of Classic Backlog
Last edited: