0) In light of, uh, literally everything from this afternoon: do we wanna just reuse the cover photo of Pelosi putting on sunglasses?
tweet text said:
Pelosi is going to have to add Trump to her disclosure forms where it asks for a list of assets she owns.
tweet text and photo said:
Pelosi, in her lunch briefing, was absolutely biting when it came to her assessment of how McConnell had handled this entire process
https://www.thedailybeast.com/trump-caves-ends-longest-government-shutdown-in-history-without-his-precious-wall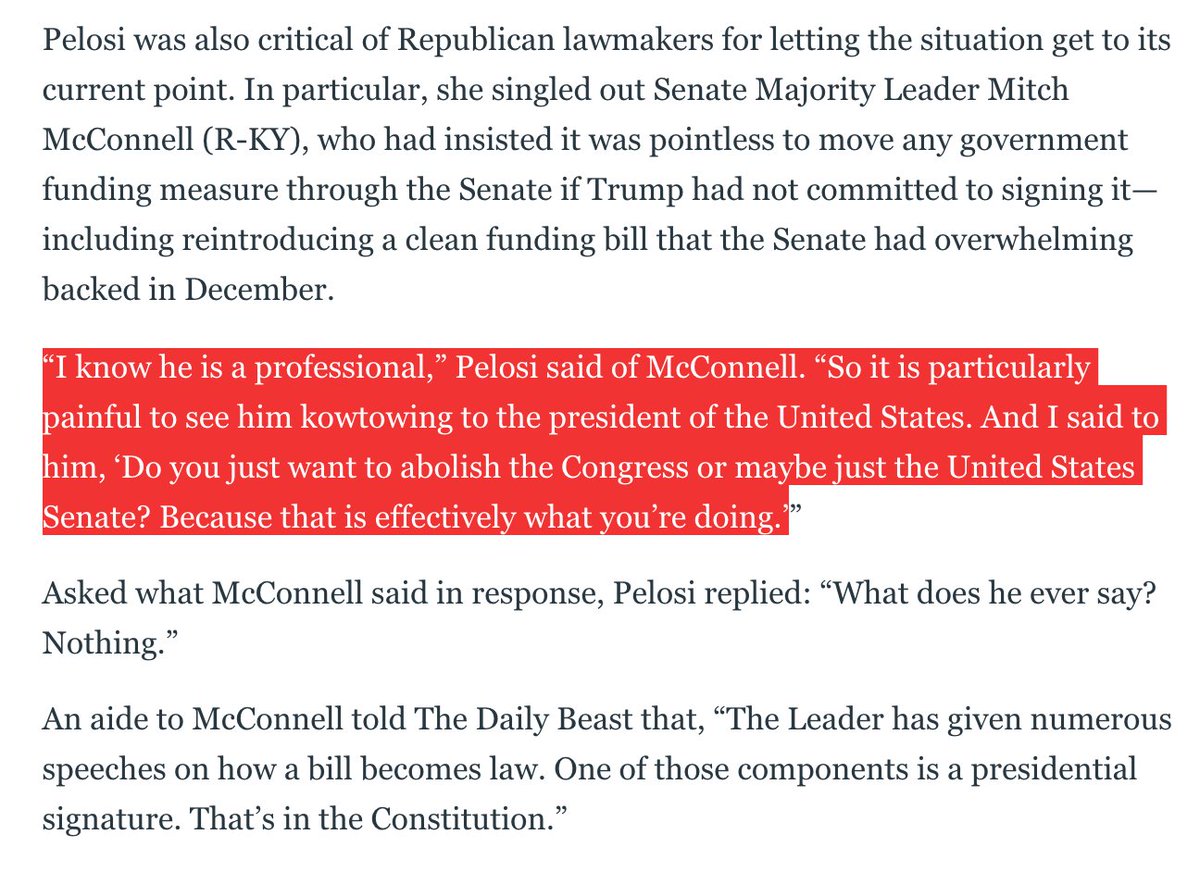 1) In 2018: Democrats gained 40 House seats (maybe 41 pending the NC-9 fraud investigation), 7 governor's mansions, 350 state legislative seats. (And as Our Real President said,
abolish the Senate.
)
2) The 2020 hellcycle has begun.
Presidential primary stuff
can be found here! We've otherwise got
11 state (and 2 territorial) gubernatorial elections
to contest, every House seat, and
all of the Class 2 seats plus Arizona's Class 3 seat in the Senate
(in addition to a very large number of state legislative seats).
3) The 2018-19 shutdown is apparently finally ending, with
zero border wall money & back pay guaranteed for the 800,000 federal workers
but with
an innumerable number of others never being able to recoup what they've lost over the last five weeks
.
4)
Roger Stone just got indicted
, an indictment that included
the fact that he "was contacted by senior Trump campaign officials to inquire about future releases" of stolen information by Wikileaks
, and apparently Corsi's fully cooperating with the SCO.
Reminders:
1) This thread isn't a venting ground for ResetEra threads you don't like, that's what the complaining channel on Discord (that no one who isn't already a member can see) is for
2) This thread isn't a Twitter feed or live TV comment feed, provide context (as in tweet text or a video link/some attempt at transcription, respectively) for what you post.
3) Ignore these reminders at your own peril.

Previous threads:
US PoliERA 2019 |OT1| You down wit' NDP? (Yeah you know me!) Who's down wit' AOC? (This whole party!)
US PoliERA 2018 |OT13| And now the fun starts
US PoliERA 2018 |OT12| The Moscow Project
US PoliERA 2018 |OT11| The Hunt for Blue November
US PoliERA 2018 |OT10| McConnell is "mule piss"
US PoliERA 2018 |OT9| Next week has been EXHAUSTING
US PoliERA 2018 |OT8| Democrats projected to gain F5 seats
US PoliERA 2018 |OT7| Tell Me The Bad Things That Happened Since I Fell Asleep
US PoliERA 2018 |OT6| An Unmitigated Disaster
US PoliERA 2018 |OT5| A Total Goat Rodeo
US PoliERA 2018 |OT4| Sweetheart, this is Watergate, goodbye!
US PoliERA 2018 |OT3| In Like a Lamb, Out Like a Ryan
US PoliEra 2018 |OT2| Flip, Flip, Flip-a-Gatesia
US PoliEra 2018 |OT| Welcome to the Resistance, the only funded organization in D.C.
US PoliEra 2017 |OT3| This thread was created with a one vote margin
US PoliEra 2017 |OT2| Tinkle Traitor Soldier Spy
US PoliEra 2017 |OT| At least Rand Paul had a lawn to cushion the blow