My name: is Paul Manafort...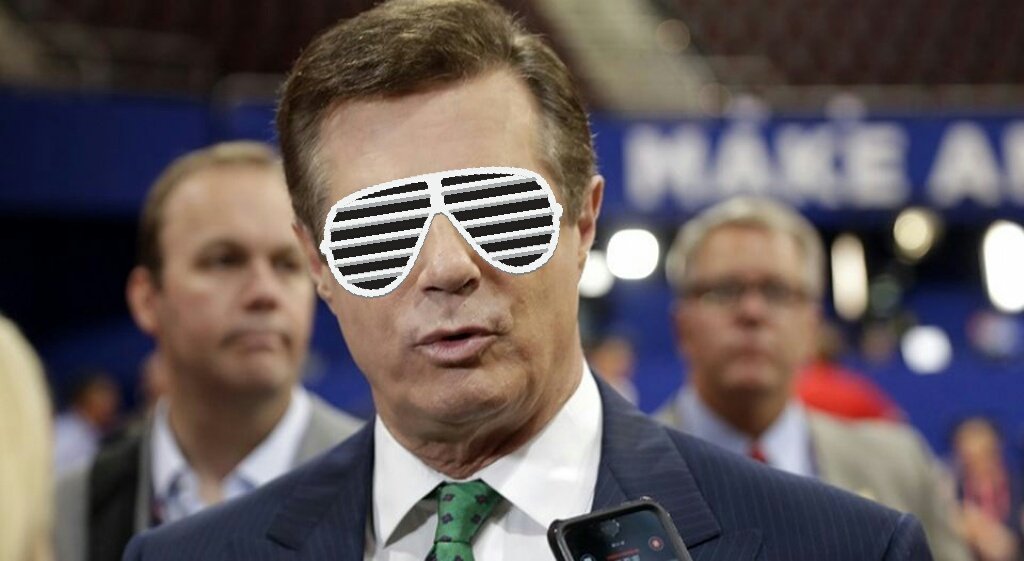 ...and I fuckin' love crimes. Don't believe me?
Let my friends spell it out for you.
Where to begin with this one? Lots of stuff happening very quickly
-Trump chickens out on Government Shutdown 2.0 by declaring National Emergency. Goes golfing.
Turns out a big chunk of the emergency wall money was spent already.
-Amy Klobuchar proves that Minnesota Nice is not universal (insert your joke about binders or
eating with a comb here
).
-Trump goes to Vietnam for Kim summit 2. Claims the nuclear threat is over, inadvertently
forcing Pompeo to squirm over it on the Sunday Talk circuit.
-Marco Rubio sez: you too, Venezuela,
can enjoy the peace and prosperity of Libya!
-Remember Ralph Northam? Me neither.
The 2020 hellcycle
has begun
continues.
Presidential primary stuff
can be found here! We've otherwise got
11 state (and 2 territorial) gubernatorial elections
to contest, every House seat, and
all of the Class 2 seats plus Arizona's Class 3 seat in the Senate
(in addition to a very large number of state legislative seats). All of the Democratic big names are officially in except for Beto and Biden, who's still bidin' his time.
-Warren kicking ass and scaring 1%ers, doing okay at getting away from the DNA debacle
-Harris kicking *more* ass, facing down the Copmala accusations with aplomb.
-Buttigieg's name is still unpronouncable but boy does he know his audience with his plans to push DC and PR statehood and abolish the electoral college.
-Bernie comes out with a commitment to be more of a team player, though accusations of sexual harassment in his old campaign dog him.
-Tulsi Gabbard is still a Liberal Icon(tm)
Reminders:
1) This thread isn't a venting ground for ResetEra threads you don't like, that's what the complaining channel on Discord (that no one who isn't already a member can see) is for
2) This thread isn't a Twitter feed or live TV comment feed, provide context (as in tweet text or a video link/some attempt at transcription, respectively) for what you post.
3) Ignore these reminders at your own peril.
Previous threads:
US PoliEra 2019 |OT2| #President Pelosi
US PoliERA 2019 |OT1| You down wit' NDP? (Yeah you know me!) Who's down wit' AOC? (This whole party!)
US PoliERA 2018 |OT13| And now the fun starts
US PoliERA 2018 |OT12| The Moscow Project
US PoliERA 2018 |OT11| The Hunt for Blue November
US PoliERA 2018 |OT10| McConnell is "mule piss"
US PoliERA 2018 |OT9| Next week has been EXHAUSTING
US PoliERA 2018 |OT8| Democrats projected to gain F5 seats
US PoliERA 2018 |OT7| Tell Me The Bad Things That Happened Since I Fell Asleep
US PoliERA 2018 |OT6| An Unmitigated Disaster
US PoliERA 2018 |OT5| A Total Goat Rodeo
US PoliERA 2018 |OT4| Sweetheart, this is Watergate, goodbye!
US PoliERA 2018 |OT3| In Like a Lamb, Out Like a Ryan
US PoliEra 2018 |OT2| Flip, Flip, Flip-a-Gatesia
US PoliEra 2018 |OT| Welcome to the Resistance, the only funded organization in D.C.
US PoliEra 2017 |OT3| This thread was created with a one vote margin
US PoliEra 2017 |OT2| Tinkle Traitor Soldier Spy
US PoliEra 2017 |OT| At least Rand Paul had a lawn to cushion the blow
Now am I forgiven for Flip-a-gatesia?
Last edited: