hey, you should read this op, it's got a bunch of good information and stuff that might answer your questions about the game
Developer:
Digital Extremes; Panic Button (Switch Port)
Platforms:
PC, PS4, Xbox One, Switch
Price:
Free to Play
Genre:
Third Person Shooter, Loot-based.
# of Players:
Up to 4 player squads.
Warframe is a Free-To-Play, third person, sci-fi shooter. Since its launch in March 2013, the game has been under continuous development, with 20 major content updates and numerous smaller updates since release. All free.
Warframe is a third person, objective-based, loot driven shooter. Players collect materials and weapon upgrades (called "Mods") as they complete missions and progress through a map of the solar system. Players may harness the powers of their Warframe and weapons in order to clear hordes of enemies in the PvE maps, or against each other in the specialized PvP mode. Players also have access to public spaces known as Relays where they may interact with each other, trade, or practice their skills.
Warframe's Mod system allows for players to customize the various aspects of their equipment, which comes with 8-10 slots for the card-like mods that can be upgraded as the player progresses through the game. Character mods include things like enhanced health, damage resistances, and ability modifications. Weapon mods are typically focused on damage types, but can also include silent firing, magazine changes, and unique effects during battle.
The Nintendo Switch version of the game is fully featured, running in line with the Xbox One and Playstation 4 versions of the game and optimized for on-the-go ninjaing. Players will be able to make use of gyro aiming and any controller setup with two joysticks. Voice chat is supported by connecting your headset directly to the Switch and enabling the settings in the game. Warframe does not require a Nintendo Online account to play!
Pick it up today in the E-Shop!
Warframe Forums
.
Warframe Wiki
. This is an extremely useful, detailed, and maintained wiki, and is even used by the developers for quickly referencing details. Unfortunately it's a Wikia page, so go in with your adblockers on high alert.
r/Warframe's Exhaustive Beginner Guide
. Also good for returning players.
DapperMuffin's Warframe Handbook (Google Docs)
. Covers everything you'll need to know, top to bottom. Reading the introduction is recommended for new players.
Warframe Hub
For all your Warframe World status checking needs.
Tenno Tools
another great world status checker
Nintendo Switch FAQs
PC Account Migration Overview
Additional Migration details
Nintendo Switch Alerts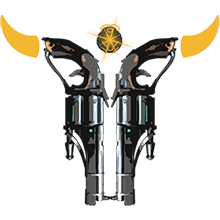 Ayatan Ranch, Era's Clan:
The clan is fully up and operational! If you'd like to join, please PM me you IGN exactly as it appears in game and I'll get you recruited as soon as possible. Remember to build your Clan Key in the Foundry once you get the invite.
Check out
our Discord!
New users will need to post in the recruiting channel first. Make sure to mention you're a Switch player (for the sake of our role management).
Playing on the PS4 and looking for a clan invite? Head over to the PS4 OT!
Switch Specific Details
How does the Account Migration work?
First, you'll need a PC account, download Warframe on the Switch, and create an account on the Switch version. Accept the prompt that appears when you first launch the game authorizing account linking. Go to the main Warframe website and log in to your PC account, then go to Account Management. At the bottom of the page, click "Migrate PC Account to Nintendo Switch." Read all the details carefully, enter your password twice to confirm. You will then be redirected to the Nintendo sign-in page, where you will sign in with the details of your Nintendo Account that you first created after downloading the game(in other words, the account you are copying to).
What does Account Migration do?
Account Migration duplicates the progress you've made in the PC version of the game to the Switch version. After this point, the accounts are divergent. There is no cross-progress system and there likely never will be. There is no console-to-console migration, just PC to Switch. Platinum, the game's premium currency, will not transfer in this process. This is a one-time copy, but I can't seem to find where the cutoff date is. I'll update as soon as I figure that out.
A VERY IMPORTANT DETAIL: The Nintendo Switch version of the game is at 23.5.0, Mask of the Revenant. As such, anything released after that point won't be available for use immediately. To quote the page where you link your account, "Any items on PC that are not currently available on Nintendo Switch will appear when the Nintendo Switch is updated."
Clanmate VandalD has observed that his Kitguns, the customizable weapons in Fortuna, are still in his inventory for some reason and don't work exactly right. So maybe don't use those just yet.
How big is the download?
Roughly 12 gigabytes. Your download speed will vary according to your connection speed and how well the servers hold up to everyone grabbing this on release day.
What's a clan even do?
Outside of giving a group chat for players, Clans are used in game as a combination of personalizing a hangout place for Tenno and some gameplay-specific details. There are some weapons, equipment, and Warframes that can only be gotten through being part of a clan. Since we have to start from scratch, this will take some contribution of resources and credits from clan members to get things rolling as quickly as possible.
New players get 50 free Platinum to use, what should I buy?
The best thing to buy is a warframe slot (20p) and two purchases of weapon slots (12p each, each purchases comes with 2 weapon slots, so you're getting 4 slots for 24p altogether). Having a bigger inventory is always a good investment, especially since the free starter pack includes some of the other important items.
I'll add more here as I see it appear in the thread, but these two points have been the most common questions raised in discussion of the Switch version of the game.​
Last edited: