Please Note: If you want to join the clan, please leave your username in your post (or say it's the same as your Era name if that's the case). You can also join the Discord (link below) or PM VandalD.
Developer:
Digital Extremes
Platforms:
PC, PS4, Xbox One, Switch
Price:
Free to Play
Genre:
Third Person Shooter, Loot-based.
# of Players:
Up to 4 player squads.
Warframe is a Free-To-Play, third person, sci-fi shooter. Since its launch in March 2013, the game has been under continuous development, with 25 major content updates, 40 Warframes and numerous smaller updates since release.
The tagline "Ninjas Play Free" isn't a joke: all of these content updates (which include open world maps, remasters, new Warframes, etc.) are free.
Warframe is a third person, objective-based, loot driven shooter, using characters that share the title name. Your goal is to collect materials, weapons, Warframe upgrades (which are called "Mods"), and Warframe parts as you complete missions to progress through a map of the solar system. Players can harness the powers of their Frames and weapons in order to clear hordes of enemies in the PvE maps, stay true to the moniker of "ninja" by stealthing in spy missions, or defeat various bosses and listen to them wax poetically about something called Tubemen.
Players also have access to public spaces known as Relays where they may interact with each other, trade, or practice their skills for ranking up. There are also two open-world hubs with one on Venus (Fortuna) and Earth (Cetus), where you can receive missions for Frame blueprints, materials, mods, and more for a nice cyborg lady, or get lunch for an old man.
The game's system allows for players to customize the various aspects of their equipment using "mods." Mods are installed in 8-10 slots that can be upgraded and changed as the player progresses through the game. Warframe mods include things like enhanced health, damage resistances, and ability modifications. Weapon mods are typically focused on damage types, but can also include silent firing, magazine changes, and unique effects during battle.
THE JOVIAN CONCORD
One of the older tilesets in the game, Jupiter, has gotten a complete facelift! It's also gotten a new mission type (Disruption), and a new boss (Ropalolyst).
However, you won't see the full change of this update until you have completed quests into the Chimera Prologue, so get comfy dreamers.
Warframe.com
Warframe Steam Page
Please note: The Steam version is required if you want access to Steam Workshop community created content, also known as Tennogen. These are purely cosmetic additions and have no impact on gameplay.
They are also on the console versions.
Warframe Forums
.
Warframe Steam Community
.
Warframe Wiki
.
This is an extremely useful, detailed, and maintained wiki, and is even used by the developers for quickly referencing details. Unfortunately it's a Wikia page, so go in with your adblockers on high alert.
r/Warframe's Exhaustive Beginner Guide
.
Also good for returning players.
DapperMuffin's Warframe Handbook (Google Docs)
. Covers everything you'll need to know, top to bottom. Reading the introduction is recommended for new players.
Warframe Hub
For all your Warframe World status checking needs.
Tenno Tools
another great world status checker
Alert Notifications:
Twitter
Facebook
RSS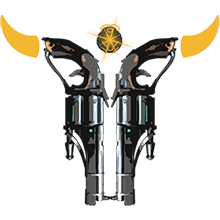 Ayatan Ranch, Era's Clan:
Leave your name in this thread and we'll get you an invite ASAP! Also check out
our Discord!
New users will need to post in the recruiting channel first.
If you have questions and/or need help, we highly encourage you to visit the discord where we aim to please.
This game doesn't come with a lot of instruction, so this is more of a necessity than a recommendation.


Playing on the PS4 and looking for a clan invite? Head over to the PS4 OT!
also big thanks to the artist for the new header, and the new images. her art/in-game name is irisillych but you'll see her here as mrs. glitches:
this is her twitter
she's wonderful, amazing, hard-working, and overall really cool
i forgot to give credit to her because i have a case of the dummy brain​
Last edited: