Trailer:
Cast:
Synopsis:
The series takes place in an alternate contemporary reality in the United States, in which superheroes and masked vigilantes were outlawed due to their violent methods, but some of them gather around to start a revolution while others attempt to stop it.
Reviews:
Synopsis:Rotten Tomatoes, home of the Tomatometer, is the most trusted measurement of quality for Movies & TV. The definitive site for Reviews, Trailers, Showtimes, and Tickets
www.rottentomatoes.com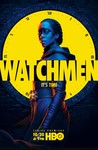 Watchmen (2019) Season 1 show reviews & Metacritic score: The Damon Lindelof series based on Alan Moore and Dave Gibbons' graphic novel of the same name is set in an alternative 2019, where there is no Internet, Robert...
www.metacritic.com
When:
Sundays, 9pm on HBO
Edit: Since some people seem to be confused. This is a sequel to Alan Moore's Watchmen Graphic Novel. So read that before you watch the show, or not. You choose.
You are free to spoiler as the episode airs. SPOILERTAG PREVIEW TALK.


Official Podcast:


Last edited: