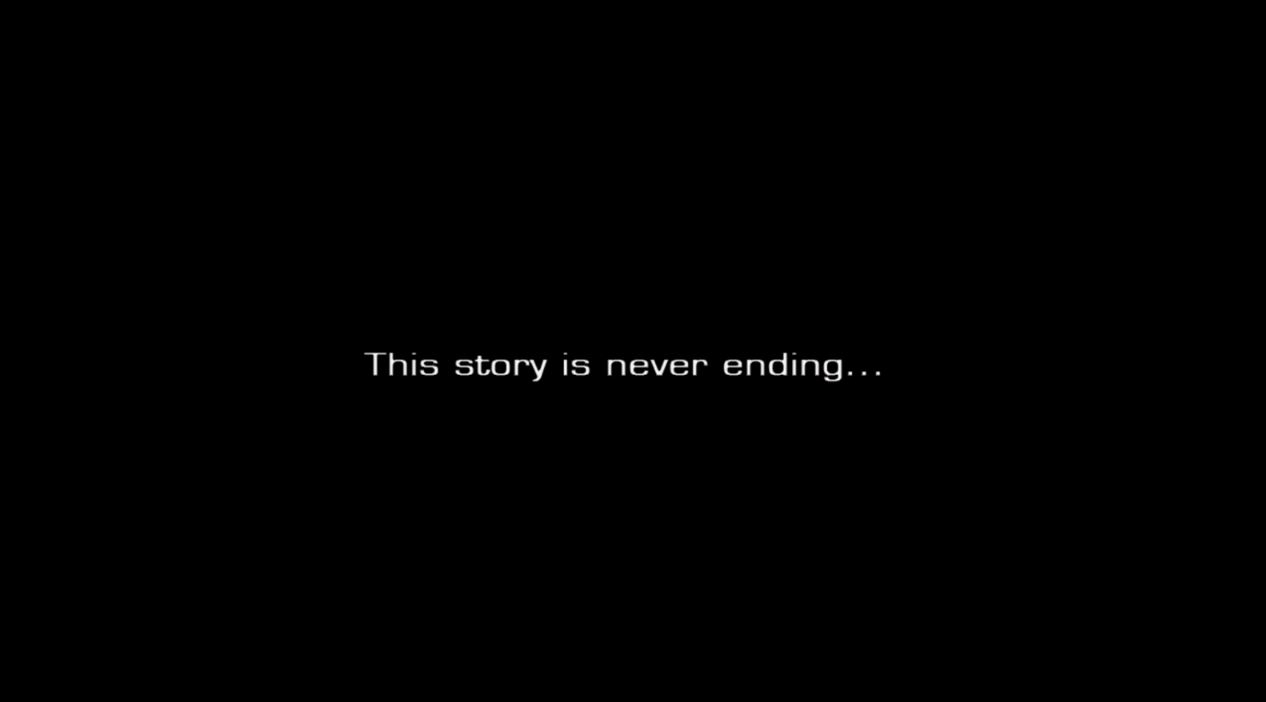 The quote above is from the Japanese version. The English version goes like this: "This story never truly ends..."

​
As most of you know by now, Xenoblade Chronicles X ended on a cliffhanger. Many of its plot points were left unresolved and the universe the game takes place in is practically begging to be further explored. With the recent release of Xenoblade Chronicles 2 and the supposed brand-new IP by Monolith Soft, the future of the X series is now in limbo. It's clear by now that there will be more Xenoblade titles in the future. However, the question is...will we ever get a sequel to X?
As for the future, Monolith is already planning. "Moving forward, if we do another story-driven Xenoblade game, I was thinking I'd like to keep the numbering going," Takahashi says. "Now that we've gone through the process of development, we're in a spot now where I'm beginning to think about what we want to do next," Kojima adds. "We'll really be keeping our ears to the ground to see what fans are wanting, what they're looking forward to. We've enjoyed this collaboration with Nintendo so far. We really are thinking about where to go next, and that's where I'm at right now."
Game Informer
Please note the underlined statement. This doesn't rule out a sequel to X as it's not a story-driven experience. But given Xenoblade 2's popularity and success, they may decide to continue the numbered series. Honestly, it could go either way. I found Kojima's comment to be particularly interesting because I have seen hundreds if not, thousands of requests for a sequel to X. They're definitely going to take these requests into consideration for whatever they decide to do.
Tetsuya Takahashi: "I tend to get bored with things pretty easily, so I'd like to keep creating things with different approaches every time," says Takahashi. "Along those lines, I'd definitely like my next project to look and feel pretty different from this one. The 'Xeno' name, by the way, really just exists to make it clear that these are Tetsuya Takahashi productions."
TIME
Emphasis on the bolded, the rest is old news. If his statement still rings true, then it is likely that the next Xenoblade title will move away from the approach taken for Xenoblade Chronicles 2. If Takahashi has a similar desire to make a new Xenoblade title that "looks and feels different" from Xenoblade 2, then could mean a sequel to X is possible, however, the underlined statement is ambiguous and thus could be interpreted differently. Takahashi may decide to follow a similar format to X (think open-world and mission-based story structure), but with limited connections to the game much like the whole Xenoblade and Xenoblade 2 universe. At the same time, I wouldn't completely rule out the idea of a direct sequel to X. It's just not looking very likely, which leads me to my next point.
Xenoblade Chronicles

studio Monolith Soft is

hiring

designers, programmers, planners, and management support with experience in action game development for "an ambitious project different from the brand image of Monolith Soft."
Gematsu
Keep in mind that Monolith Soft is a medium-sized studio, they currently do not have the manpower to create two ambitious titles concurrently. Now that the studio is working on an ambitious project, it is very likely we will have to wait a long time (five years at the minimum?) before the next Xenoblade title. The time gap between the release of X and a hypothetical direct sequel does not look favorable. Will Monolith Soft even want to make a direct continuation to X after so many years? Then again, we could be getting a similar situation to what happened with the numbered series--same universe, different cast and setting.
Tetsuya Takahashi, Monolith Soft President: "Personally speaking, there are times I feel like playing Xenoblade Chronicles X and think about how nice it would be to play it on the Nintendo Switch. Of course that will depend on demand and such, but I will think about it while discussing future plans with Nintendo.
Siliconera
This is kinda irrelevant to the topic at hand, but I feel that this statement neither proves or disproves the possibility of a sequel. Just felt like including this as it could lead to some interesting discussions.
What are your thoughts?
PS
This is me when a sequel to X is revealed.