Live from New York (and New Jersey, as loathe as WWE are to admit it)
The Show of Shows
The Grandest Stage
The Showcase of the Immortals
The Greatest Show in
Wrestling
Sports Entertainment
Ladies and Gentlemen…
In association with our greatest of heroes, Snickers...
WELCOME.
TO.
WRESTLEMANIA!
So grab a bar of that nutty chocolatey goodness. And may lord have mercy on our souls.
Note:
This thread covers WWE events happening from Monday Night Raw on Monday, April 1st through SmackDown Live on Tuesday, April 9th. This thread covers Wrestlemania, NXT Takeover: New York and all other WWE events surrounding them over Wrestlemania Weekend. For those looking to discuss non-WWE events, including the ROH/NJPW G1 Supercard,
head to the non-Mania thread
by Serene.
Watch on the WWE Network:
Watch from Friday, April 6 from 7pm EST/4pm PST/12am BST/1am CET [NXT Takeover: New York], Saturday, April 7 from 8pm/5pm PST/1am BST/2am CET [WWE Hall of Fame] and Sunday, April 8 from 7pm EST/4pm PST/12am BST/1am CET [Wrestlemania] (look it up elsewhere if you're outside any of those timezones). If you're not a sub already, you'll get a month's free trial on the Network - which includes all the pre-Mania programming, NXT Takeover: New York, the 2019 WWE Hall of Fame Ceremony and Wrestlemania 35 plus whatever the fuck the May Saudi PPV is called (and at point, you can cancel your sub) - for free! All usually for the mighty low price of…
But free!
For Monday Night Raw and Smackdown Live:
Monday, April 8 and Tuesday, April 9 at 8pm EST/PST on USA Network, 1am BST on Sky Sports: Main Event/Arena for UK posse [again, look it up elsewhere if you're outside these timezones and networks].
Reminder:
this is the last post-Mania Smackdown Live. From next year, it'll be pre-Mania on a Friday with its move to Fox this October (Survivor Series is already planned to be before the event, not after).
There's so much to digest here. Not just in WWE programming nor the amount of Snickers bars we're eating all weekend, but in the indies as well that'll be part of proceedings surrounding WWE's events. I won't be going into detail, but there is a list of events worth checking out for non-WWE/independent stuff in the
separate non-Mania thread
by
Serene
.
With that caveat aside, let's dive right in!
------
Worlds Collide
Across Wrestlemania Axxess, to air taped on WWE Network in a TBC time
The second Worlds Collide tournament
will happen at Wrestlemania Axxess.
This time, it'll not only involve NXT, NXT UK and 205 Live like before, but it'll also use Raw and Smackdown Live talent (lower card talent but still).
Matches are broken up across themed events plus around NXT UK tapings, but matches confirmed so far include:
- Roderick Strong vs Tyler Breeze
- Dominik Dijakovic vs Luke Harper
- Sanity vs The Undisputed Era
- Kassius Ohno vs Aiden English
- Tyler Bate vs The Brian Kendrick
- Akira Tozawa vs Jordan Devlin
- Flash Morgan Webster and Mark Andrews vs Ariya Davari and Mike Kanellis
- Albert Hardie Jr vs Gran Metalik vs El Ligero
- Two Battle Royal matches featuring men and women's talent from NXT, NXT UK and 205 Live
- Io Shirai vs Sonya Deville
- Toni Storm vs Nikki Cross vs Bianca Belair
- Piper Niven vs Zelina Vega
- Candice LeRae vs KayLee Ray
No word on title opportunities like the first Worlds Collide, but this should be a fun distraction.
------
NXT Takeover Brooklyn V: New York
Friday, April 5, 7pm EST/4pm PST/12am BST/1am CET (look it up elsewhere if you're outside either of those timezones) - WWE Network
This one is bittersweet. On paper, this is one of the strongest Takeovers ever from a pure card perspective and it'll be a high-calibur Takeover that will absolutely deliver on the first night of a four-night residency from the Barclays Center in Brooklyn (it's still somewhat baffling this isn't Brooklyn V considering the Takeover calendar for the rest of the year is San Jose, Toronto II and Chicago III). But we should have gotten a match that would have finally closed the book on a near two-year feud that has been not only the best in NXT ever, but one of the best in the modern era of WWE across all programs (arguably the best). And for that, it's bittersweet.
Here's what's on tap in Brooklyn.
War Raiders (Hanson and Rowe) © vs Aleister Black and Ricochet (Dusty Rhodes Tag Team Classic 2019 Winners) for the NXT Tag Team Championship
After a short but still crazy Dusty Rhodes Tag Team Classic, which included the reformation and subsequent breakup of DIY in the same tournament, Aleister Black and Ricochet became not only the fourth winners of the tournament since its formation but became number one contenders to War Raiders' tag titles.
Don't expect a change here, especially with Black and Ricochet going for the SD Live tag belts at Wrestlemania two nights later at Metlife Stadium, and this likely being their NXT farewell.
But this will be a great match regardless.
Velveteen Dream © vs Matt Riddle for the NXT North American Championship
This is lining up to be something super entertaining. And stupidly fun. I don't know what else to say about it. It will be dope.
Pete Dunne © vs WALTER for the WWE United Kingdom Championship
Nearly two years. As of this OT going live, Pete Dunne will have held the WWE United Kingdom Championship for nearly two years. And although this'll be his third main Takeover match, both matches he's been in so far have been fantastic, especially the match he won the title in against his British Strong Style brethren Tyler Bate at NXT Takeover: Chicago I.
But it feels like at long last, that reign is coming to an end. Since his arrival in NXT UK, WALTER has been ominously set up as the one who seems like will break Dunne's reign in half and become the new UK Champion. And honestly, he may actually do it.
Either way, this sets up some incredible potential if WALTER won. Imagine a Jordan Devlin feud in NXT UK for the title (and matches akin to the one they just had in Dublin a few weeks ago at OTT's Scrappermania V, which is for me just behind Gargano-Ricochet at Takeover Phoenix as my MOTY).
This will be a fucking brutal but brilliant match.
Shayna Baszler © vs Io Shirai vs Kairi Sane vs Bianca Belair in a Fatal 4 Way for the NXT Women's Championship
The biggest women's rivalry in NXT since either Bayley-Sasha or Asuka-Ember Moon likely comes to a head in a ma...wait, they're letting Bianca in too? But I thought she wasn't ready to be in a Takeover match? Sam Roberts somethingsomethingsomething. And they're letting Io Shirai in too for HER first Takeover match? SHAYNA, THE NUMBERS DON'T LIE, SHAYNA. AND THEY SPELL DISASTER FOR YOU AT
SAKERFICE
TAKEOVER.
All seriousness, this will be an amazing match that's full of amazing talent. And honestly, depending on certain outcomes, can set up certain storylines and angles for the next year. Sky Pirates for WWE Women's Tag Titles against Bayley and Sasha? Sky Pirates feud!? Bianca being the wildcard and getting the title away from Shayna to push her to the main roster AND possibly play keep away from Io and Kairi, while pushing forward other women's talent in NXT (coughCANDICEcough)???
This match has a number of uncertainties, but this definitely will be bonafide awesome.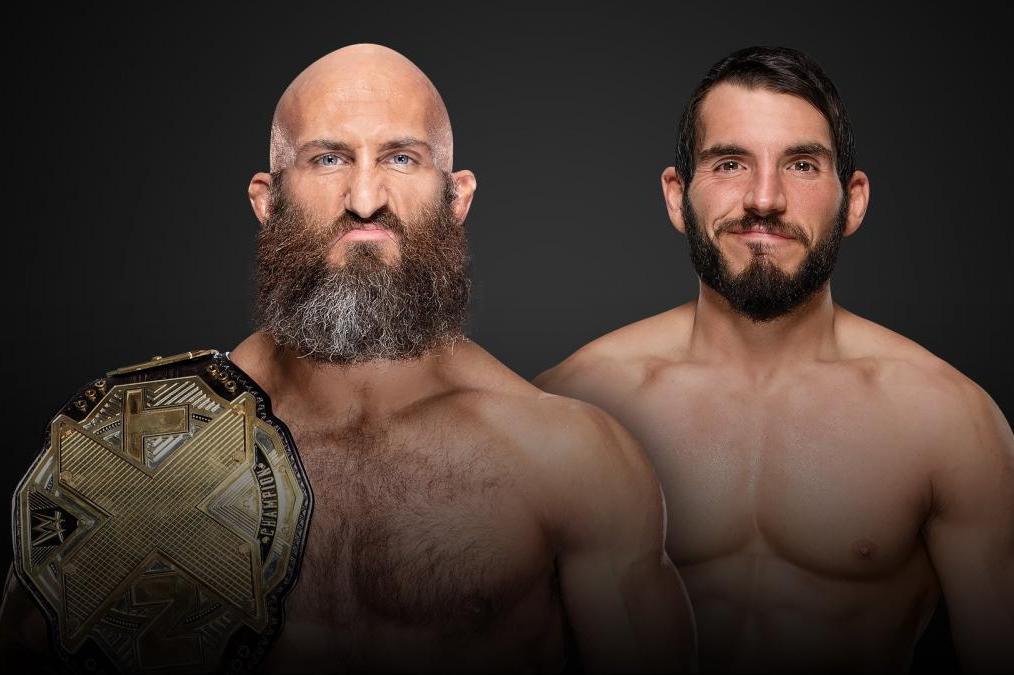 Once And For All: Tommaso Ciampa © vs Johnny Gargano IV in a Three Stages of Hell match for the NXT Championship
Okay, we didn't know what the stip was going to be for this (though I feel this would have been fucking perfect for it), but this was the plan, even by Triple H's admission. Johnny Gargano and Tommaso Ciampa, one final time, for the NXT Championship at the place where it all began for them at Takeover Brooklyn II against The Revival. But Ciampa's neck, despite hopes it'd be able to hold on for Takeover, got so bad that it not only curtailed a potential main roster call up with Ricochet, Black and Gargano (though the current hum is Gargano is now gonna be kept longer in NXT and already have a plan in place for Ciampa's return - plus, keeping him in NXT longer means he doesn't get ruined by main roster booking sooner than expected!), but had to have the match at Takeover scrapped for a spinal fusion surgery that'll keep him out for the rest of the year (and even going by Steve Austin and Edge's cases, he'll likely be on borrowed time).
Ciampa and Gargano have had the feud to end all feuds and an epic storyline that included even a mini-DIY reunion in the most recent Dusty Classic. And they've put on clinic after clinic over the past year, especially in New Orleans and Chicago. But they will go at it again. And when they do, it'll be as awesome as it was before in NOLA, Chicago and the last time NXT was in Brooklyn. But in its place comes a match that, although wouldn't top the fulfillment of the last Ciampa-Gargano match, will still be as amazing with a heck of a stip to go with it.
Johnny Gargano vs Adam Cole in a 2 Out of 3 Falls match to determine the new NXT Champion
Gargano earned his way to the match via Triple H. Cole earned his way via a Fatal 5 Way match on NXT TV, defeating Matt Riddle, Velveteen Dream, Ricochet and Aleister Black. The two and NXT have had little time to build up to this, but Gargano's promo on last week's NXT TV was as babyface as they came. But Cole has The Undisputed Era in his corner and who will help him win by hook and crook.
This doesn't make up for missing out on Ciampa-Gargano one last time (THANKS, HUMAN BODY), but as consolations go, this will still be an amazing match considering the talent of the two. Not to mention, Gargano has the tendency to produce five-star Takeover matches on a regular basis. He's Johnny Takeover, after all (this will be his fourth Brooklyn Takeover, his sixth Takeover in a row (majority of NXT superstars barely make six Takeovers during the course of their time there, two or three if they're lucky), and his 13th overall).
Notes:
Pre-show on the WWE Network, YouTube and Facebook with Charly Caruso and others - 6pm EST/3pm PST/11pm BST/12am CET
------
The 2019 WWE Hall of Fame Ceremony
Saturday, April 6, 7pm EST/4pm PST/12am BST/1am CET (look it up elsewhere if you're outside either of those timezones) - WWE Network
Night two of the Barclays Center residency and swapping days with NXT Takeover this year, the Hall of Fame ceremony will be hoping to go faster, better and more concise not only timewise, but with its group of 2019 inductees. This year, no celebrity induction (THANK GOD) and a reduced class from eight to six. But the lead inductees are a long time coming, even if Triple H has wanted to hold it off for a long time: DX. And yes - Chyna is finally getting in (although you can still make a case for her getting inducted on her own, but hey, it's a start).
Here's your lot for this year:
D-Generation X (Triple H, Shawn Michaels, Road Dogg, AEW producer Billy Gunn, X-Pac and - at last - Chyna)
Honky Tonk Man
Torrie Wilson
Harlem Heat (Booker T and Stevie Ray)
Hart Foundation (Bret Hart and Jim 'The Anvil' Neidhart)
Brutus Beefcake
Notes:
Pre-show on the WWE Network, YouTube and Facebook with Maria Menunos - 6pm EST/3pm PST/11pm BST/12am CET
------
WWE Wrestlemania 35
Sunday, April 7, 2018, 7pm EST/4pm PST/12am BST/1am CET (look it up elsewhere if you're outside either of those timezones) - WWE Network
GIMMIE THE GREENLI---what do you mean it's not the theme again for this year? Fuck sake.
Live from Metlife Stadium in New Jersey (AND NOT NEW YORK AS WWE LIKES TO ADVERTISE), the reason we're all here: Wrestlemania. The build to it has mostly been wank, including screwing up what was an organically amazing build for the first ever women's main event. But card wise, this should be okay-to-amazing depending on the match. And we still don't know what Cena's up to other than he has a match on the table and his opponent is a secret (and god knows what Taker is up to). Here's what goes down at Metlife.
Buddy Murphy © vs Tony Nese for the WWE Cruiserweight Championship
[Kickoff Show]
The Cruisers have killed it on the kickoffs the past few shows, including at the Royal Rumble. Expect no different here.
The Andre The Giant Memorial Battle Royal
[Kickoff Show]
I'm running under the assumption that this is going to be on the kickoff like it has been for the past few years, but with the inclusion of the SNL lot, I suspect they may push this onto the main card. Once the full kickoff show lineup is revealed, I'll jiggle things about. Lineup so far:
Braun Strowman
Colin Jost & Michael Che of SNL fame
Andrade
Apollo Crews
Titus O'Neil
Tyler Breeze
Jinder Mahal
No Way Jose
Bobby Roode
Chad Gable
Kalisto
Gran Metalik
Lince Dorado
Bo Dallas
Curtis Axel
Heath Slater
Rhyno
Viktor
Konnor
Ali
Shelton Benjamin
Luke Gallows
Karl Anderson
Matt Hardy
Jeff Hardy
Otis
Tucker
EC3
The Second Snickers Wrestlemania Women's Battle Royale
[Kickoff Show]
Not gonna try and fake enthusiasm for this one, even with the Snickers gag being carried over from last year's thread. Asuka's in this and she really shouldn't be. Lineup so far:
Asuka
Carmella
Naomi
Lana
Mandy Rose
Sonya Deville
Nikki Cross
Dana Brooke
Ruby Riott
Liv Morgan
Sarah Logan
Mickie James
Zelina Vega
The Revival (Dash Wilder and Scott Dawson) © vs Zack Ryder and Curt Hawkins for the Raw Tag Team Championship
They're gonna fuck over The Revival by letting Hawkins pin one of them to 'beat the streak', right?
The Usos (Jimmy and Jey Uso) © vs Ricochet and Aleister Black vs Rusev and Shinsuke Nakamura vs The Bar (Sheamus and Cesaro) in a Fatal 4 Way for the Smackdown Live Tag Team Championship
Punishment for The Usos forfeiting their portion of the Gauntlet match against The New Day a few weeks back that enabled Kofi Kingston to go to Wrestlemania. This could end up being a dark horse for MOTN (ladders would help push this over the edge, though!). Also, SHINSUKE GETTING THAT MAIN CARD PAYDAY AFTER ALL!
Roman Reigns vs Drew McIntyre
This'll be Roman's first solo match since he returned from battling Leukemia and since the final match together with The Shield at Fastlane, which defeated the group of Baron Corbin, Bobby Lashley and Drew McIntyre. But since then, McIntyre has aimed at every member of The Shield one-on-one and won: Ambrose in two stip-filled matches plus a match against Rollins. He even beat down Reigns before what was planned to be his first solo match on Raw since returning.
Give this ten minutes and let them batter the shite out of each other and it'll be fucking amazing.
AJ Styles vs Randy Orton
Arguing over who has the deed to Smackdown Live. But should be a fun match.
Samoa Joe © vs Rey Mysterio for the United States Championship
Joe's first Mania ever vs Rey's first in five (?) years for the US title. Honestly, I'd have Joe fight Cena and Rey face Andrade in a half-hour Ironman mask vs hair match. But this'll still be fun, good even.
Bobby Lashley (w Lio Rush) © vs 'The Demon' Finn Balor for the Intercontinental Championship
In his Demon persona, Finn Balor has been unbeaten on the main roster and only beaten once since coming to WWE. And on the Raw before Mania, he confirmed we'll get to see the Demon again on Sunday for the first time since SummerSlam last year.
Shane McMahon vs The Miz in a Falls Count Anywhere match
If nothing else, it shows a Babyface Miz can now work a lot better than when they tried it a few years ago. And if done right, they could run back the angle we all thought they were going to go with for this Mania at one stage (or certainly the one I thought they would), Miz vs Bryan for the WWE title but with the roles swapped. Because right now, Babyface Miz is working for me.
Kurt Angle vs Baron Corbin - Kurt Angle's final ever match
Oh Kurt. Why couldn't it have been Cena? Hell, it could have been anyone else and it still would have been better than Corbin. Still, thanks for the good times, I guess.
The Boss 'N' Hug Connection © (Bayley and Sasha Banks) vs The IIconics (Peyton Royce and Billie Kay) vs Nia Jax and Tamina vs The Divas of Doom (Natalya and Beth Phoenix) in a Fatal 4 Way for the WWE Women's Tag Team Championship
Beth Phoenix is back! But Nia Jax and Tamina are in the match. Oh. If this was a triple threat featuring the Horsewomen, The IIconics and DoD, this would be amazing. But it's hard to get enthused for this. It might be good, it might be fun. But don't expect a change for reasons I'll make clear in a moment.
Triple H vs Batista in a No Holds Barred match - Batista's final ever match and if Triple H loses, his career is over
Regardless of what happens, this is Big Dave Bautista's last match ever, the match he craved for the past few years to finally retire. THEY FINALLY GAVE HIM WHAT HE WANTED. But the last time Mania came from Metlife, it was Triple H vs Brock Lesnar in a No Holds Barred match and with Triple H's career on the line. But with DX getting inducted into the HoF and wanting to spend more time behind the scenes ahead of the Smackdown move to Fox, could this be where Triple H's in-ring career comes to an end?
Batista arguably laid down the promo of the year so far in four short words.
Brock Lesnar (w Paul Heyman) © vs Seth Rollins (Winner of Men's Royal Rumble) for the WWE Universal Championship
The last time these two faced each other, it was a convoluted one-way setup for Lesnar-Taker one last time at SummerSlam and Hell in a Cell. But before that, the two were in one of the greatest triple threat matches of all time with John Cena at the Royal Rumble that was just epic. The heat this time round for this feud hasn't quite been as there, but it's still interesting enough to see where it ends up going. Plus, it's a nice cap to Rollins' redemption story starting back in 2016.
Daniel Bryan (w Rowan) © vs Kofi Kingston (w Xavier Woods and Big E) for the WWE Championship
Although not perfect by any stretch of the imagination, the build to this has been the best for any match this Mania and genuinely unbelieveable. After 11 years, Kofi Kingston will now have his Mania moment and attempt to snatch away the WWE Championship away from Daniel Bryan after incredible showings in gauntlet matches and at the Elimination Chamber in a story that has some amazing callbacks to Bryan's Mania 30 ascension. It may have took Big E and Xavier Woods to finally get him the match that was taken from him at Fastlane, but the match people wanted is finally happening.
And if the final ten minutes of the Elimination Chamber and Kofi's most recent gauntlet match is an indicator, this should be an incredible match
The First-Ever Women's Main Event of Wrestlemania: 'The Truther TERF' Ronda Rousey (Raw Women's Champion) vs 'The Man' Becky Lynch (Winner of Women's Royal Rumble) vs 'The Queen' Charlotte Flair (Smackdown Women's Champion) in a Triple Threat match for both the Raw Women's Championship and the Smackdown Women's Championship - Winner Takes All
It's finally happening. The women are finally main evening Wrestlemania. And are doing so by
1 - Forcing me to put a Sandy Hook truthing, Saudi apologising, tranphobic TERF, domestic abuser in the main event slot of this OT despite promising I'd never do this because FUCK RONDA ROUSEY
2 - The build going from the hottest a women's feud has ever been in WWE arguably to just being downright confusing
And on point 2, matters are not helped by Charlotte - the arguable third wheel in this match (though I think she's earned it at this stage and I say that as someone who wanted it to remain Rousey-Lynch at one point) - winning the Smackdown women's championship from Asuka to become an eight time champion. Literally as this OT went live, Stephanie McMahon announced on Raw that both the Raw and Smackdown titles are on the line in a Winner Takes All match (the titles won't be unified (yet)). Better than the scuttlebutt before it that whoever pinned/submitted titleholders got their title (so Rousey gets SD title if she beat Charlotte, Becky get Raw title if she beat Rousey or SD title if she beat Charlotte, Charlotte gets Raw title if she beat Rousey - see, confusing), but still not great for how they treated Asuka.
That said, the build to it ended in the best possible way on the go-home Raw:
The current scuttlebutt suggests Mania will end with all Four Horsewomen holding titles and doing something grand to end Mania with. Basically, imagine this:
and this: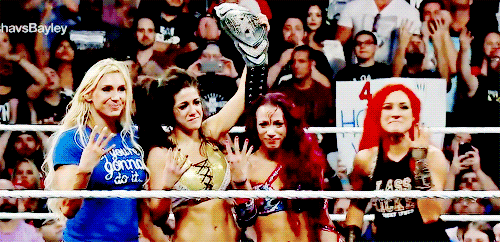 But on a grander scale. AND I AM FUCKING HERE FOR IT 4-4-4-4 LYYYYYYF!
But regardless of what happens, and loathe as I am to say with Rousey involved, this will be an incredible match. And despite the build, this easily deserves the main event status.
Notes:
Pre-Show:
Two hour-long pre-show across every platform you think of and on the WWE Network – Presented by Jonathan Coachman, with way too many panelists to name. Starts at 5pm EST/2pm PST/10pm GMT/11pm CET. The second hour will be broadcast on the USA Network at 6pm EST/3pm PST.
---
The Raw After Mania VII
Monday, April 8, 8/7c, USA Network|Tuesday, April 9 - 1am BST, Sky Sports Main Event (for other countries and timezones, check elsewhere)
Big things always happen on the Raw After Mania. You absolutely do not want to miss this.
Post-Mania Smackdown Live
Tuesday, April 9, 8/7c, USA Network|Wednesday, April 10 - 1am BST, Sky Sports Main Event (for other countries and timezones, check elsewhere)
The final post-Mania Smackdown Live before the move to Fox. The post-Mania Smackdowns have always been fun, but never felt as essential as must watches compared to Raw. But if you still have enough energy in you to watch two more hours of wrestling, definitely check it out.
And here's your schedule for the week on the WWE Network:
Monday, April 1
Superstar Picks: Adam Cole – 10 a.m. ET on demand
WWE Talking Snack – 10 a.m. ET on demand
Zack and Curt Figure it Out – 10 a.m. ET on demand
WWE Ride Along: Kofi Appreciation Night – Streaming after Monday Night Raw
T
uesday, April 2
205 Live – 10 p.m. ET
Wednesday, April 3
Monday Night Raw (Episode #1,345) – 10 a.m. ET on demand
WWE NXT UK – 3 p.m. ET
WWE NXT – 8 p.m. ET
Thursday, April 4
Hidden Gems – 10 a.m. ET on demand
SmackDown LIVE (Episode #1,020) – 10 a.m. ET on demand
Friday, April 5
NXT TakeOver: New York Pre-Show – Streaming live at 6 p.m. ET/3 p.m. PT
NXT TakeOver: New York – Streaming live at 7 p.m. ET/4 p.m. PT
WWE Chronicle: Charlotte Flair – Streaming after NXT TakeOver: New York
S
aturday, April 6
WWE Main Event (#338) – 9 a.m. ET on demand
This Week in WWE – 4:30 p.m. ET
WWE Hall of Fame 2019 Red Carpet – Streaming live at 6 p.m. ET/3 p.m. PT
WWE Hall of Fame 2019 – Streaming live at 7 p.m. ET/4 p.m. PT
WWE Untold: How Sting finally debuted in WWE – Streaming live after WWE Hall of Fame 2019
Sunday, April 7
WrestleMania 35 Kickoff – Streaming live at 5 p.m. ET/2 p.m. PT
WrestleMania 35 – Streaming live at 7 p.m. ET/4 p.m. PT
With that, LET THE MADNESS BEGIN!
Last edited: