Ladies and gentlemen, welcome to the official thread for the Xbox E3 2019 briefing. After last year's conference—for most of us, a positive one all around—and the ever-present inevitability of next-gen nearing, all eyes and ears are pointed towards Microsoft. First party games and announcements, third party games, service announcements and more are all on the way. Below is a quick summary of what you can expect to appear in the show. Enjoy and have fun!
When does the briefing start?
Where can i watch the briefing?
Mixer / Twitch /
Youtube
What to expect?
​
These are the projects we can definitely expect at this E3 briefing from Xbox:
Halo Infinite
Gears 5. Possibly more news on Gears Tactics/ Gears Pop!
State of Decay 2 expansion
Forza Horizon 4 expansion
Something Age of Empires related. Age of Empires 2 Definitive Edition will be playable at the booth.
Wasteland 3 (Note: Still coming out on all promised platforms from the Fig kickstarter campaign.)
Outer Worlds (Note: It will still be published by Take Two's Private Division).
With MS aiming to have an "industry leading first party organization", we could be seeing possible further expansions to the current Xbox Games Studios list. Ofcourse nothing is guaranteed and there could be stuff that's not ready to be shown for this conference that'll help Xbox in the long term.
​
Some of the
[email protected]
titles that we've seen last year:
Third party stuff? Last year there was:
Stuff that we can definitely expect during the show:
Rumored to be shown during the show:
From's next game. (Bandai Namco published)
A new "Tales of" game (also published by Bandai Namco ).
Services and hardware:
​
Very similar to the Project Scorpio trailer of E3 2016, we could expect some info in the form of developers talking about the new generation and what they desire from the next-generation systems and/or technologies. Other news related to xCloud and Game Pass could be shown during the briefing.
Xbox at E3 after the briefing?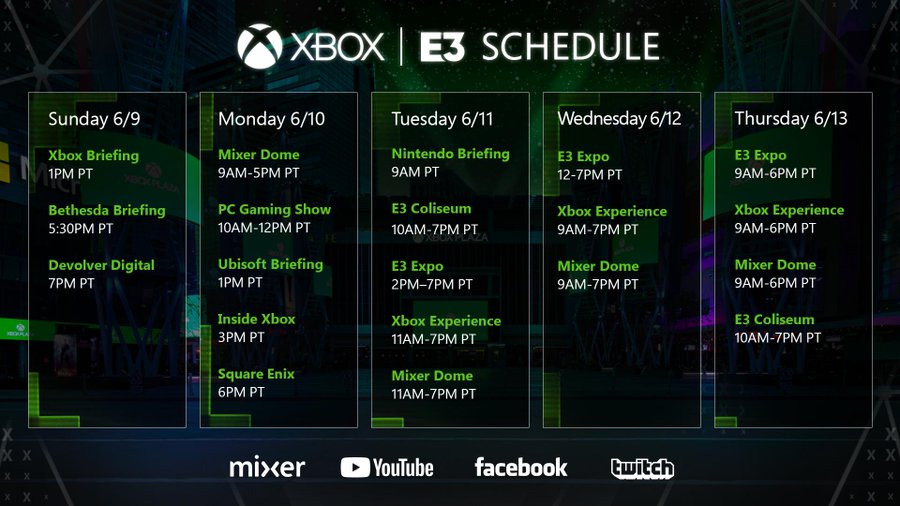 Xbox Hype Train:
Now with you being caught up on what to expect, let's all...
Jump In!
Massive credit to
Oluasc
for the hype ship artwork,
Sikamikanico
for the XboxERA logo,
Klobrille
for the Xbox Games Studios banner,
Kaironaut
for the intro of the OP and
Theorry
for the suggested title.
​
Last edited: