Special Thanks to ArchedThunder and hypno for their Help on this OT
​
Yu-Gi-Oh! is a popular anime and manga franchise from Kazuki Takahashi that mainly involves characters who play a card game called Duel Monsters

The Yu-Gi-Oh! Trading Card Game is a card game manufactured by Konami, and is the best-selling card game of all time according to Guinness World Records, with over 22 billion cards sold as of August 2009. This TCG is played worldwide, but mostly in North America, Europe, Latin America and Australia.

While this thread will be mostly focused on the card game, you're welcomed to discuss the anime, manga, movies and other merchandise from this franchise here.
THE GAME
For this OP, It´ll be assumed that you have basic the knowledge of the game at it's most popular point, if you wish to start from 0 you can read the full Rulebook of the game available here: http://www.yugioh-card.com/en/rulebook/

The Basic Rules for the Game Are Simple:
Each player has a Main Deck (40-60) cards with Normal/Effect/Ritual/Pendulum Monsters, Spells, and Traps.
There is an optional Extra Deck (0-15) cards with Fusion/Synchro/Xyz/Link Monsters.
A Side Deck (0-15) cards where you can change contents of Main/Extra Deck between Duels in a Match.
Each player starts with 8000 Life Points and 5 cards. On the 1st turn the 1st turn player does not get to draw a card.

You'll use monster cards to battle, spell cards to enhance your strategies, and trap cards to disrupt an opponent's strategy

A player will lose when one of these conditions are met:

-The player's life points reach zero, this can be achieved through monster cards battling, or alternative card effects
-The player is required to draw, but the player has no more cards to draw in the main deck.
-The player uses an alternative win through a card effect
SO WHAT'S NEW?
At this point you've probably seen younger and older players flashing all kinds of new shit that you just don't get. Well this section is here for you! I'll explain every single new addition to the game here, starting with
THE DUEL FIELD
If you grew up with YGO you might remember the "Dueling Field" like this: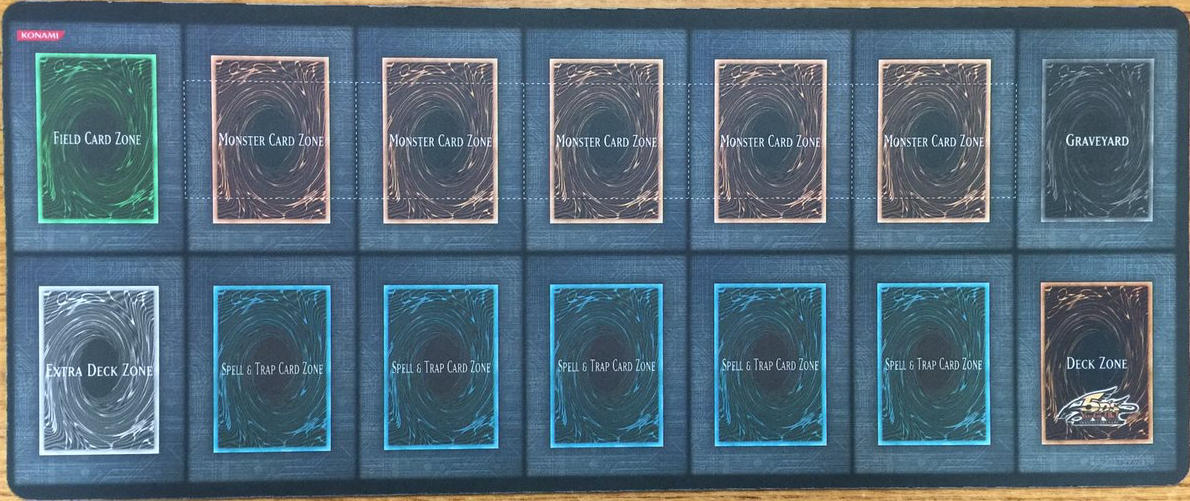 ​
In these new exciting ERA of 2020 Yu-Gi-Oh! the Duel Field now looks like this:
​
So what exactly are you looking at? Well the biggest change is that there's 2 new types of Zones added to the board
The Pendulum Zones: The rightmost and Leftmost Spell and Trap card Zones now have the power to hold the new Pendulum Cards in them, I´ll go into details regarding that type of card later, but basically Pendulums are cards that can be summoned as monsters or activated as spells. Whenever a Pendulum Card is activated as a spell, It can only go on these 2 special Spell/Trap zones, from that moment these Spell and Trap Card Zones are also considered to be a "Pendulum Zone." When these 2 zones are empty they are considered "Unoccupied Pendulum Zones" too. If a regular Spell or Trap is in these zones, then the zone is NOT considered to be a Pendulum Zone, it becomes a regular Spell/Trap Zone. Be careful, your other Spell and Trap Card Zones cannot hold Pendulum cards!



The Extra Monster Zone: During generation 6, this zone became the only place where you could summon monsters that came from your Extra Deck. Starting April 2020, this rule has been modified to only apply to Link Monsters and Pendulum Monsters that are summoned from the Extra Deck. If you wish to summon a Link Monster or a Pendulum Monster from your Extra Deck it must go into one of the Extra Monster Zones, you can choose which one, when you do, the other will automatically become your opponent's until both zones are empty again, in which case, the player who summons a monster there first gets to choose which one to use once more.

It's important to note that this rule only affects Links and Pendulums that are summoned FROM THE EXTRA DECK, a Link Monster that is summoned from the graveyard or a Pendulum Monster that is summoned from your hand will occupy the normal zones, this also applies if a card is removed from the extra monster zone and then returns to the field, or if you take control of a card that is in an Extra Monster Zone, in those cases, the card is also moved to the regular monster zones.

If you want to, you can also summon Fusion,Synchro or Xyz Monsters from your Extra Deck to this Zone, however you are no longer forced to do it.




​
Other Rules have been slightly modified
Some other rules have been modified, mainly to prevent old broken exploits. These rules are

- The First turn Player can no longer Draw a Card
- Both Players can now control a Field Spell Card at the Same Time, if you wish to replace yours, the previous field is no longer considered to have been destroyed
- The term "Cards Removed from Play" has been Changed into "Banished Cards"
- The Term "Reveal from the Top of Your Deck" has been changed to "Excavate"
-"Life Points" and Graveyard are now shortened to "LP" and "GY" respectively
THE NEW CARD TYPES

Cause honestly, that's what got you here didn´t it?

The Yu-Gi-Oh! TCG has evolved a lot during these years, several new monsters types were introduced to give a grand boost in power and variety for all decks, new and old. These monster are usually found in the Extra Deck, previously called the Fusion Deck. These new Monsters are


​
For Synchro Summons you need a Tuner Monster, (Tuner is a subtype like "union" or "toon") and your regular monsters.
When you have a tuner monster and any number of non-tuner monsters on the field you can send them to the grave, then you can special summon a Synchro Monster,whose level is EXACTLY the same as the sum of the levels of the monsters you sent to the grave, from your Extra Deck.

For example: You have a level 3 tuner "Junk Synchron" and a classic level 5 "Curse of Dragon" in your field. Send them both to the grave and you get a level 8 Synchro, "Stardust Dragon"(As 3+5=8)

You could also have used a level 2 tuner, a level 4 non tuner and another level 2 non tuner for the same monster (as 2+4+2=8). But remember, only 1 Tuner per Synchro Summon

Synchro monsters will tell you if they have any other restrictions for their Synchro Summon, but most of them will just say "1 Tuner + 1 or more non Tuner Monsters" as their requirement.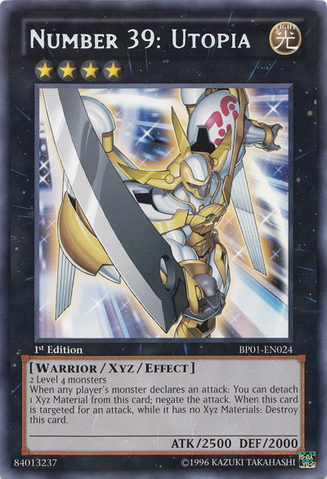 ​
Xyz Monsters (Pronounced Ik-seez) can be summoned using monsters with the same level, no need for tuners here.

You might notice Xyz monsters have black stars located at the opposite side of the card. That's because Xyz monsters don't have a Level, they have a Rank (They are immune to any effect that affects levels and can't be used for Synchro)

For an Xyz Summon you need to control two monster with the same level, just stack them together and put an Xyz of an equal Rank from your Extra Deck on top. The cards beneath the Xyz Monster are now part of the monster and their effects will ask you to "Detach" them (Send them to the graveyard) that means, the monsters you use for the summon become ammunition for the Xyz Monster's abilities.

The cards beneath an Xyz Monster do NOT count as cards on the field

Now for an example. To summon the Rank 4 "Number 39: Utopia" above, just stack two level 4 monsters you control, and put "Utopia" on top. To use Utopia's effect, just send the monster beneath him to the graveyard.

Just like Synchros many Xyz monsters will put some restrictions on the monsters they need to be Xyz summoned, however the most basic ones only demand "2 Level X Monsters"


​
These ones are arguably the most complicated, but also some of the most powerful cards out there.

As you can see, Pendulum Monsters have 2 effect boxes. The upper box also has red and blue arrows at each side. The value in those arrows is called "Pendulum Scale"

Pendulums go in your normal deck (not the extra deck) and you can summon them as regular monsters, OR activate them as spells in the Pendulum Zones of the field

If you activate them as spells, they are considered face-up spell cards on the field, and they use their "spell mode" effect on the top box. They will remain on the Pendulum Zone until they are forcibly removed, you can't replace them like you can with Field Spells.

When Pendulum Monsters are destroyed, regardless of which zone they were in, they are NOT sent to the graveyard, they'll go to your extra deck. Face-Up.

To Pendulum Summon monsters, you need 2 activated Pendulum Monsters in the Pendulum Zones.You can use the Pendulum Summon only Once per turn.

First, look at the "scales" of each pendulum monster (the red/blue arrows). In a Pendulum Summon you can summon ANY NUMBER of monsters in your hand or Pendulums in your Extra Deck (These would go into an available Extra Monster Zone) as long as these 2 conditions are met.

1-Their levels are in between the values of the scales of the activated cards in your pendulum zones.
2- They don't have any summon restriction, like Rituals or cards that state "Cannot be Special Summoned"

Now for an example. If I activated a "Scale" 1 Pendulum Monster, and another with a Scale of 10. I can pendulum summon 3 Blue-Eyes White Dragons in my hand. As their levels (8 each) are in between 1 and 10. Also If I have "Odd-Eyes Pendulum Dragon" in my Extra Deck too, I can also summon it to the field if an Extra Monster Zone is free, since it's level (7) is also in between the values in the scales.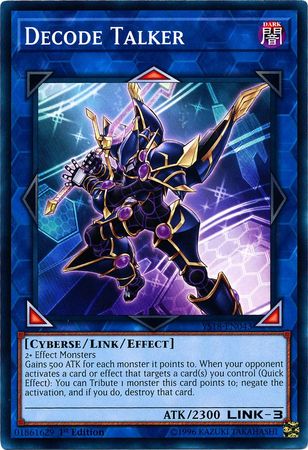 Like Xyz Monsters, Link Monsters have no level, and also they have NO DEFENSE! That means that Link monsters can NEVER be placed in defense position, giving them immunity to cards that affect levels, ranks or battle positions. Where they would have their defense, Links have their "Link Rating" which works like Levels and Ranks for them

Link Monsters are summoned from the Extra Deck into an available Extra Monster Zone by sending monsters on the field equal to their Link Rating. Just like that

3 Random Monster= 1 LINK-3 Monsters

Lower level Links also count as more than one material, they can be treated as monsters on the field equal to their rating. That means that for a Link Summon, a LINK-2 monster counts as 2 regular monsters.

1 LINK-2 Monster + 1 Random Monster = 1 LINK-3 Monster

While summoning basic Links monsters is easy, in practice many good Link monsters go batshit crazy with their requirements, some might need tuners, others might ask you for same level monsters and others could even need facedown cards

The requirements for a link monsters are written like this: "Minimum amount of Monsters for the summon"+, "Type of Monsters required"

For example, A LINK-3 monsters that reads "2+, Dragon Monsters" would need a Minimum of 2 monsters involved in the summon, and all must be Dragons.

Now how exactly can I summon more Link Monsters with the Extra Zone limitation? Do not worry! Link Monsters have a number of red arrows equal to their rating, these arrows point at the Main Monster Zones, any Main Monster Zone being pointed at by a Link Monster is also treated as an Extra Monster Zone!

That means that if you have "Decode Talker" (above) on you Extra Monster Zone, 2 of your zones would be available for summoning more Links or Pendulums from your Extra Deck, while your Opponent would receive one zone for that too (As Decode Talker points to one of their zones).
​
When a Link Monster is pointing to a Zone occupied by any monster, the 2 cards are considered to be "Linked", Link Monsters that point at each other are considered to be "Co-Linked", these terms are often used as conditions for effects.

With this, I have explained every new addition to the main game. However, 2020 started off by introducing a brand new and exciting way to play Yu-Gi-Oh! That is completely separate from the main game....

A NEW FORMAT FOR A NEW GENERATION!
Rush Duels are a new way to experience the Yu-Gi-Oh! card game, largely inspired by the success of the mobile game "Yu-Gi-Oh! Duel Links", and completely separate to the main game, that means that Yu-Gi-Oh! Products are now split in the traditional Advanced Format expansions (Starting with "Rise of the Duelist) and expansions for the Rush Format will also be available.
To drive the point home that these format is completely separate from the main game, the cards for Rush Duel Format have their own unique, modernized layout, as shown below: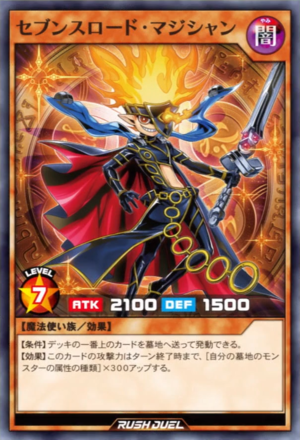 And while this card might look drastically different, it's still just a regular effect monster and functions exactly the same as any other Effect Monster in the Advanced format.
The point where Rush and Master Duels are different is in the ruleset. Rush Duels are intended to be frenetic, encouraging the players to use all their available cards in hand in a single turn!
The Rules for the Rush Duel Format are as follows:
Players can Normal Summon as many monsters as they want in a single turn. Level 5 and higher monsters must still be Tribute Summoned normally.


At the beginning of the turn the player draws cards until their hand is holding five cards.


Like the game "Duel Links" only 3 Monster Zones and 3 Spell and Trap card Zones are available, no Extra Monster Zone or Pendulum Zones are in this format.


Only cards produced for Rush Duel products will be legal in Rush Duels, you may not use classic cards unless they have been printed with the new layout so for example to use "Blue-Eyes White Dragon" you must use it's new Rush version only
This format is intended to compete with other card games that are all the rave with japanese kids, while still maintaining the classic game we all know and love well supported.
Past Shows:


Upcoming anime:
Yu-Gi-Oh! Sevens!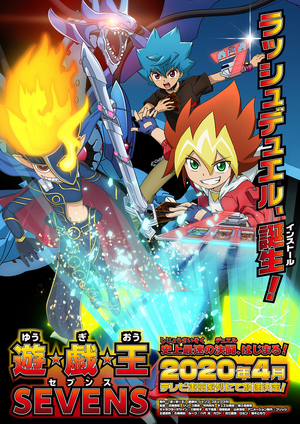 Manga
Where to get News?

Check out the The Organization (Ygorganization) for info on new cards as they get revealed/leaked!



Stay Linked!

JOIN OUR DISCORD COMMUNITY!
Link Hidden, quote to reveal:


Hidden content

You need to reply to this thread in order to see this content.

Enjoy!!
Last edited: