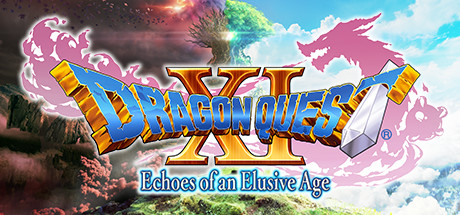 ​
Some background first of all, this was my first Dragon Quest game ever, never really was fond of the art style personally, but I won't begrudge anyone who does because that is really just a conversation on pure opinion and I think it works well for certain "cuter" things like slimes.
Now why did I play this then? The reason is twofold, the first being a friend wanted me to get it, insisting I would love the game which is what happened to me with Xenoblade Chronicles 2 which I was not originally fond of. The second was the great reception it seemed to garner, usually being compared to Persona 5 and XC2 which was high praise as those are now some of my favorite games.
So now I have played the game through for about 20 hours where I am now on a quest to gather crystals and I have to say... I really find this game to have no redeeming qualities.
Music
Going to start off with the least controversial aspect, the music. For a game with such a large scale, the music is so repetitive and even worse, it's not that good. The town theme follows you in every city and lingers on the same note in one section. It is an incredibly poor effort when JRPGs have been cranking out great music as of late. I think this was a common complaint in any case, with some saying the orchestral music tracks would fix this, but really it doesn't fix the repetition and what really are bad tracks.
Combat
Now going into probably more contentious territory here, the battle system feels like it was really from the 16 bit era. It feels frustrating for a variety of reason, the major one being the general lack of information it gives you when fighting.
Turn orders are the most frustrating part to me, Persona will let you peek at who is taking the next turn, even throwback JRPGs like Octopath gives you the full turn order *and* the next turn order. It becomes very hard to strategize in at any meaningful level because in most cases it will punish any kind of aggressive or creative play. Instead of casting that buff to get an upper hand, it is always in your best interest to heal in case that boss gets 3 turns in a row and focuses one character specifically on what often seems like the game's whim.
The battle system's best aspect, Pep, is really a joy to have pair your teammates up to unleash a cinematic attack, but again, there is no planning for these occurrences. It is never known when Pep will show up and since it is a timing to have all your relevant members Pepped, it feels completely random as to what moves you can pull off ever. Should you wait to see if someone else gets pepped up or use that move that you can make now and get the ball rolling on the next pep? It's almost like playing Final Fantasy 7 where you can't see the limit break meter, it is drastically slowed down, you need other party members to have their limit breaks up to perform a cross slash, and if you don't use it when you have it, it will go away. It always feels like you are stumbling into something rather than having a earned strategy.
Even when the game has the smallest appearance of strategy (and while I do concede this to be an early game issue to my understanding), cpu controlled allies (guest allies) will constantly be messing with your strategy. Why they would hard lock you into an uncontrollable ally is just nonsense when these battles are meant to play out as regular battles.
Perhaps it is because I am not familiar with how DQ normally works, but enemy weaknesses are incredibly hard to pin down, if constantly feels like you are fumbling around. I realize this is supposed to be a more "classic" design, but I don't think that it makes it inherently okay as you get little feedback as to what thing works better on certain enemies unless youre keeping some chart.
Battle initiation is also another part of the game that gives the player next to no feedback. Similar to games where the enemies are in the overworld, the game lets you get a hit off or the enemies can run into you. It feels completely pointless though because the game seemingly has no regard for how you start the battle, even if you start the battle, even if you land the hit, the enemy can still get first attack. It is less of a surprise attack and more of a filler to make the game seem more modern than it actually is, just like the moving around during battle that serves literally no purpose.
Characters/Story
While the battle system may be an antiquated mess, I would mind trudging through it if that meant spending time with an interesting cast of characters with an interesting story. This does not happen though. Outside of Veronica and on occasion Sylvando, most the party members have the personality of a beige wall.
What I attribute this calamity to is the game's terrible pacing. It is very concise in its information which can be good, but it gives you way too little information to understand these characters outside of their singular defining character trait. Why does Erik join? Oh the Seer told to. Well who is the Seer? Who cares! Look! Veronica and Serina are pledging themselves to you for... reasons?
20 hours in and I feel like I know next to nothing about the majority of the party and the ones I do know are the flimsiest of reasons. Nobody actually has any semblance of depth to their character and that probably gets better in the rest of the game *I would pray*, but if your game is just throwing characters at me and I know nothing by 20 hours with them, you failed game.
Even the protagonist manages to be the worst iteration of a silent protagonist I have seen. I really dont mind a silent protagonist if it leads to interesting decisions and characterization options, but DQXI offers nothing. He has the personality of air and any decisions you make are not decisions, either do the quest or get the same line asking you to reconsider not wanting to help the annoying person. At that point, don't give me a choice. There are no dialogue options or interesting mannerisms to the character. He is just bland incarnate.
The writing feels incredibly hammy, which can be fine for some people, but it never once breaks into anything interesting. Everything plays out exactly how you would think it would go, the characters you meet along the way are incredibly hit or miss. When they hit it, it is just tolerable, when they miss you get the prince of Gallopalos.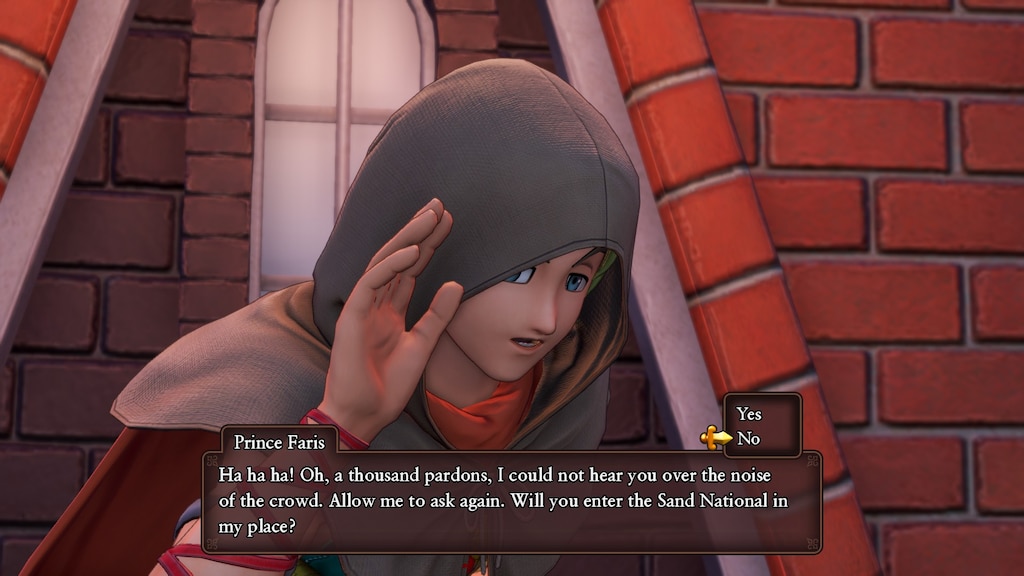 It feels like the game is afraid to break from convention ever, it gives you short and simple arcs with no surprises. Even these are effected by the game's frantic pace, never giving you a moment to take everything in before the next "wacky" thing takes place.
The main storyline feels like it is trying to be this interesting take on "the chosen one", but ultimately feels formulaic and contrived. I was ultimately lost for a long time until perhaps 16 hours into the game when I figured out why everything was going down which ultimately could have been given a lot more focus when that stuff was actually relevant to my situation, even then it really doesn't make any reasonable sense. Ultimately it just feels rushed and half hazard, the most generic story they could muster up. Even the voice acting is pretty awful for a lot of the side characters mostly as they give everyone the most annoying voice they could muster. It is way too over the top to be taken seriously and as you shamble from one uninspired event to the next, it just never feels like it gets better.
Overall
Now I feel like the main takeaway for a lot of people on this one is going to be "well it gets better when you hit x" which I've seen a couple of people say it does in fact start worse than it ends. But ultimately it doesn't matter if getting there is such a joyless slog through an uninteresting adventure. I hear people say that it gets better, but I dont believe the core issues will be fixed, I dont have any faith that they could turn it around at this point.
I feel like 20 hours of my life was a fair shake to give it time to hook me in on something, I really do not need everything to be perfect, but I need one thing to hold on to. I need an interesting story, interesting combat, or interesting characters to help push me through. I got none of that. I struggle to find anything nice to say about the game and usually those aspects are immediately ruined by some mechanic or ham fisted writing.
It feels like this game should have stayed in the past, it lacks any sort of cleverness or uniqueness, it's one of the worst experiences I have had with a game this generation. It is a joyless mess and I regret spending money on it.
Last edited: