Use opening post for earlier thread highlights
Previous thread
Current set info
Product info
Next set: Ravnica Allegiance
Story archive
Hidden content
You need to reply to this thread in order to see this content.
Welcome to the Multiverse!
Magic: the Gathering is a Trading Card Game, the first of its kind, developed by Richard Garfield and his playtesters for the gaming company Wizards of the Coast in 1993. You and your opponents play the role of dueling
planeswalkers
, wizards able to travel between dimensions known as planes to gather unique magic. Using customized decks made up of your spells, the creatures you can summon, your mana bonds with lands, and even other planeswalkers you can call in to help out, you try to defeat your foes.
Previously, the Gatewatch learned that Nicol Bolas has his sights set on the city world of Ravnica. Jace, the Living Guildpact tasked with keeping the guilds of Ravnica at peace, has gone ahead of them and attempts to ready for Bolas's arrival. However, it's hard to tell who is already working with Bolas.
Ravnica is a world ruled by ten guilds, each representing a pair of colors. Guilds of Ravnica focuses on five of these guilds: Dimir (blue-black), Izzet (blue-red), Golgari (black-green), Boros (red-white), and Selesnya (green-white). Each has their own mechanic and focus. For the prerelease, you can choose a guild-themed prerelease pack that replaces one booster pack of the six provided booster packs with a seeded booster pack just of cards in that guild's colors, and you'll get an additional rare card in that guild.
Note that the majority of discussion happens on Discord now, but we'll be available for any questions here.
GETTING STARTED
Official guide to starting Magic
To see what a game is like, check out
Geek and Sundry's Spellslinger series
, where Day[9] battles various geek celebrities, often losing, using simple and easy to follow decks.
Though it's now discontinued in light of the upcoming Magic Arena,
Magic Duels
is still available to download for a single player Magic experience, and it can help a lot for figuring out the rules.
For the physical card game, there are many ways to get on board. If you go to a local game store (LGS), the owner will give you a simple
Welcome Deck
for free, after demonstrating how to play the game. Releasing October 5, the
Spellslinger Starter Kit
has two simple decks that you
do not shuffle
so you and a friend can get a guided tour through how a game of Magic can work for an MSRP of $14.99.
Planeswalker Decks
are pre-constructed decks with four brand new cards, including unique planeswalker cards and one additional booster pack, going for an MSRP of $10.99. While not particularly strong, they will allow you to actually play casual games.
If you want to build your own deck, a
Deckbuilder's Toolkit
will give you a decent starting collection of cards for an MSRP of $19.99, including 125 semi-random cards, basic lands, four booster packs, and perhaps most importantly, a good box for your cards.
Challenger Decks
will allow you to compete in Standard tournaments for an MSRP of $29.99, and the total card values (before release) are far beyond that. Note that with this set's release, the current decks won't be Standard legal anymore.
Game stores will hold
Magic Open House
events specifically meant for new players, with people there to give you Welcome Decks and play teaching games. Experienced players are also encouraged to participate and help beginners, and everyone will get a promotional card for attending.
The big thing to look forward to, however, is the
Prerelease
event held for every set. You play using the Sealed format, where every player is given a box with six booster packs and a random additional rare card. From this pool of cards, all of which you keep, each player builds a deck of 40 cards and participates in a Swiss-system tournament. For Ravnica sets, you can choose a guild-themed prerelease pack that replaces one booster pack with a seeded booster pack just of cards in that guild's colors, and the additional rare will be in that guild too. This is a fun and casual event, where everyone is still trying to figure out the set, so don't worry about messing up. In addition to normal duels, there are also Two-Headed Giant events, where you pair up with another player and face off against another team.
Magic Open House events will be on September 22 - 23, 2018. Prerelease events will be held on September 29 - 30, 2018. Call your local game store a few days ahead of time to register for the Prerelease, or they might just run out of room.
Find local game stores here
.
Number of Cards:
264
Magic Open House:
September 22 - 23, 2018
Prerelease Weekend:
September 29 - 30, 2018
Draft Weekend:
October 6 - 7, 2018
Card image gallery
Mechanics
The five factions of Guilds of Ravnica are Dimir (blue-black), Izzet (blue-red), Golgari (black-green), Boros (red-white), and Selesnya (green-white). Each has their own mechanic and focus.
Dimir: Evil Mailmen (blue-black)
Video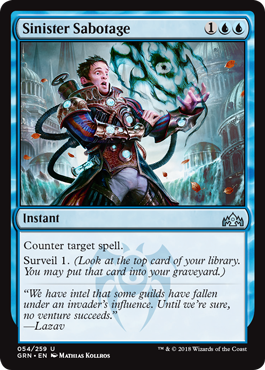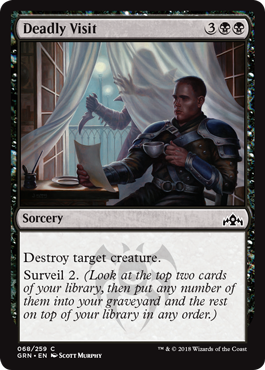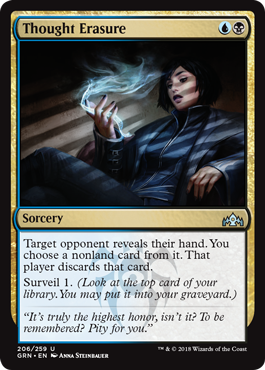 Once upon a time, House Dimir was believed by the general population to not actually exist. In the shadows, they spied on, infiltrated, and sabotaged the other guilds, but after a botched takeover attempt, the secret was out. Currently, the guild's public-facing side acts as private investigators and couriers, but in private, their work continues. As they've kept a watchful eye on the other guilds, they've started to notice some are making odd allegiances with a force they don't know. And they hate not knowing.
Surveil
allows you to look at what's coming up and either allow it or take it out. You look at the top N cards of your library, put any of them back on top in any order, and put the rest in your graveyard. Basically, this is scry, except you put cards in your graveyard instead of the bottom of your library. A simple change, but one that has huge implications.
Izzet: Mad Scientists (blue-red)
Video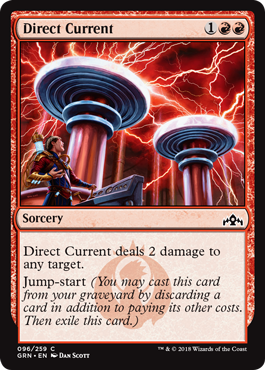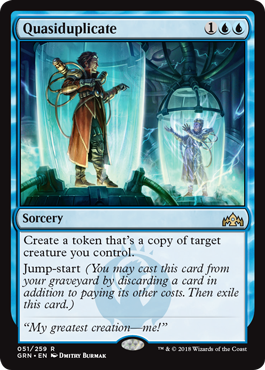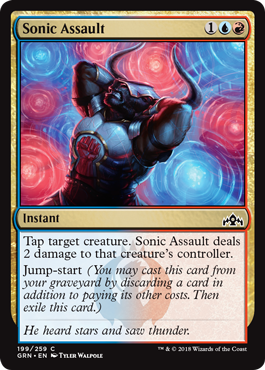 The Izzet League is all about pushing the science of magic to its limit, often resulting in things blowing up. Collateral damage is no problem if you bring something new to the table. Their leader and namesake is the ancient dragon Niv-Mizzet, but he now leaves Ral Zarek in charge as he attends to a personal experiment, unaware that Ral is an agent of Nicol Bolas.
Jump-start
allows you to get some more use out of a seemingly dead spell. Instants and sorceries with this ability can be cast again from the graveyard if you discard a card in addition to paying its normal costs. Then exile that card, whether it resolves successfully or is countered. Basically, it's flashback, except you also discard a card and the mana cost is always the same as its normal casting cost. You aren't gaining any innate card advantage like you would with flashback, so look at this more as swapping out an undesirable card for one from your graveyard.
Golgari: Poop Farmers (black-green)
Video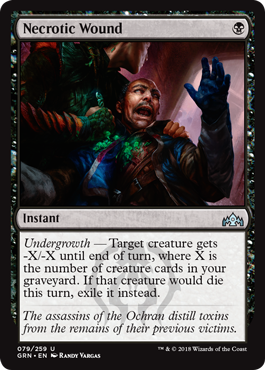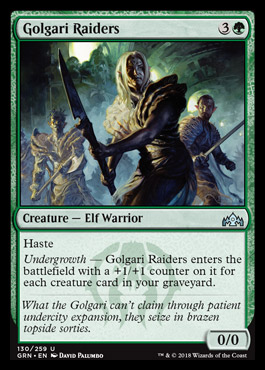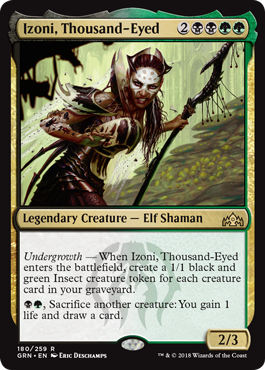 The Golgari Swarm is focused on the cycle of life, and how it can grow from death. They live in the vast sewers of the plane, and use the waste and refuse of the city to grow food for the poor and power ancient magic. While they accept the homeless and needy, there are still clear hierarchies, and their treatment of gorgons and the kraul insect people have earned the ire of the Planeswalker Vraska. Thanks to a favor by Nicol Bolas, she has now taken over the guild and works as his agent. What she doesn't remember is that she and Jace have become lovers and hatched a plan to defeat Bolas; knowing Bolas would read her thoughts, she had Jace lock away these memories until the right moment.
Undergrowth
is an ability that looks at the number of creatures you have in your graveyard and does something based on that. What this is varies card by card, but no matter what, more is better. It might be helpful to take advantage of the previous two guild mechanics to fill up.
Boros: Justice League Cops (red-white)
Video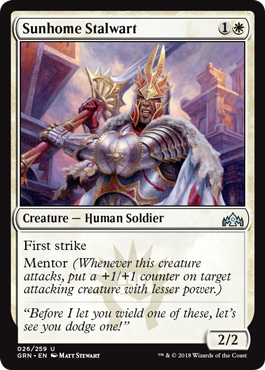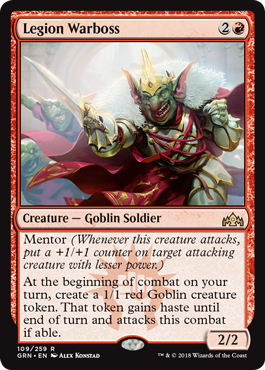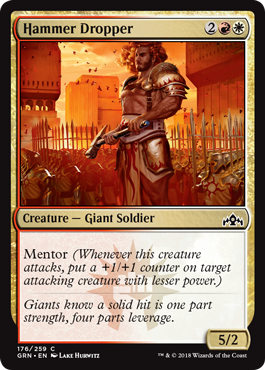 The Boros Legion cares so strongly about justice that they fight it wherever it occurs. Now laws... their relationship with those is a bit more complicated. While Azorius (more on them in a few months) cares about the letter of the law, Boros cares about what's right, and that often includes punching. Still, they care very much about having a disciplined and orderly fighting force, with a heavy focus on training and working together. It's unknown what their relationship with Bolas is at this point.
Mentor
is an ability that allows one stronger creature to show a weaker one how it's done, and improve the strength of your unit as a whole. Whenever a creature with this ability attacks, choose another target attacking creature with lesser power and put a +1/+1 counter on it. Remember to do this in the right order if you have multiple creatures with mentor; you want to resolve the weakest creature's mentor ability first, then the second weakest, and so on.
Selesnya: Super Hippies (green-white)
Video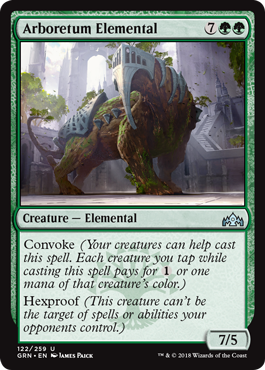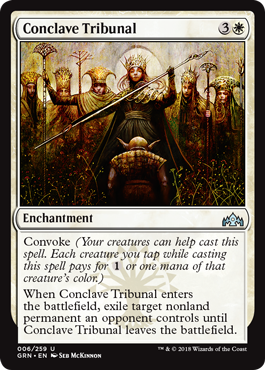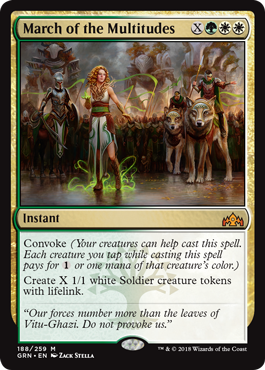 The Selesnya Conclave wants everyone to come together in peace, and they work together to promote harmony, both between individuals and with nature. Granted, they don't seem to allow uggos in and the food they grow doesn't seem to reach the poor. But yeah, harmony, woo. In Ravnica's cityscape, they maintain vast gardens that contain humongous creatures that they use to defend themselves. Though we don't know what connection Bolas has to this, the leaders of Selesnya are in discord, threatening the unity of the conclave.
Convoke
is a returning ability, with your creatures working together to pay for your spells. As you cast a spell with convoke, you may tap your creatures to pay for (1) or a mana of that creature's color. Note that you can't both do this and activate any tap abilities. This time around, some cards have abilities that care about you convoking.
Also split and hybrid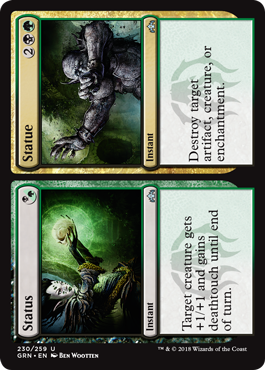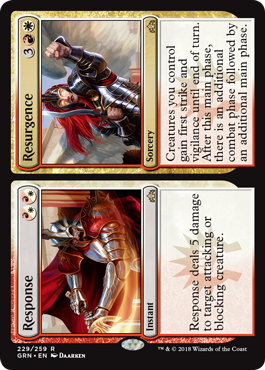 This is Ravnica, so you're getting
split cards
. And also because this is Ravnica, you're getting
hybrid mana
! Split cards are two cards in one. Pay for one side to cast it; you can't cast both sides. Hybrid mana costs have two different mana symbols in one, meaning the costs can be paid with either type of mana. In Guilds of Ravnica, the split cards have one hybrid spell and one multicolored spell.
OTHER PRODUCTS
If you buy a box of Guilds of Ravnica from your local game store, you will get an exclusive
Buy a Box Promo
card that's Standard legal. You can't get this in booster packs.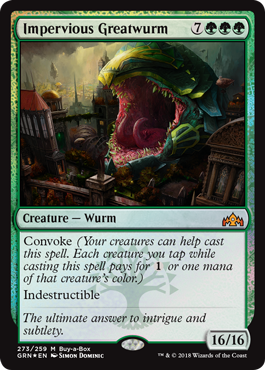 Guilds of Ravnica Mythic Edition
is a special limited edition booster box you'll be able to purchase exclusively in the US from Hasbro's online store for $249.99 on October 3. There are 16 normal booster packs of Guilds of Ravnica, and 8 booster packs that contain special Planeswalker Masterpiece cards. You're guaranteed to get all 8 cards. These planeswalker cards aren't Standard legal.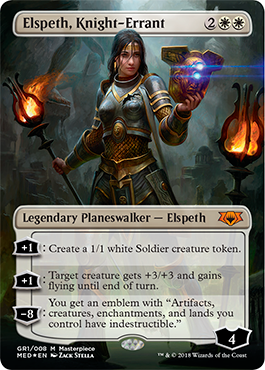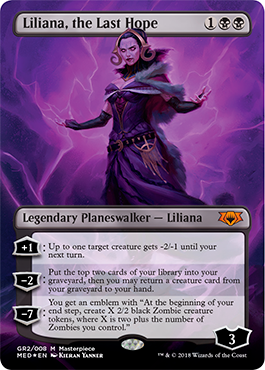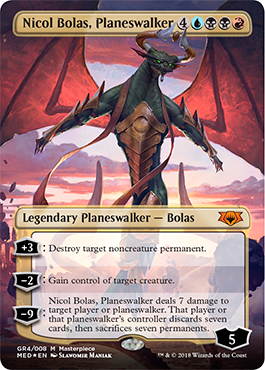 In retail stores like Wal-Mart, you'll be able to get
Guilds of Ravnica Theme Boosters
on October 5 based on one of the five guilds. They have 35 randomized cards all from that guild, with one rare or mythic rare card, for $6.99.
Releasing October 5, the
Spellslinger Starter Kit
has two simple decks that you
do not shuffle
so you and a friend can get a guided tour through how a game of Magic can work for $14.99.
The
Guilds of Ravnica Guild Kits
are decks based on each of the guilds in the set, but aren't Standard legal, as they contain cards from previous Ravnica sets. They release November 2 for $19.99.
Magic Game Night
is an introductory product for $39.99 with five person multiplayer right out of the box, for those who want to bring Magic to their board game meet ups. There's a deck for each color, counters, and rules reference cards. These are not Standard legal. This releases November 16.
Guildmasters' Guide to Ravnica
is a Dungeons & Dragons product allowing you to explore the world of Magic in their first ever officially released crossover. This contrasts with previous web crossovers in that this is has been fully playtested.
SCHEDULE
Premier events schedule
Guilds of Ravnica
Start of reveals: September 10, 2018
Magic Open House: September 22 - 23, 2018
Prerelease Weekend: September 29 - 30, 2018
Release Date: October 5, 2018
Draft Weekend: October 6 - 7, 2018
Spellslinger Starter Kit
Release Date: October 5, 2018
Ravnica Guild Kits
Release Date: November 2, 2018
Magic Game Night
Release Date: November 16, 2018
Guildmasters' Guide to Ravnica (DnD Product)
Release Date: November 20, 2018
Ravnica Allegiances
Release Date: January 2019
HIGHLIGHTS
Previous thread
August 28 -
Impervious Greatwurm
August 30 -
Mechanics reveal
August 31 -
Promos leak
September 1 -
PAX West reveals
September 3 -
Golgari Guildgate
September 4 -
Mechanics article
Monday, September 10 -
Cards
; NPR editorial about Magic 25th anniversary; Fblthp in art; story of new split card naming scheme
Tuesday, September 11 -
Cards
; mythic rare discussion
Wednesday, September 12 -
Cards
; article by
aidan
about Magic Story writers; Invert missing "until end of turn", gets errata
Thursday, September 13 -
Cards
Friday, September 14 -
Cards
Saturday, September 15 -
Ravnica shirts
; cards
Monday, September 17 -
Cards
Tuesday, September 18 -
Cards
Wednesday, September 19 -
Magic World Cup has Gulds of Ravnica draft
; full reveal; Arena - open beta on September 27; PrePreRelease; Risk Factor argument; MTGO promo art for Hostage Taker and Chalice of the Void
September 21 -
Direct sales through Amazon and other retailers, Mythic Edition boxes at Channel Fireball events
; Gerry Thompson boycotting World Championship
September 22 -
Discussion about direct sales
September 24 -
Start of Limited Set Reviews
; MTG Portal app delayed
September 25 -
Guilds of Ravnica Guild Kits decklists
September 26 -
Prerelease tips
; Arena Open Beta stream; Reynad is a sponsored streamer
September 27 -
Player names misspelled on World Championship merchandise
; Teferi getting errata
September 28 -
Oracle changelist
; Chris Mooney working at Wizards
September 29 -
Prerelease
October 1 -
Prereleases at library shut down
October 3 -
Mythic Edition on sale
; controversy over Dan Ward ban
October 4 -
MagicFest announced and other Pro Tour changes
; initial Standard deck lists
October 5 -
M-Files: Guilds of Ravnica - Monocolor
; Eden Magic Festival claiming name MagicFest
October 9 -
Changes to Magic Story format
October 10 -
Magic Story - Under the Cover of Fog
; aidan election story
October 11 -
Player of the Year playoff at Pro Tour Guilds of Ravnica
; M-Files: Guilds of Ravnica - Multicolor; George Fan (Plants vs. Zombies) working at Wizards of the Coast
October 14 -
Dan Lanthier caught cheating by getting Stomping Ground from graveyard
October 17 -
Magic Story - Testing the Dark Waters
October 18 -
Dan Lanthier apologizes for cheating
October 19 -
Arena - No-Instants event coming to Arena
October 21 -
Todd Stevens Fired From StarCityGames for sexual harassment
October 22 -
Magic Quiz - How Trivial
; Hasbro Investor Report; library prerelease that didn't happen has now happened
October 23 -
Attempt to start Middle School format
October 24 -
Magic Story - Clans & Legions
; ProZD Magic video
October 25 -
Destroy All Humans, They Can't Be Regenerated manga announced
; Holiday Card - Bog Humbugs; Collector Boosters announced
October 29 -
Magic Weekend revealed
October 31 -
Todd Stevens's non-apology
November 2 -
Ultimate Masters - Box Toppers being sent to various people
; Magic themed art show
November 5 -
Ultimate Masters announced;
some card reveals
November 7 -
Dan Lanthier gets three year suspension
; Magic Story - Death's Precious Moments
November 8 -
Destroy All Humans, They Can't Be Regenerated manga released
November 9 -
Magic announcement at The Game Awards
; details from DnD Ravnica book
November 10 -
Pro Tour Guilds of Ravnica Top 8 decklists
November 11 -
LSV makes questionable feint during Pro Tour
November 12 -
Making Magic - The Rabiah Scale part 1
November 14 -
Magic Story - Bound and Bonded
Ultimate Masters
November 19, Monday -
Cards
November 20, Tuesday -
Cards
Use threadmarks for later highlights
RESOURCES
Official articles
- Nicknamed the Mothership, these articles are the primary source of news. Recommended columns are Making Magic, written by the head designer, Mark Rosewater (aka MaRo); Magic Story, which tells the story, written by various authors; and Play Design, written by various Magic developers. The other articles generally discuss deck building.
Card image gallery
- Best way to see all of the spoiled cards together, but only updates once a day.
Blogatog
- Tumblr ran by Mark Rosewater where he answers questions, updates very frequently.
Drive to Work
- Mark Rosewater's weekly podcast about Magic that he literally records as he drives to work. Two episodes are released every Friday.
MTG Reddit
- The best place to get new card information. The community sucks, though.
Mythic Spoiler
- A good way to see what cards have been spoiled, updates throughout the day.
Gatherer
- The official method of searching through released cards. Has autocomplete.
Scryfall
- The better search method, with bigger cards, but it doesn't have autocomplete.
Game store locator
OTHER THREADS
Core Set 2019
Dominaria
Arena Closed Beta on Gaming side
Arena Open Beta on Gaming side
Rivals of Ixalan
Great Designer Search 3
Hangouts OT
Last GAF thread - Ixalan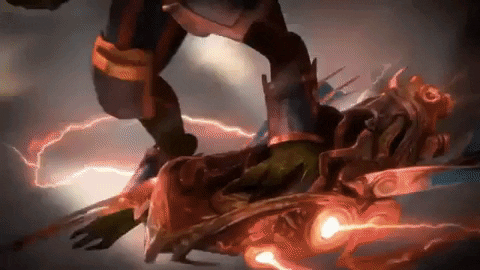 Last edited: